Business Ideas to Make Money during Corona Crisis – Corona Crisis is creating severe problems for everyone. Businessmen, as well as job people everyone is affected due to this crisis. Most of the people are searching for business ideas and ways to make money during this uncertain time. If you are one of them, here is readymade help. Here is a list of 10 Small Business Ideas that can help you make a lot of money in the corona crisis.
All these business ideas are demand-based and likely to give a very good profit during Corona Crisis. So, let's get started with some of the best business ideas that can help you to make money.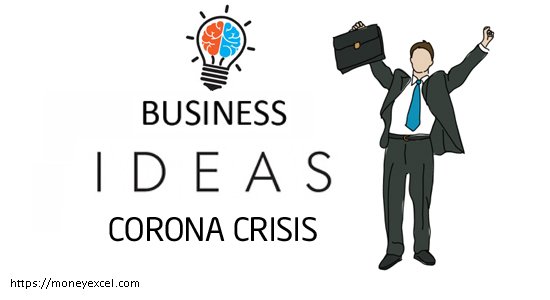 10 Business Ideas to Make Money in Corona Crisis
#1 Face Mask Business
The demand for face masks is increasing and likely to remain steady in the days to come. This gives birth to a new business called a face mask business. In this business, you need to manufacture face masks and sell them in the market.
Face masks are of different types such as N95 Mask, Cloth Mask, Surgical mask, etc. To begin with I would recommend a cloth mask. It is easy to manufacture a cloth mask. You just need a sewing machine and fabric for making a mask. Once you get grip on the mask you can customize and also go for fancy mask production.
Also Read –120 Best Business Ideas that you can start in 2020
# 2 Face Shield Business
Face Shield business is the next business idea on the list. The demand for face shield is growing due to the corona crisis. Many people have started using a face shield as part of PPE. In face shield business you can either manufacture face shields or do trading of the face shield.
The raw material required for making a face shield is easily available. You can manually make a face shield or go for mass production using machines. You can earn a very good profit margin in this business.
#3 Sanitizer Making Business
The usage of Hand Sanitizer is very high. Hand sanitizer is a powerful tool against bacterial and viral infections especially COVID-19. So, it is but natural that sanitizer will become part of our life. So, starting a sanitizer business make sense.
You require sufficient knowledge for starting this business. You can take help from an expert or recruit manpower for this business. You also need to take approval from the government to start this business.
#4 PPE Kit Business
PPE Kit is a personal protective equipment kit. The usage of PPE kit is mandatory for medical staff and people staying outside on the field for the long term during the coronavirus crisis. So, it is obvious that PPE kits are in huge demand. PPE kits include multiple things mask, face shield, goggles, protective gowns, gloves etc.
PPE Kit can be made at home or can made in the factory using mass production. You require expertise and knowledge in order to make PPE kit. Your kit should pass a quality test before mass production.
#5 Cleaning Services
The demand for cleaning services is increasing due to the COVID-19 outbreak. People want office equipment and furniture to sanitize multiple times in a day. Thus starting the cleaning services business is a very good business option. In this business, you need to take a contract from small companies for cleaning services. You require cleaning staff to start this business. It is a growing business option with very good potential.
#6 Vegetable Business
The next business idea is a vegetable business. It is an evergreen business. Vegetables are required by almost every human being for living. In this business, you need to do the trading of vegetables. If you have sufficient manpower you can think of doing home delivery of vegetables also.
#7 Retail Product Business
Retail products or grocery items are usually in demand during Corona Crisis. If you have a small shop you can think of starting a retail product business. The investment required for this business is moderate. You need to work on the supply chain to withstand in this business in the current situation.
#8 Family Meal Delivery Service
Breakfast or food delivery business is next on the list. Many families still prefer readymade Nasta (breakfast) or Meal. If you are a good cook and prepare breakfast or meal in bulk this business is for you. It is easy to start low investment high-profit business options. You require manpower for the delivery of food items.
#9 Medicine Home Delivery Business
Medicine is one of the essential items nowadays. Due to the corona crisis, people do not prefer to go outside. So, starting a medicine home delivery is a very good business option. You operate virtually from home and collect the order over telephone or WhatsApp. You need manpower for doing the delivery of medicine and related items. Once you establish yourself in this business, you can plan to make an app for accepting orders online.
#10 Fruit Business
Starting a fruit business is next on the list of business ideas. Fruits always remain in demand despite uncertainty. Fruit helps in increasing immunity. So, fruits are likely to remain in demand during Corona Crisis. If you have a small shop or a suitable place you can start your own fruit business. It is a low investment high return business option.
Over to you
Do you think the above business ideas will help you in making money during the Covid-19 outbreak?
Do you have any other business ideas in mind which are not listed above? if yes do share it via the comment section.