Best Stocks 2020 – The calendar year 2019 was a strong year for the stock market. Sensex rallied over 10% in 2019. In terms of touching new height, it was a historic year. Sensex touched 41800 levels whereas Nifty could reach 12300 levels. As per experts the year 2020 will a great year for the stock market and Sensex is likely to touch 45000 marks. As an investor, you must be excited to invest in the stock market and looking for the best stocks for investment. Here is a list of 10 Best Stocks for 2020 recommended by stock market experts such as Vijay Kedia, Basant Maheshwari, Sandip Sabharwal etc.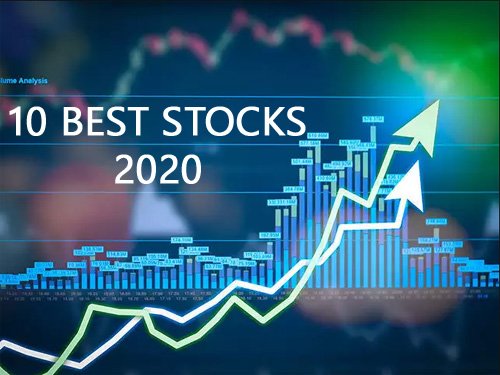 10 Best Stocks for 2020 recommended by Stock Experts
Kedia Securities – Vijay Kedia
#1 Sudarshan Chemical 
Sudarshan Chemical is the first stock pick for 2020. The recommendation of this stock is given by Vijay Kedia of Kedia Securities. Sudarshan Chemical produces pigments that are used in paints, plastics, printing inks, and cosmetics. Sudarshan chemical is a global market leader with an established track record. The company has a diversified product range. The profit of the company is growing YOY.
Basant Maheshwari Wealth Adviser
#2 Bajaj Finance 
Bajaj Finance is a recommended stock for investment in 2020 by Basant Maheshwari. Bajaj Finance is multibagger stock and constantly generating wealth for the investors. It is the biggest and fastest wealth creator stock as per the wealth creation study of Motilal Oswal. You can invest in Bajaj Finance for the long term wealth generation.
Also Read – 7 Highest Dividend Paying Stocks in India
Edelweiss Securities – Vinay Khattar
#3 Titan
Titan one the most favorite stock of Rakesh Jhunjhunwala is the next stock pick for 2020. It is recommended stock by Vinay Khattar of Edelweiss Securities. Although the last quarterly result of titan was not good it is expected to improve. If you are looking for stocks with good returns, titan could be a profitable investment option.
Asksandipsabharwal – Sandip Sabharwal
#4 Havells India
Havells India is a leading electrical equipment company in India. It is a failsafe powerhouse stock for investment in 2020 as per Sandeep Sabharwal. It is a good stock for investment for the long term. You can invest in Havells India.
Hot picks for the next decade with ET NOW's Pankaj Poddar. Listen in! #Welcome20s #Welcome2020 pic.twitter.com/bJeQXhicIo

— ET NOW (@ETNOWlive) December 26, 2019
Prabhdudas Liladhar – Amnish Agrawal
#5 HDFC Bank
HDFC Bank is an evergreen stock for investment. HDFC is the leading private sector bank of India. HDFC Bank is the top holding for more than 100 diversified mutual fund companies. It is a consistent performer and safe stock for the investment.
HDFC Securities
#6 Jubilant Foodworks
Jubilant Foodworks is the master franchisee of the Domino's Pizza brand in India with multiple stores. JFL is in the process of transformation. They are diversifying in the food business with Chinese and North Indian food. They are adopting new technology for quality and optimizing manpower costs. JFL is likely to deliver better growth in the days to come.
#7 Britannia
Britannia is a leader in food industries, especially in the biscuit business. In addition to biscuit now Britannia is expanding wings in other snacking categories. As of now, it is a slightly costly share but it deserves a premium.
#8 J K Cement 
J K Cement is the next best stock recommended for 2020. J K Cement is in the business of white and gray cement. It is better placed in the market with respect to pricing. J K Cement controls the majority of market share in white cement. Due to growth in the real estate segment, this stock is likely to perform better.
#9 Ultra Tech Cement
Ultra Tech accounts for 25% of India's cement capacity. With a pan India footprint. Ultra Tech is a leading brand in India. A company has acquired binani cement and century textile recently. A new acquisition will surely help Ultra Tech to grow revenue and profit margin.
#10 L&T
Larsen & Toubro (L&T) is a preferred proxy for Indian infra and Capex cycles with contribution spanning decades across cycles. Strong order flow and delivering projects on priority are plus points about L&T. It has an excellent track record. You can invest in this stock for a long term perspective.
Report on HDFC New Year Stock Picks 2020
(The views content and recommendations expressed in this post are of brokerage house own and do not represent those of Moneyexcel.com. Please consult your financial advisor before taking any position in the stocks mentioned)