Recurring deposit is one of the most popular and secure investment option. In recurring deposit you need to invest a specific amount for the term period of recurring deposit. On the maturity investor will get maturity amount. This amount is comprising of principal and interest amount. It is like SIP investment of mutual fund where you invest money regularly instead of lumpsum.
Recurring deposit can be opened at public, private sector banks as well as at post office. Looking at safety it is advisable to open recurring deposit at either at post office or at SBI. Here is detail about SBI Recurring deposit and steps to open RD online at SBI.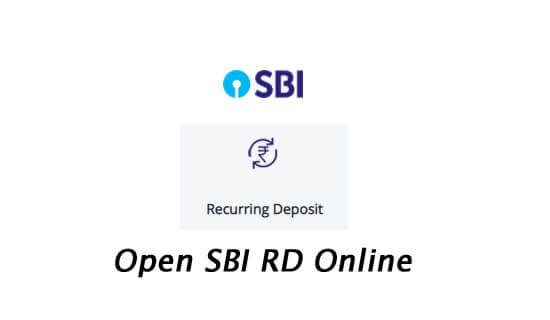 Key features of SBI Recurring Deposit
Recurring deposit can be opened with 1 year to 10-year time period.
Minimum deposit amount is Rs.100 per month with no upper limit.
The rate of interest is decided by bank time to time.
Senior citizen will get additional interest rate of 0.5% compared to non-senior citizen
Penalty is applicable for late payment. The penalty amount is Rs.1.50 per Rs.100/-
Incase six consecutive installments are not paid deposit shall be closed automatically and balance will be credited to account holder.
Nomination facility is available for the customer.
SBI offers loan facility on recurring deposit. Amount is 90% of recurring deposit balance.
Premature withdrawal is allowed for the recurring deposit.
Deposit can be transferred from one SBI account to other.
Recurring deposit account can be opened by the individual citizen or members of HUF. You must have SBI account to open RD account. It is advisable to have stable income for opening this account. NRI can also open the RD account via NRO and NRE account.
Steps to open Online Recurring Deposit (RD) in SBI
Follow the steps given below to open RD account in SBI.
Sign in to online SBI account using internet banking user ID and password. Go to fixed deposit menu and click on the e-RD (RD)/ e-SBI Flexi Deposit option. Now select e-RD (Recurring deposit) you will be taken to the next step where you will be able to see various SBI accounts.
You need to select the account from which you want to open recurring deposit. The minimum tenure for the recurring fixed deposit is 1 year. You can check RD interest rate before making investment. On this page you will also able to select "Payable Principal and Interest" and check maturity amount.
Now click on the "I accept the terms and conditions" and click on "Submit" button. You will be able to see nominee detail specified in the saving bank account. You can continue with same nominee name in your RD account or you can change nominee name.
You can see rate of interest, investment amount, maturity date and maturity amount on the confirmation page. Once details are found ok you can proceed by clicking on the confirm button. You can get view/print option. Next step is to select deposit monthly amount and installment date. The amount will be debited from the bank account. The auto pay service for the recurring deposit will be enabled and amount will be debited from the account.
You can also open recurring deposit offline. You need to visit nearest SBI branch physically. You need to fill up physical document and provide required documents to open recurring deposit.
TDS on the Recurring Deposit
The interest received on the recurring deposit is subject to TDS. TDS of 10% is applicable on the interest amount. If the interest received on the recurring deposit is less than Rs.10000 no TDS is applicable. You need to provide PAN card copy else TDS of 20% is applicable. If your income is less you can submit Form 15G to avoid TDS.