SBI Kavach Personal Loan is special product launched by leading bank State Bank of India. Personal loans are unsecured in nature hence interest rate is generally on the higher side. However, the interest rate applicable on SBI Kavach Personal loan is lowest 8.5%. This loan scheme is specially launched for COVID 19 patients to withstand medical expense incurred on treatment of COVID. So, in case you are going through financial crisis you can opt for SBI Kavach personal loan. Key features and method to apply for SBI Kavach Personal Loan is given below.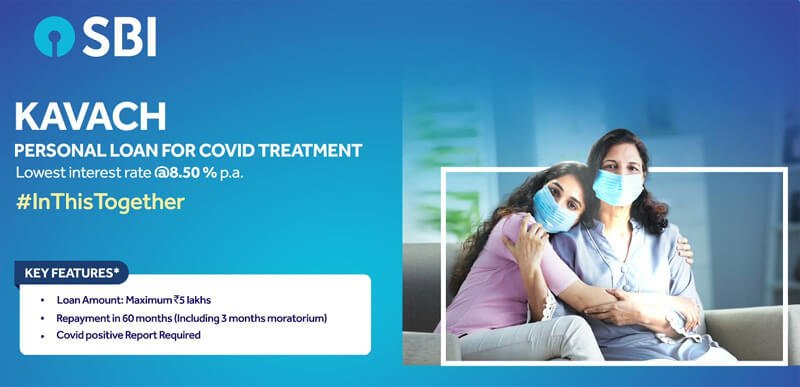 SBI Kavach Personal Loan – Key Features
Eligibility – Personal loan is given for COVID treatment of self and family members who are diagnosed with COVID 19 on or after April 2021.
Target Group – This loan is given to all customers of SBI. This includes salaried, non-salaried and pensioners.
Tenure – The loan period is 5 years. This period includes 3 months of moratorium.
Minimum & Maximum Loan Amount – Minimum loan amount given for SBI Kavach is Rs.25000 and maximum amount is 5 Lakh. The amount is decided by bank based on borrower profile. You need not to pay any processing fee for availing this loan. No prepayment penalty associated with this loan. You need to pay any foreclosure charge for this loan.
Repayment schedule – As loan is given for 5years, you need to make payment in 60 EMI installment. 3 months moratorium is applicable on this. This means you need to make repayment in 57 EMIs for principal and interest. There is standing instruction on salary/pension and saving bank account for making repayment of loan.
Interest rate – Interest rate applicable on SBI Kavach personal loan is lowest. You need to pay 8.5% interest per annum.
SBI Kavach Personal Loan – How to Apply?
There are two ways to apply for the personal loan. You can visit nearest branch and complete the formality of filling up form and KYC information in order to apply for SBI Kavach Policy. It is one of the simplest method to apply for loan.
If you are finding difficulty in visiting branch, you can opt for digital mode. In digital mode you need check SBI Yono app. This loan is offered as pre-approved loan to the SBI customers. On SBI YONO App you need to fill up the information about applying for this loan.
You need to produce relevant proof that loan is taken for the treatment of COVID-19.
As it is personal loan it is advisable to make prepayment of this loan and close it as early as possible. This is to avoid higher interest rate applicable on the loan.
Final Words
SBI Kavach Personal loan is unique product and given to the customer at the lowest interest rate. The primary aim of this loan is to provide financial assistance to the customer especially in the difficult situation like COVID. This loan scheme also offers reimbursement of amount that is already incurred by borrower on the treatment.
If you are struggling to get fund for COVID treatment, you can opt for SBI Kavach personal loan.