Tax-Free bonds are back. REC has recently announced the launch of Tax-free bonds for 2015. REC Tax Free bonds will be available with a coupon rate of 7.43%. Tax-free bond is good investment option. We had already had a comprehensive discussion about Tax free bonds 2015. Let's discuss and review REC Tax-free bonds.
REC Tax Free Bonds 2015 Key Features
REC Tax Free bonds issue subscription will open on 27th Oct, 2015 – Tuesday and will be closed on 4th Nov, 2015.
Issue subscription will be closed early if it is fully subscribed.
The annual Coupon rate for the retail investor (investment less than 10 lakhs) are 7.14% for 10 years.7.34% for 15 years and 7.43% for 20 years.
The annual Coupon rate is 0.25% less for corporate and HNI investors.
REC Tax Free bonds are rated very good AAA by CRISIL, ICRA and IRRPL.
First interest would be paid on 28th December and after that it will be paid on 1st December every year.
The interest shall be paid without deducting TDS.
The price of each bond is 1000 Rs and the minimum investment is 5 bonds costing 5000 Rs.
Maximum investment limit for the retail investor is 10 lakhs.
This bonds will be allotted on first cum first serve basis.
REC Tax Free bonds will be listed on BSE and can be traded in the secondary market.
You can sell this tax-free bonds on the secondary market, however, you need to pay capital gain tax.
REC Tax Free bonds can be hold in DEMAT as well as physical form.
NRI can also participate and invest in REC tax-free bonds.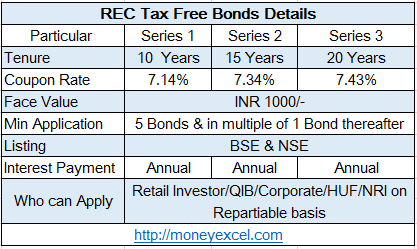 REC Tax Free Bonds Yield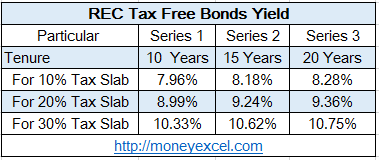 Over to You –
REC Tax Free Bonds is very good investment option which can fetch maximum yield up to 10.75%. However, Investment in tax-free bonds is advisable if you are falling under high tax slab 20% or 30%. For lower tax slab, it is advisable to invest in fixed deposits or any other investments and not in tax-free bonds.
In addition to above you should evaluate this investment option based on your financial goal. If you are risk adverse investor and happy with fixed returns you can think of investing in REC Tax Free bonds.
For more information go through Prospectus of REC Tax Free Bonds.