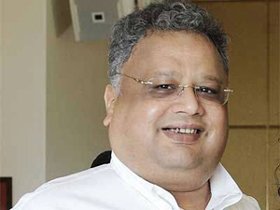 Rakesh Jhunjhunwala is common man with uncommon intelligence. He is self-made billionaire & warren buffet of India. Rakesh Jhunjhunwala of Rare enterprise has started his career in stock market with just Rs. 5000 and today with his intelligence and qualities he has made stock portfolio of more than 5000 Cr.Rakesh Jhunjhunwala portfolio is with mix of stocks from different sectors
According to me Rakesh Jhunjhunwala is physiological genius, a man with vision and great understating about stock market.
Also Read:- 60 Inspiring quotes by Jhunjhunwala 
Today rakesh jhunjhunwala has many fans and followers. These followers often look for rakesh jhunjhunwala portfolio. In order to help them I am herewith Rakesh Jhunjhunwala latest portfolio 2014 & Tips.
Tips by Rakesh Jhunjunwala:-
Don't Look for Profits; Look For Sources Of Profits.
Forget 'Large Cap, Small Cap' Nonsense – Look For Scalability of Operations.
Give it Time, Be Patient.
Invest in a business that you can understand.
Don't get carried away by short-term aberrations.
Don't Look For Multi-baggers.
Don't worry about the macro stuff like fiscal deficit, inflation etc which are unknowable. Focus on what is knowable.
Don't Try To Time The Market.
If it's cheap, buy it- Don't pass up something cheap today in the hope that it will get cheaper tomorrow.
 Don't buy stocks that have a fixed return.
Concentrate, concentrate & concentrate!!
Also Read:-  Best Learning from Jhunjhunwala
Core stock Holding by Rakesh Jhunjhunwala:-
Titan  – 803 Lakh Share – 2168 Cr
Lupin – 74 Lakh Share – 703 Cr

 
Stock holding of Rakesh Jhunjhuwala in Different Sectors:-
Jhunjhunwala Portfolio 2014:-
Rakesh Jhunjhunwala partial portfolio is worth Rs.  4361 Cr as on 1st April 2014. Major stock hold by Jhunjhunwala is Lupin and Titan.
Download Jhunjhunwala Portfolio 2014
Jhunjhunwala Tips for Stock Market
If you find this interesting do share it with friends and colleagues, and yes don't forget to add your comments!
If you like this post, don't forget to give us Facebook Like!
Also Read :-
Rakesh Jhunjhunwala Portfolio Holding – Aug 2014
5 Secretes that makes Rakesh Jhunjhunwala Successful Investor
Rakesh Jhunjhunwala Portfolio 2014 & Tips