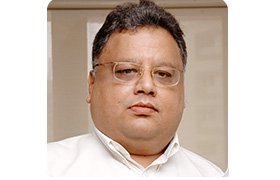 Rakesh Jhunjhunwala is a legendary stock market investor. He is also known as Indian warren buffet and king of the dalal street. His net worth is 1.9 billion USD (2015). Rakesh Jhunjhunwala is qualified charted accountant and stock market Investor. He manages his own stock portfolio as a partner in asset management firm, Rare Enterprise.
Although it is said that "Making money from the stock market is not child's play, however for rakesh jhunjhunwala it is child's play." He has made a stock portfolio of 11970 Cr from small investment capital of 5000 Rs/-.
You must be wondering that how rakesh jhunjhunwala has done it. Well here is a success story of investment guru big bull, Rakesh Jhunjhunwala mentioning how he became wealthy.
Rakesh Jhunjhunwala Success story – How he became wealthy?
Early Life –
Rakesh Jhunjhunwala was born on 5th July, 1960 in Mumbai, India. He was from the middle-class family. His father was Income tax officer and stock market investor.
Just like other children rakesh wanted to be a pilot and then dreamt of being a journalist. During childhood, he was introduced to the world of stock market by his father. From childhood, rakesh use to listen about the stock market and was keen to know more about the stock market. Once he asked his father that, what is the reason for fluctuations in stock price?  He got a simple answer that price fluctuation is linked to news flow. This was his first learning for the stock market.  He started reading a stock market column in the newspaper with fascination. During the initial stage of life, he decided to make a career in the stock market.
Before getting into the stock market, he has done graduation in commerce line from Sydenham College. After graduation, he enrolled at himself in ICA and became a Chartered accountant in 1984. After completion of CA, he expressed his wish to become a stock market investor to his father. This type of move was unorthodox and unacceptable to most of the people, but his father was democratic, he reacted differently by telling him that he can start career in stock market, however he would not support him financially in this endeavor. He further advice rakesh jhunjhunwala that never take any shortcuts and never forget that "Your word is your bonding".
Rakesh Jhunjhunwala Career –
Rakesh Jhunjhunwala arrived on the streets of Bombay stock Exchange in 1985 with firm conviction and belief "Hum Honge Kamiyab". He started his career with the small capital of 5000 Rs/- At that time BSE Sensex was at level 150.
It is obvious that in order to participate in stock market capital is the primary requirement. In order to get capital Rakesh Junjhunwala approached his brother and was able to raise capital of 1.5 million. With this capital, in a short span of 1 year he earned nearly 1 million Rs/- and invested this profit in 5,000 shares of Tata Power.
During initial period rakesh jhunjhunwala did not trade or speculate but soon he realized that to be an investor one need big capital and only way to generate capital is through trading income. He started trading in stocks. With the recovery of market, he made good profit in Tata Power, Sesa Goa and Telco. At that time, his net worth was 15 million Rs/-. Since then he is doing trading in stock and making money again and again. Trading gave him all the money required to make an investment.
Rakesh Jhunjhunwala on Trading –
In trading, the first and the last principal according to Rakesh Jhunjhunwala is – Trading is trend and price based, and not opinion based. This means that if you buy stock at Rs 100, and then the price falls to Rs 95 you can take your loss and square off your trade. This is one common quality of successful traders.
In trading you should remember Churchill's words, 'You have to lose many a battle to win the War'. Along with that one should also remember word of George Soros, "It's not important whether you are right or wrong, it more important how much you lose when you are wrong and how much money you make when you are right". This requires you to square unfavorable trade, and to pyramid your profitable ones. In trading, everything else is illusion and hope, the sole reality being a price.
As per Rakesh Jhunjhunwala Good Trader requires following qualities –
Broad Idea of Generation
Knowing what and how much to risk
Knowing when and how to take a loss
Tremendous conviction and independence of thought
Lot of discipline
Control over emotion
Ten Commandments for Trading
Be realistic. Make trading price dependent, no opinion dependent
Trading is a full-time profession, not a part time job. It cannot be half-hearted
Know the rules and verify them for they may not to what you assume
Never aspire to be the market's master. It's best to be its slave.
Leverage your skills, not your capital
Have a broad idea of direction. Remember, trend is your friend
Don't be afraid to make a mistake. Only ensure you make one that you can afford so that you may love to make another
Play Seen', not Blind' for the market offers many opportunity even after the cards are open
Know what and how much to risk. Assess risk
Take a loss. The first loss is the best loss. Pyramid your profit
Good judgment comes from experience. Experience comes from bad judgment. Trading can only be learnt, it can't be taught
Rakesh Jhunjhunwala on Investments –
As per RJ to be successful in investing, many elements have to fall into place. But four things are critical. There has to be an attractive, addressable, external opportunity; sustainable competitive advantage; scalability and operating leverage and the management should be of high quality and integrity.
Ten Commandments for Investment
Be an optimist: the necessary quality for investing success
Expect a realistic return. Balance fear and greed
Invest on broad parameters and the larger picture. Make it an act of wisdom, not intelligence
Caveat emptor. Never forget this four letter word: R-l-S-K
Be disciplined. Have a game plan
Be flexible for investing is always in the realm of possibilities
Contrarian investing: not a rule, not ruled out
It's important what you buy, it's more important at what price you buy
Have conviction, be patient. Your patience may be tested but your conviction will be rewarded
Make exit an independent decision, not driven by profit or loss
I hope success story of Rakesh Jhunjhunwala given here will help to get succeeded in the stock market.
Do share your views on the success of Rakesh Jhunjhunwala!