Porinju Veliyath is one of the most successful stock market investors of India. He has made his own fortune in the Indian stock market. The success story of Porinju Veliyath is quite interesting. From a homeless person, he has become one of the most respected value stock picker of India.
Porinju Veliyath recommendations of stocks are followed by many investors blindly. Porinju's success story is an inspiration for many investors who are seeking success from the stock market.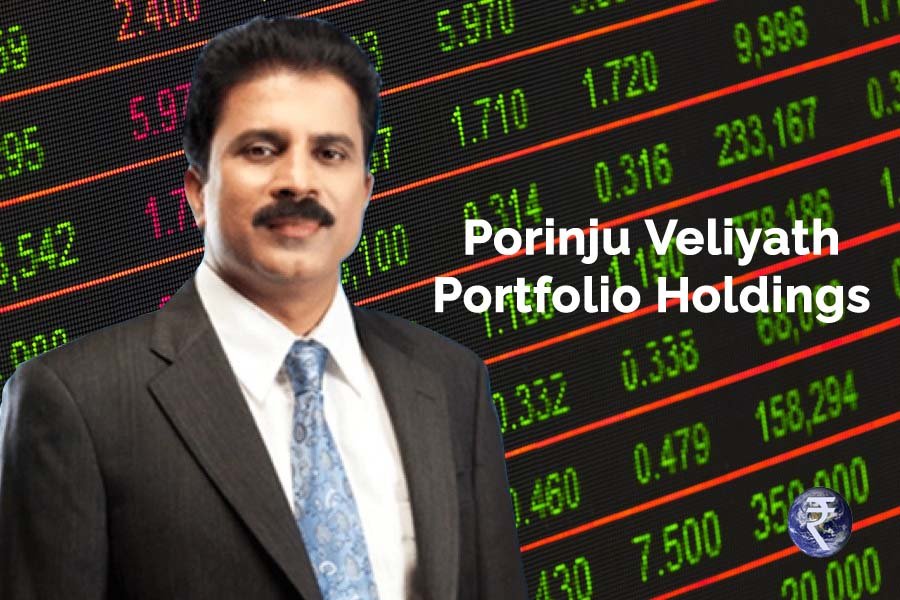 Success Story of Porinju Veliyath 
Porinju Early Life
Porinju was born on 6th June 1962 into a lower-middle-class family in Kochi. His early life was full of challenges. His family faced deep financial problems when porinju was 16 years of age. The condition was so bad that the home in which they were staying had to be sold off to repay the loans.
At a young age, porinju decided to do a job in order to support his family. He joined a small private firm as an accountant. He was getting Rs.1000 as a salary. As his salary was not enough to fulfill the basic need of his family, he decided to look for another job. His second job was at Ernakulam Telephone Exchange. His salary was Rs. 2,500. Porinju continued his study along with job and completed his study in Law. After getting a degree in law he started looking for a better job. However, he could not find a good job for few months. Later he decided to move to Mumbai. He moved to Mumbai in 1990.
Also Read – 10 Multibagger Stocks of Jhunjhunwala Porinju and Dolly Khanna
Porinju Journey in Stock Market
Porinju Veliyath immediately got a job after reaching Mumbai. He was appointed as a floor trader at a Kokat Securities. Stock market was a totally new field for porinju. However, within few days he learned in and out of stock market and he became an expert trader. He worked 4 years with Kotak Securities and gain a lot of knowledge about the stock market. In July 1994, he left Kotak and joined Parag Parikh Securities as a Research Analyst and fund manager. He was instrumental in this job for next 5 years.
In 1999 porinju veliyath decided to move back to Kochi as he was unhappy with the quality of life in Mumbai. After returning to his hometown he decided to make money from the stock market on his own. He made his first major investment in "Geojit Financial Services". The stock was trading at a very low value at the time. Everyone was surprised with his decision. As everyone thought that it is a bad penny stock. However, investment in Geojit Financial Services has given a multifold return and Veliyath was able to buy back house and land which his family had to sell off earlier.
In 2002 porinju started his own portfolio management firm Equity Intelligence. Today this company is managing portfolio of some of the leading businessmen, successful professionals, and even ordinary people.
Also Read – Best Portfolio Management Services (PMS) in India
Porinju Veliyath Portfolio Holdings
Fan and follower of Porinju always seek information about buying and selling activity of him. In order to help them here is a comprehensive list of Stocks held by Mr.Porinju.
Porinju Veliyath Portfolio Holdings
Eastern Treads Limited
IZMO Limited
Simran Farms
Stylam Industries
Samtex Fashions
BDH Industries
Emkay Global
Flex Foods
Tara Jewels
Alpa Labs
V2 Retail
ABC India
Linc Pen
Harrisons Malayalam
Palred Technologies
Sahyadri Industries
Archies
Gokaldas Exports
Arvind Infrastructure
Globus Spirits
Tera Software
KNR Construction
Jubilant Life Sciences
 Nirvikara Paper Mills
Porinju is indeed successful stock market investor. So question arise that what makes him a successful & billionaire Investor?  How he invest in the stock market?  So, here is some simple points which makes him successful value picker.
Also Read – Mohnish Pabrai Stock Portfolio – Success Story
Porinju Veliyath Investment Style
Identify and Invest in future multi baggers
Porinju has always identified and invest in future multi-bagger companies. The first example was Geojit Finance. The second example is Shreyas Shipping & Logistics. He invested in this stock in the year 2012. At that time stock was trading at Rs.30.The stock has reached an all-time high on 7th Aug 2015 Rs.839.
Make strategy when to Exit from stock
Porinju exited from Shreyas Shipping by booking profit at the level of Rs.700. After reaching all-time high stock price is now reduced to Rs.271. So, it is important to know when to exit from stock.
Buy lesser-known, high quality businesses to derive maximum portfolio value.
Entire portfolio holding of porinju is full of less –known, high-quality business. E.g No one was aware of stock such as Gokaldas Exports or Nirvikara Paper Mills before he invested.
Invest in companies with clean balance sheet, honest management and clear business visibility
Porinju always invests in companies with a clean balance sheet, honest management, and good business potential. He invested in Geojit Financial Services for these qualities only.
For complete information follow Porinju Veliyath on Economictimes.com