Pay LIC Premium Online – It is easy to pay LIC premium online. You can make use of LIC Portal or Paytm for paying LIC premium online. In this post, I will explain method of registering for LIC online services and paying LIC premium online. I will also share additional method of paying premium via Paytm.
Pay LIC Premium Online
Through Consumer Portal
Life Insurance Corporation of India provides various online services to the policyholder. It includes policy registration, online premium payment and downloading premium paying certificate. This facility saves a lot of time as you need not visit LIC branch and stand in queues to get your work done.
LIC Login is mandatory to avail of these facilities. You will get LIC Login once you register on the LIC portal. If you are holding LIC policy it is recommended to register for LIC Online Services.
Here is a step by step process to register online for LIC Online services including online premium payment and premium payment statement download facility.
Also Read – Top 7 Best LIC Policy for 2020
LIC Online Services – Facilities
The list of services that can be availed by LIC Online Services is given below. 
Policy Details
Policy Status
Bonus Status
Online Premium Payment
Assignment and nominee status
Premium paid certificate
Complaint registration
Claim Status
Loan Status
Revival Quotations
Policy condition and other features
LIC Login Registration Process 
In order to register online for LIC services you require policy number, policy premium amount (without tax), date of birth of policy holder, mobile number of policy holder, e-mail ID and scanned image of PAN card or Passport. The size of image should be less than 100 KB and file format should be jpg,png,bmp,gif or tiff.
Once you have above information you can proceed for new user registration.
Step 1 – Visit LIC website – www.licindia.in and Click on e-registration. You will be taken to the new page where you need to click on the New User.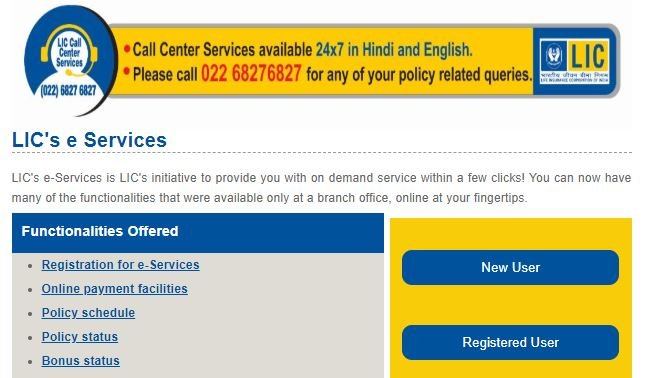 Step 2 – On the new form provide details such as policy number, premium, birth date, mobile number, e-mail id and gender.
Step 3 – Click on the submit button. You will be asked to select user id and password for your choice.
Step 4 – Now you can login via newly created user id and password and use basic services. You need to enroll for all your policies by clicking on "Add Policy".
Step 5 – In order to enable premier services, click on the Service Registration from the dashboard. Now select Service request for Premium Service Registration from the drop down option.
Step 6 – Click on the proceed button. Now provide name, date of birth, Aadhaar UID, mobile number, e-mail id and PAN number.
Step 7 – Click on the "Generate Application Form". New service request ID will be generated. Now you need to download and print the registration form.
Step 8 – Check the details given on the registration form and sign it. Upload the signed form along with KYC document PAN or passport via provided option. After documents are uploaded click on the submit request.
An acknowledgement SMS and e-mail will be sent to the mobile/e-mail id provided in the registration form. This request will be sent for verification. Once request is verified you will be intimated via e-mail and SMS about enablement of premium services. 
LIC Login Online Premium Payment Process 
Online payment using LIC online service is very easy. You need to sign in to LIC portal with the registered username and password as a customer.
Once you sign in you will be able to see dashboard showing various options such as basic services, premier services, online payment, profile management etc.
You need to click on the online payment tab for online premium payment. The screen will show premium due polices. You need to select the policy for which you want to make payment. It also gives option for paying for all premium at single go as well as advance premium payment.
Now click on Check and Pay. System will show billing invoice detail mentioning policy number, date, amount, mobile number and e-mail id. Once you click on Check and Pay you will be prompted with bill payment options.
Select the suitable option and proceed for the payment of premium. On the completion of transaction premium receipt will be sent to your registered e-mail id. 
 Pay Direct (Without Login)
You can also pay LIC premium online without login. It is also known as Pay Direct Option. In order to make payment via this method click on Pay Premium Online option given on the LIC website.
You will be taken to new page where you need to click on Pay Direct(Without Login) option.
Select Renewal Premium/Revival or Advance Premium Payment option. You will be taken to new page where you need to provide policy number, date of birth, mobile number, premium installment amount and e-mail ID. Scroll down and select I agree button.
Now press Submit button. System will validate detail from the LIC database and take you to the payment page.
Here you need to select payment option. You can pay via debit card, credit card and via Internet banking. The premium receipt will be generated and send to specified e-mail address.
Pay LIC premium via Mobile App
You can also make premium payment via Mobile App. You need to download LIC PayDirect app from Google Play.
It is official app from LIC. You can make LIC premium payment on the app by providing policy name, date of birth, premium installment amount and other details. You can also make use of this app to view Premium paying transaction online.
Through Paytm
To pay LIC premium online using Paytm follow the steps given below.
Step 1: The first step is to download and Install Paytm App on your mobile. Once it is installed open Paytm Application or just visit Paytm.com
Step 2: On Paytm application, click on more button.
Go to Recharge and Bill payment Section.Tap on "Insurance"
Step 3: You can see all insurance companies list, select LIC of India.
Step 4: And now enter your Policy number and proceed further
Step 5: On the next screen, your policy details like policy number, name of the policyholder, premium due date, number of the installment due and premium amount will reflect. Tap on Proceed to Pay. This data is reflected from LIC database.
Step 6: On the next screen, you can see the promo code page. Skip this option and proceed further to pay.
Step 7: Finally make premium payment using Net Banking, Debit card, credit card, ATM card or directly pay through paytm wallet.
On the successful payment, Paytm will send you a message on your registered email ID and mobile number for the reference.
Over to you
I hope you have got complete understanding about various method to pay LIC premium online. If you have any queries on LIC premium paying option, please share it in the comment section given below.