The UIDAI (Unique Identification Authority of India) has launched a new service of reprinting Aadhaar Online. Now you can reprint Aadhaar Card online by paying a nominal fee. In case, your Aadhaar is lost you can use this facility. In this post, I will share step by step process to order Aadhaar Reprint Online. This facility is launched by UIDAI on a pilot basis.
Earlier, if your Aadhaar was lost, it was very difficult to get new Aadhaar reprint. You need to visit Aadhaar Enrollment Center and produce several proofs for reprinting. Now you can send reprinting request online. You need to pay a nominal fee of Rs.50. The new reprinted Aadhaar will be given to the Post office for delivery via registered post. The time of delivery is 5 working days.
The prerequisite of using the mentioned method for Aadhaar reprinting is given below.
You must know your Aadhaar Number or VID (Virtual Identification Number) for giving reprinting request.
Your mobile number must be registered with the Aadhaar Database for giving this request.
You should be ready to pay fees of reprinting card.
Here is step by step method to get your Aadhaar card reprinted.
Also Read – Download Masked Aadhaar – Key Features & Benefits
How to Order Aadhaar Reprint Online?
Step 1 – A first step is visiting UIDAI's website, www.uidai.gov.in.
Step 2 – On the homepage, Under the Aadhaar services, select 'Order Aadhaar Reprint (Pilot basis)'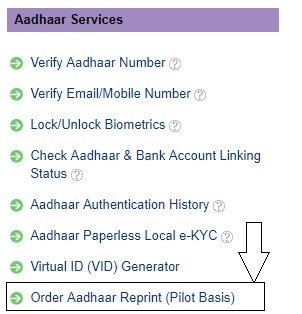 Step 3 –  A new window will open your computer screen. You need to enter 12 digits Aadhaar Number or 16 digits VID number and security code. If your mobile number is registered click on "Send OTP". If your mobile number is not registered, select a box below the security code tab. You will be prompted with a tab for entering the mobile number.
Step 4 – Once you receive OTP, please enter into a given tab. Remember this OTP is valid for 10 minutes only.
Step 5 – Select the box agreeing to "Terms and Conditions." Click on the Submit button.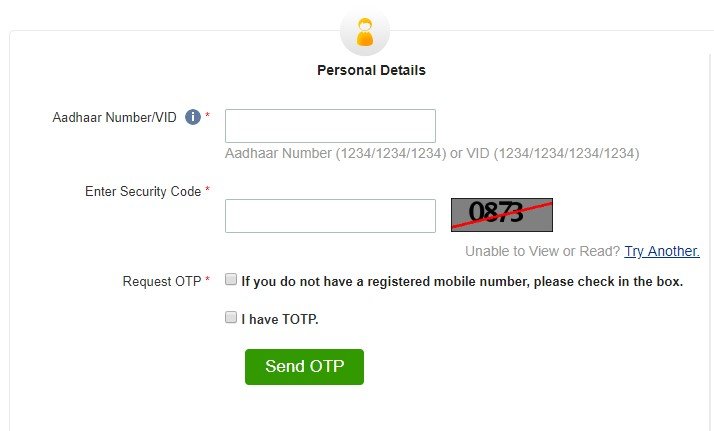 Step 6 – Once the correct OTP is entered, you will be able to verify your Aadhaar details (Only if a mobile number is registered in the Aadhaar database).
If your mobile number or Aadhaar details are not matching or inaccurate, you need to visit Aadhaar Enrolment centre to get the details corrected.
Step 7 – If your information is correct, click on 'Make Payment' option. You will be redirected to the payment gateway.
Step 8 – You can make the payment via credit card, debit card, Net banking or UPI. A fee for reprinting new Aadhaar is Rs 50. Enter the payment details and click on 'Pay Now'.
 Step 9 – Once payment is successful, you can get an acknowledgement slip on your screen. You can also download acknowledgement slip. You will also receive service request number (SRN) on your mobile via SMS.
How to track the status of your reprint?
You can also track the status of your request till dispatch of the Aadhaar Card. Follow the steps given below to track your request.
Visit https://resident.uidai.gov.in/check-aadhaar-reprint
Enter the 28 Digit SRN code received by you on your mobile phone via SMS.
Enter your 12 Digit Aadhaar Number (UID).
Enter the Security Code and press "Submit" button.
You will be able to see the status of your request.
I hope above method will help you in applying for Aadhaar Reprint, in case your Aadhaar is Lost or misplaced.