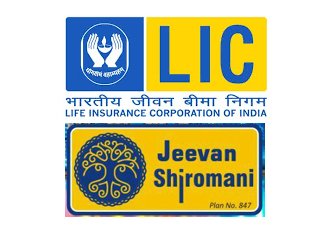 LIC of India has launched money back plan LIC Jeevan Shiromani in 2017. LIC Jeevan Shiromani (Plan 847) which, can be defined as a non-linked, money back, limited premium payment guaranteed addition plan. It is a unique plan specially designed for HNI (High Net worth Individuals). This plan provides financial support for the family not only in case of death of Life Assured during policy term but also provides coverage for the critical illness. Let's have a detailed look at the plan.
LIC Jeevan Shiromani – Unique Features
Guaranteed Additions – First 5 Year Rs.50 per 1000 BSA
Subsequent Years – Rs 55 per 1000 BSA
Inbuilt Critical illness – 15 Critical illness covered
Opinion Option – Once in Policy Term with No Cost to Policy Holder
Stand Alone Accident Benefit Rider for One Crore
Minimum Basic Sum Assured – 1 Cr
Also Read – LICLIC Bima Shree (Plan 848) – Review
LIC Jeevan Shiromani – Eligibility Conditions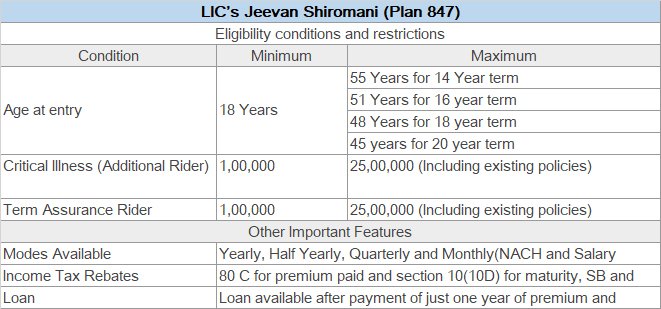 LIC Jeevan Shiromani – Benefit
Death Benefit
On death during first five years "Sum Assured on Death" along with accrued Guaranteed Additions shall be payable.
On death after completion of five policy years but before the date of maturity "Sum Assured on Death" along with accrued Guaranteed Addition and Loyalty Addition, if any, shall be payable.
Where "Sum Assured on Death" is defined as the higher of
10 Times of annualised premium or
Absolute amount assured to be paid on death, i.e 125% Basic Sum Assured
The death benefit shall not be less than 105% of all the premiums paid as on date of death.
Must Read –Loan against LIC Policy – Online Facility
Survival Benefit
On the life assured surviving to each of the specified durations during the policy term, a fixed percentage of Basic Sum Assured shall be payable as money back benefit. For more information refer to the following table.

Inbuilt Critical Illness Benefit
As discussed above Jeevan Shiromani plan has an inbuilt Critical illness benefit. 15 Critical illnesses are covered in this plan. On diagnosis of any below mentioned critical illness following benefits are payable:
Lumpsum Benefit: Benefit equal to 10% of Basic Sum Assured, subject to policy conditions and proved as admissible by LIC.
Option to defer the Premiums: If inbuilt critical illness benefit is paid to the life assured then life assured has an option to defer the premium up to 2 years. No interest will be charged from the customer for this.
Medical Second Opinion: On diagnosis of critical illness, the life assured to have the option to take second medical opinion from LIC empanelled healthcare providers or through a specialist in India depending upon the arrangement by LIC of India.
15 Critical illness covered under this plan are given below.
Cancer of specified severity
Open chest CABG
Myocardial infarction
Kidney failure requiring regular dialysis
Major organ/bone marrow transplant (as recipient)
Stroke resulting in permanent symptoms
Permanent paralysis of limbs
Multiple sclerosis with persisting symptoms
Aortic Surgery
Primary (idiopathic) pulmonary hypertension
Alzheimer's disease/dementia
Blindness
Third-degree burns
Open heart replacement or repair of heart valves
Benign brain tumor
LIC Jeevan Shiromani – Review
At first instance, it seems to be a lucrative plan. However, you should consider following points before buying this policy.
This plan is not made for common man. It is launched for High Networth Individual.
Minimum coverage offered by this policy is 1 Cr. Minimum yearly premium of this policy is 7.25 Lakh yearly. If you can afford this big outgo you can opt for this plan.
Inbuilt Critical illness coverage is projected unique feature of this plan. However, only 15 critical illness is covered. As per me, it will be very difficult to get a claim for critical coverage.
Loan facility is given in this plan after 1 year. This is something different compared to all other LIC Plan where loan facility is given after 3 years. However, looking at a value of premium paid this point can be ignored.
In case of unfortunate death of policyholder within first 5 years nominee will get less amount as Sum assured + GA @ Rs.50 per Rs.1000 Sum assured shall be payable.
The typical LIC policy return is in the range of 6% and this policy is likely to give a similar return.
Conclusion – Looking at features and benefits offered by this plan, it is advisable to avoid LIC Jeevan Shiromani. This plan is launched to attract HNI in the name of 1 Cr policy coverage and critical illness coverage. If you purchase this policy only LIC Agent will get benefited as this policy attract big commission.
Avoid this plan. If you are looking for insurance coverage, purchase term plan and invest remaining amount in the Mutual Fund via SIP route.