Online Jobs are gaining popularity nowadays. Many people in India and abroad completely rely on online jobs for living their life.
It is a known fact that everyone needs money to live their life and more than 50% of people struggles every day to make money. Unemployment, growing inflation, and declining salary are biggest concerns nowadays. Thank God, the Internet is at our rescue. We can easily make 30K to 50K per month by doing Online Jobs on the Internet.
Also Read – 19 Online Business Ideas for 2019
I have prepared 10 Latest Online Jobs from home which will help you to make at least 30K per month. These online jobs require 3-4 hours or daily working. You need not invest any money to start these jobs. I am sure, if you are looking for Online Jobs for whatever reason, you will find it one via this article. So, let's get started.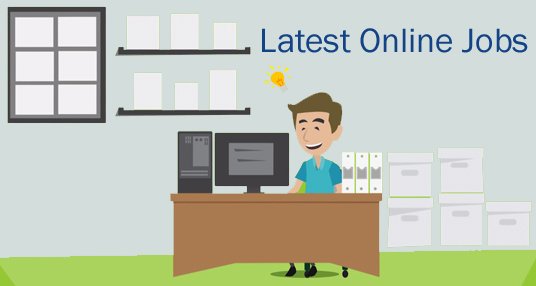 Basic Requirements to Start Online Jobs
First of all, we will look at the basic requirements for starting online jobs or business from home. Once the basic requirement mentioned below are fulfilled you are good to go for an online internet job. So, here is a list of basic requirements to start online jobs.
A personal computer, Laptop or Smart Phone with an Internet connection
E-mail Account
PayPal Account
Personal Bank Account
PAN Card
Daily 3-4 Hours
Once the above requirements are fulfilled, you are good to go for Online jobs. Here are 10 Latest Online Jobs from Home, which will help you to make 30K per month.
10 Latest Online Jobs from Home
#1 Get Paid to Click
Get Paid to Click is one of the simplest ways to make money online. There are many websites where you can sign up and start earning money by clicking on the advertisement. This type of job is known as PTC (Pay to Click) jobs. You can make up to 30K per month via this method. Clixsense and Neobux are legitimate websites that helped me in making money online.
#2 Get Paid for Survey
You can also get paid for online survey. There are many companies who want to know about their products and services. They conduct an online survey to gather information. This information helps them to increase their sell. Inboxdollars is one such site that provide online survey jobs. You can make 20-30K per month via a survey site.
#3 Make Money from Blogging
You can also make money from blogging. A blog is a place where you share your thoughts and ideas about your area of interest. When your blog posts get popular and attract traffic, advertiser will come forward for placing an advertisement on your blog. You can put a fixed cost advertisement or pay per click advertisement on your blog.
#4 Affiliate Marketing
Affiliate Marketing is one type of marketing where you refer someone to buy the online product. When that person buys a product based on your recommendation you will be paid commission. You can generate a lot of money via affiliate marketing. You can do affiliate marketing via e-mail marketing, social marketing or WhatsApp marketing.
#5 Work as a Freelancer
A Freelancer is a person who bid for projects/jobs that are available online. Once you complete the project you will receive the payment. There are websites like Elance, ODesk, Fiverr that provides online freelancer jobs.
#6 Earn Money via YouTube
YouTube Video Posting is one of the best online jobs. In this job, you need to make a unique video and post it online on YouTube Channel. Once your videos gains popularity, you can convert your channel as paid channel. You can even make money using YouTube AdSense channel partner program.
#7 Sell photos online
You can sell photos online and earn a lot of money. There are many websites such as Shutterstock, Fotolia that offers the facility of selling photos online. You can easily make 30K to 50K monthly via selling photographs online. Make sure photos which you are planning to sell are high-quality unique photographs.
#8 Buy & Sell Domain
Buying & Selling Domain or Domain Flipping is next unique online job. It is very simple way of earning money. However, you cannot expect regular monthly income via domain flipping. You need to be careful before selecting domain name, otherwise you will end up making losses.
#9 Content Writing
You can also start your online job as a content writer. In order to become a content writer, you need to be very good at writing unique content. Once you develop this skill you need to contact bloggers who are looking for a good content writer. As a content writer, you can earn 500 Rs to 1000 Rs per article.
#10 Data Entry Operator Jobs
You can find a number of data entry jobs online. These jobs are like typing document, converting physical document to e-document etc. Your pay out in this job depends upon your typing speed. If your speed of typing is very good you will be able to earn 10,000 Rs to 20,000 Rs per month by doing data entry jobs.
Over to You 
I hope the above list will help you to start your online job. If you are already working on any of the online job mentioned above then share your experience in the comment section given below.
If you know any other online jobs do share with us so that we can include that in the list.