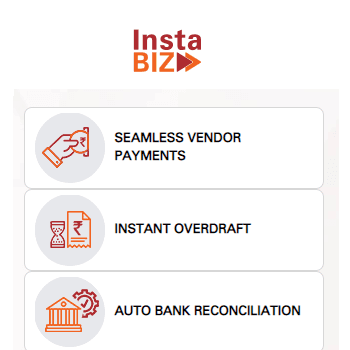 ICICI InstaBIZ is new business app launched by ICICI Bank. This business app is designed to facilitate instant banking and instant business. The target audience for ICICI InstaBIZ is MSMEs and self-employed customers. It is an integration of 115 different services under a single application. Few services offered under this app is completely new. ICICI InstaBIZ is completely free. There are no additional charges levied for using this app. You just need to download this app and register your business.  Starting from payment to collection and business loan to foreign trade you can use this app for availing multiple services. Key features and the process of using this business app is given below.
ICICI InstaBIZ – Key Features
The key feature list of ICICI InstaBIZ business app is given below.
Bulk Payments – You can go for bulk payments by using this app. This means you can transfer funds to multiple people at the same time. It can be useful for making a salary at a single go. It allows you to upload multiple transactions and make a payment on the move.
Fund Transfer – It is very easy to do fund transfer using this app. You can use NEFT, RTGS, IMPS and UPI via this business app.
Bill Payment – You can make payment of utility bills such as electricity, gas, mobile, DTH from this app. It is also possible to recharge your DTH using this app.
Tax Payment – This app also allows you to make instant GST payment. You can also make TDS and advance tax payment via this app.
Cash withdrawal & pickup Request – You can give cash withdrawal or pickup request and book the slot. Cash will be delivered or picked up at your doorstep at a given time.
Payment Collection – Unique feature of ICICI InstaBIZ is payment collection. You can raise an invoice and collect payment via this app. The App will generate a link which will be used for making transaction.
Loans – You can avail instant overdraft facility up to 15 lakh using this app. It also allows you to apply for a business loan, personal loan, home loan and auto loan.
Foreign Trade – You will get an online foreign trade facility including view of all foreign trade transactions including compliance and bills.
Business Dashboard – It gives consolidated business dashboard showing all your sales, cash position, invoice and outstanding payments.
Networking Platform – This apps offers you free access to business networking platform. It helps in growing your business. You can connect with entrepreneurs with relevant business opportunities.
Role Specific Access – InstaBIZ offers the facility to provide role-specific access to users. You can assign a financial limit for specific employees.
Auto Reconciliation – Record keeping and reconciliation are pain areas of the businessman. This app helps to perform instant auto reconciliation. This will increase your business efficiency.
ICICI InstaBIZ app can be used by ICICI as well as Non-ICICI bank customers. However, for Non-ICICI bank customer number of features will be limited. They will be able to open current account. This app also help them in getting overdraft loan up to 10 lakh after uploading KYC and bank statements.
Also Read – Best Digital Saving Account in India 2019
InstaBIZ Installation and Activation  
You can download InstaBIZ from Google Play store. Once app is downloaded install the same in your mobile.
On opening app you will be able to see login page where you will be find three different options. You can login as current account holder, register as guest or download iMobile app.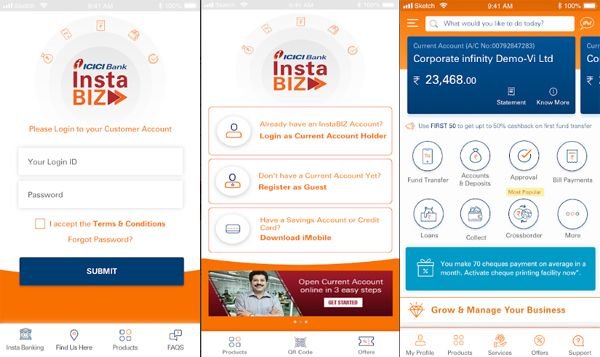 If you are Non-ICICI customer you can register as guest and opt for basic functionalities.
If you are ICICI customer you can login using customer account user ID and password.
Once you are login you will be able to explore all features of this app.
If you are looking for demo or if you have any query you can use ICICI website to request call back for this application.
ICICI InstaBIZ Review
InstaBIZ is unique business application that helps you to run and grow your business. Benefits and drawback of this app are given below.
Benefits
115 different services under single app.
Unique features such as GST payment and auto reconciliation.
Doing all transactions on the move anywhere anytime.
Business promotion and networking facility.
Integration with POS machine for payment collection.
Drawbacks
The App is available for the Android users only.
Full functionality is offered only if you are ICICI customer.
Sometimes application performance is slow. It takes time to complete the transaction.
Overall it is a wonderful app for the MSME, self-employed and small business owner. It is an example of ease of doing business and digitization in true sense. You must try this business app once.