Are you ready to take flight into the skies, defending your nation with honor, and living life on the wings of adventure? Joining the Indian Air Force (IAF) is not just a career choice; it's a way of life! If you've ever dreamt of soaring through the clouds, wearing the prestigious uniform, and being a part of one of the most elite military forces in the world, you're in the right place.
In this guide, we'll take you through the thrilling journey of how to join the Air Force in India, covering all the essential details about eligibility, salary, and the incredible benefits that come along with it. So, fasten your seatbelt, and let's prepare for takeoff!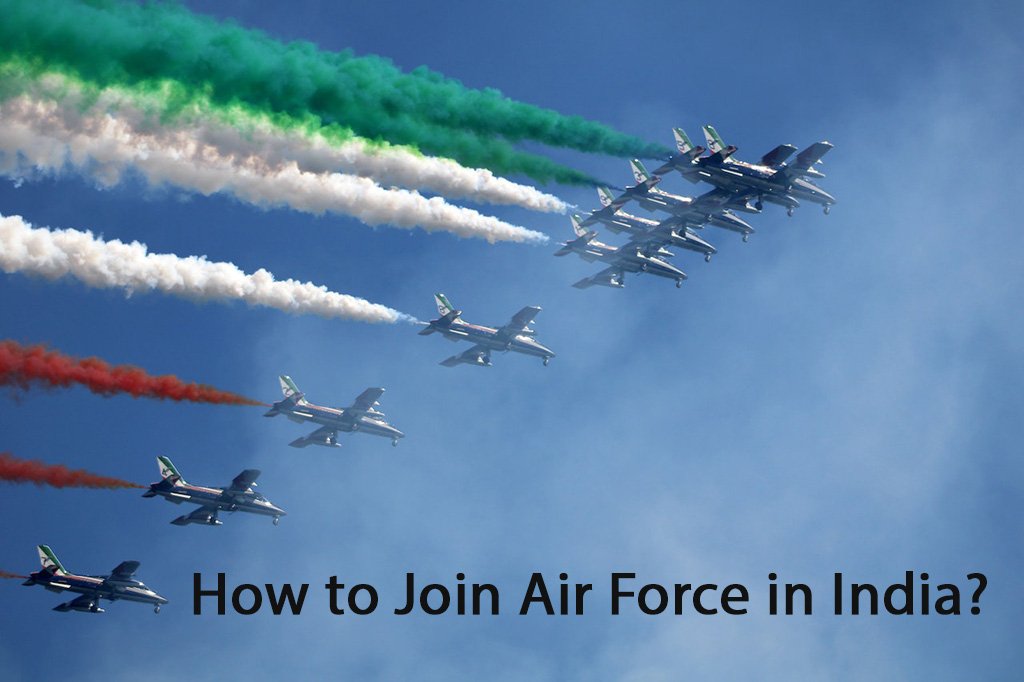 How to Join Air Force in India?
Eligibility Criteria: Are You Air Force Material?
Before you can start planning your ascent into the skies, you need to make sure you meet the eligibility requirements. The IAF doesn't just let anyone in; they're looking for the best of the best. Here's what you need:
Nationality – Proud to be Indian!
To wear the coveted IAF uniform, you must be an Indian citizen. Sorry, international jet-setters; this one's exclusively for the locals!
Age – Young Guns Wanted!
Dreaming of becoming a fighter pilot? You need to be between 16.5 to 19 years of age to apply for the National Defence Academy (NDA) and 20 to 24 years for the graduate and postgraduate entries. Time to embrace your youthful vigor!
Educational Qualifications – Books and Planes, Both Required!
For the NDA, you need to have passed 10+2 or equivalent with Physics and Mathematics.

If you're looking at the graduate or postgraduate entries, a minimum of 60% marks in graduation with specific subjects is the way to go. A master's degree holder is also eligible.

And don't forget your English skills; you need to be fluent!
Physical Fitness – Get in Shape!
It's not just your mind; your body needs to be in top-notch condition too! You'll have to meet the physical standards set by the IAF. This includes height, weight, and visual acuity requirements.
Marital Status – Single and Ready to Mingle with the Sky!
If you're planning to enter as a pilot, you should be unmarried. But other branches accept married individuals too, as long as you meet their specific requirements.
Medical Standards – A Clean Bill of Health
Prepare for a rigorous medical examination. Your eyesight, hearing, and overall health must be tip-top. Remember, your body is going to be your wingman!
Now that you know what it takes to be considered Air Force material, let's dive into the exciting part – the salary and benefits!
Salary: The Sky's the Limit!
Okay, let's talk about the moolah! Joining the IAF doesn't just fulfill your patriotic dreams; it also rewards you handsomely. Here's what you can expect in terms of salary:
Flying Officer

: This is where your journey begins, and you can expect a basic pay of around INR 56,100 per month.

Flight Lieutenant

: After a year or so of dedicated service, you'll be promoted, and your salary will jump to approximately INR 61,300 per month.

Squadron Leader

: Your climb up the ranks continues, and you can expect a monthly salary of around INR 69,400.

Wing Commander

: As a Wing Commander, your salary will be approximately INR 1,03,300 per month.

Group Captain

: The sky's the limit, quite literally! Your monthly salary as a Group Captain will be around INR 1,38,700.

Air Commodore

: As you reach higher echelons, your salary will rise to about INR 1,44,200 per month.

Air Vice Marshal

: This prestigious position comes with a monthly salary of approximately INR 1,82,200.

Air Marshal

: The salary keeps soaring! As an Air Marshal, you'll earn around INR 2,05,400 per month.

Air Chief Marshal

: At the pinnacle of the Air Force hierarchy, your monthly salary will be approximately INR 2,50,000. It's not just a job; it's a status!
But wait, there's more! In addition to the basic salary, you'll receive various allowances and perks, such as:
Dearness Allowance

: To help you combat inflation and rising prices.

Travel Allowance

: Because you'll be moving around a lot!

Kit Maintenance Allowance

: To keep your uniform in top shape.

Field Area Allowance

: When you're stationed in remote areas, you'll receive an additional allowance.

High Altitude Allowance

: For those brave souls serving in high-altitude regions.

Ration Allowance

: Because even superheroes need to eat!

Transport Allowance

: To help with your daily commute.

Children's Education Allowance

: Support for your children's education.
Now, isn't that a tempting package? You not only get to serve your country but also enjoy a comfortable lifestyle while you're at it.
Benefits: More Than Just a Paycheck
Joining the Indian Air Force isn't just about the salary; it comes with a plethora of benefits that make it one of the most sought-after careers in India.
Job Security – Rock-Solid!
In a world where job security is often a luxury, the IAF offers rock-solid stability. Once you're in, you're in, and you'll have job security that's the envy of many.
Adventure and Travel – The Sky's the Limit!
If you have a thirst for adventure and wanderlust in your veins, the IAF is the perfect choice. You'll get to travel to different parts of the country and even abroad, all while serving your nation.
Healthcare – Top-Notch!
Your health is a top priority in the IAF. You and your family will have access to excellent healthcare facilities, ensuring you're always in the pink of health.
Accommodation – Home Sweet Home!
The IAF provides comfortable and well-maintained accommodation for you and your family. Say goodbye to the hassles of finding a place to live.
Education – Bright Futures!
For your kids' education, the IAF offers some of the best schools in the country. Quality education is a given when you're in the Air Force.
Canteen Facilities – Shop Till You Drop!
The IAF operates canteens that offer a wide range of products at subsidized rates. Shop for groceries, electronics, and more without burning a hole in your pocket.
Insurance – Peace of Mind!
Life is unpredictable, but the IAF has you covered with insurance coverage that ensures your loved ones are taken care of in case of any unfortunate events.
Recreation – Work Hard, Play Hard!
There are numerous recreational facilities on Air Force bases. From sports complexes to cultural events, you'll have plenty of ways to unwind and have fun.
Retirement Benefits – Golden Years!
When the time comes to hang up your uniform, the IAF ensures that your retirement years are golden. You'll receive a pension and other benefits to enjoy life after service.
Now, you might be wondering about some burning questions regarding joining the IAF. Let's tackle those in the FAQs section.
FAQs: Your Burning Questions Answered
Q1: Can women join the IAF?
Absolutely! The IAF is open to both men and women in various branches. So, ladies, if you've got the wings of ambition, go for it!
Q2: What's the selection process like?
The selection process includes a written exam, followed by an interview, physical fitness tests, and medical examinations. It's a rigorous but rewarding journey.
Q3: Can I join the IAF if I wear glasses?
Yes, you can, but there are specific criteria for eyesight, and it varies depending on the branch you're interested in. Consult the official IAF website for detailed information.
Q4: Do I have to be a pilot to join the IAF?
Not at all! The IAF has various branches, including administration, logistics, accounts, and more. You can choose a role that aligns with your skills and interests.
Q5: Is it mandatory to serve in combat roles?
No, the IAF offers a wide range of roles, not all of which are combat-related. You can choose a role that suits your preferences and qualifications.
Q6: How can I prepare for the IAF exams?
There are numerous coaching institutes and online resources available to help you prepare for the exams. Dedication, discipline, and hard work are key!
Conclusion
Joining the Indian Air Force is not just a career choice; it's a calling, a way of life filled with honor, adventure, and opportunities. From defending your nation's skies to enjoying a comfortable lifestyle and benefits, the IAF offers it all.
Remember, it's not just about the paycheck; it's about the pride that comes with serving your country. So, if you've ever dreamt of spreading your wings and reaching for the stars, the IAF might just be your ticket to the sky-high adventure you've always craved.
Now that you have a clear roadmap on how to join the Air Force in India, it's time to take the first step. Prepare, persevere, and pursue your dreams because the sky is not the limit; it's just the beginning! How to Join Air Force in India (IAF): Eligibility, Salary & Benefits awaits you; grab it with both hands and soar to new heights!