Now you can change NPS fund manager online on NSDL Website. In addition to changing the fund manager, you can also change the investment choice of NPS. i.e Active or Auto choice. You can also switch your allocation between Equity (E), Corporate Bonds (C), and Government Securities (G).
This facility will surely help NPS investors who are planning to change the NPS Fund Manager. The said facility is available for both Tier I and Tier II subscribers.
In this post, we will take a look at the step by step process for changing NPS fund manager online on NSDL website. This includes changes like active to auto, auto to active and allocation changes. 
How to make changes to NPS Account Online?
At the time of opening the NPS account, you need to select a type of account & mode of investing – active or auto. You can also select a pension fund manager and decide the percentage in which proportion investment will take place such as equity, corporate or government bonds.
If you have selected an auto mode the investment proportion percentages change based on your age. If you want to manage the investment percentage on your own, you need to switch to active mode. Apart from that if you are not satisfied with fund performance you can also change your pension fund manager. 
You can change your pension fund manager once in a year. Allocation of scheme and active/auto choice can be changed two times in a financial year. The change in a fund does not involve any additional taxation or exit load.
There are two methods to make changes (1) Offline method (2) Online method
Also Read – NPS Online Payment – How to make NPS Online Payment?
How to make change in NPS Account Offline?   
You need to download application form for the scheme preference changes from NPS website. This form is also known as UOS-S3/CS-S3.
The form includes details such as PRAN number, name of subscriber, PFM name, investment option, asset allocation etc.
The POP will provide acknowledge number receipt to you.
Separate forms to be submitted for Tier I and Tier II
How to change NPS Fund Manager (PFM) Online? 
Login to CRA system (https://cra-nsdl.com/CRA/) with user ID and password or IPIN for NPS. You can also make use of NPS mobile app which is available for Google Play or IOS store. If you don't have IPIN you need to generate IPIN via CRA website.
After successful login click on the Transact Online button given in the menu bar. Similar option is also available in the mobile app. Click on the "Change Scheme Preference" sub menu.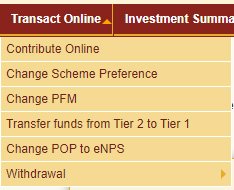 After clicking change scheme preference, you need to select account Tier type. On drop down make selection between Tier (I or II) and click on the next button.
In the next screen, you need to select PFM change and scheme preference change button. Check mark on both field and click on submit button.
You will be able to see scheme preference type selection button. Now select the preference type. There are four preference type.
Active Choice
Moderate Auto Choice
Aggressive Auto Choice
Conservative Auto Choice
You can select the option for the required change. You will be able to see only three option for the selection on screen. (As you have already opted one option from above)
After making a selection of preference click on the Add button. You will be able to see various PFM option as shown in the image below.

Select the PFM name from the dropdown menu and click on the submit button.
You will be taken to the page asking for confirmation. You need to click on Send OTP button.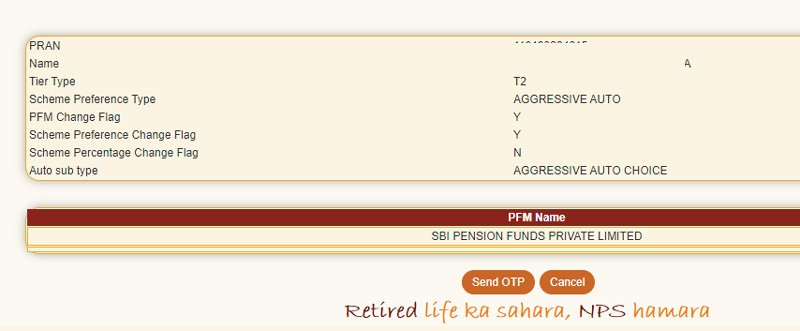 On clicking send OTP button system will send OTP on your registered mobile number for making changes. On entering OTP, you will be able to see acknowledgement number on the screen. The CRA system will also send an email to your registered email ID once request is processed.
How to Change Percentage Allocation in NPS Fund?
The option of changing allocation in the NPS fund is given only if you have selected Active Choice while opening the account. If it is auto choice you will not able to change any allocation percentages. In auto choice fund percentage are allocated based on life cycle. 
The process of changing fund allocation percentage is somewhat similar.
Login to CRA system (cra-nsdl.com) via User ID and IPIN and password.
Click on Transact Onlinefrom menu bar and click on the Change Scheme Preference sub-menu.
Select a Tier Type from dropdown and provide the type of Tier (I or II) in which you want to make changes,
Make selection of Scheme-preference % change and Click on the submit button.
Click on the Add button and
Click on Add Button, select the Pension fund from drop down options. Once scheme is selected change the percentage contribution by making entry in the Percentage Contribution
Once you are done click on submit button. You will see confirmation page. Click on Send OTP button.
OTP will be sent to registered mobile number. On entering OTP system will show acknowledgement number for the changes.
The changes shall also be intimated via SMS and email.
Over to You
Have you tried changing NPS Fund Manager Online? Do share your experience in the comment section given below.