A nomination is extremely important for any financial products. Before starting today's talk on EPF Nomination, let me share one recent incident with you. My friend's father has recently passed away. He was holding PPF account in the SBI. This PPF account was opened by him before 19 years ago and no one was nominated in his PPF account. My friend has gone through all legal process of establishing him as legal hire. As no nominee was defined in PPF account he got only 1 lac as claim, although account was containing more than 5 lacs. Hope you have now understood importance of Nomination. After understanding importance of Nomination. Let's talk about EPF Nomination and How to update or change EPF Nomination online with UAN?
Also Read – E-nomination facility by EPFO on Unified Member Portal
How to update change EPF Nomination online with UAN?
Ideally, you need to contact EPF office with Form 2 for nomination change in EPF. However, after launch of UAN it is extremely easy to update or change EPF details. Follow the steps given below to change EPF Nomination online.
Log on to UAN portal through your UAN (Universal Account Number) and password.
On the UAN dashboard, click on the "Profile" tab and you will find "Edit Nomination Details".
One form will open containing your personal information like birth date, UAN, Establishment ID, Marital status etc. All these data are fetched from the database and cannot be edited. You can only edit permanent address and present address field. If present address is same as the permanent address you can copy the permanent address in present address tab. To update the address, click on "Update" button.
Apart from an address, you can edit family member details on the same tab. The defined member would be eligible to receive widow/child pension in the event of your unfortunate death.
Also Read – New PPF Rules – Premature Closure Relaxation

At the bottom, you will find a tab of updating PF/EDLI nomination details. In this section, you can nominate the person(s) to receive outstanding EPF amount in the event of your unfortunate death. This nomination will cancel all previously nominated person(s) from nomination. You need to give following details for the nomination.
Name of person
Relationship with member
Date of Birth
Total Amount of share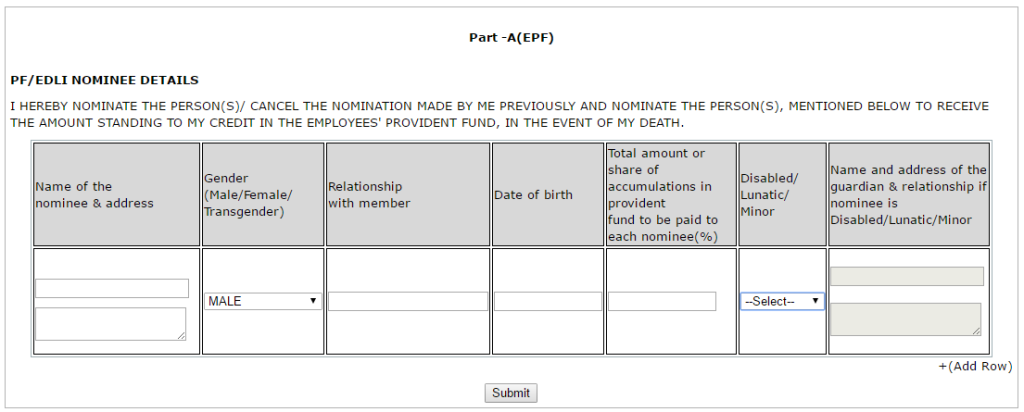 On pressing submit button the screen will appear showing Generate PDF button. You need to click on Generate PDF button.
Also Read – New EPF Composite Form 11 for automatic EPF Account transfer
After clicking on Generate PDF button you will be prompted for "Nomination declaration check box". Select the checkbox click on "Submit to Employer for Approval". Now the online nomination form is submitted in the system to the employer for his approval or rejection.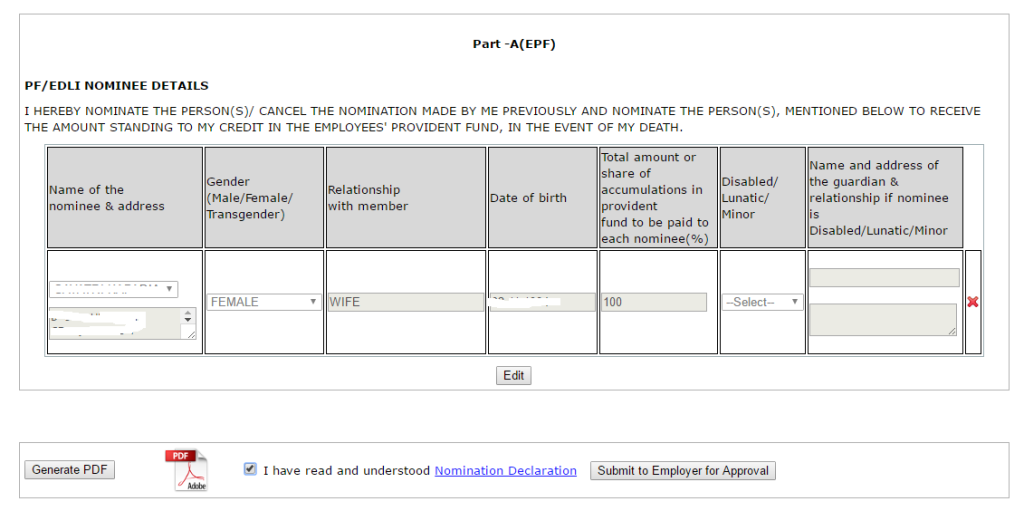 Take a printout of pdf form (Form 2), sign on it and submit it to an employer for approval.
Important Rules about EPF Nomination –
It is necessary to nominate a person for every EPF account. The nominee will get accumulated EPF funds in case of unfortunate death of subscriber.
You can nominate more than one nominee for EPF account. You can even define the percentage of share for EPF corpus.
Nominated person should be from family. Nomination of a non-family member shall stand invalid.
If the nomination is made before marriage, a subscriber needs to file nomination again after marriage.
In the case of a minor is defined as a nominee, the guardian should be the family member.
If no one is nominated the EPF fund will be equally distributed to family members. The amount shall not be distributed to major son or married daughter.
Also Read – How to link Aadhaar to EPF Online on UAN Portal?
Over to You –
Have you filed your EPF Nomination?
Do you think an online method of changing or updating EPF Nomination will help you?
Do share your experience in the comment section.