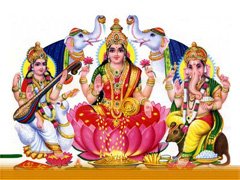 Wishing you Happy Diwali & Happy New Year, on this special occasion of Diwali I thought to write something different and I am herewith article on return given by Gold Diwali to Diwali in past 10 years.
Buying gold and silver is considered to be auspicious in most of the festival especially on Akshay Tritiya,  Dashreaa, Dhanteras and Diwali. Even jewelers project gold in different manner during festival season.  Jewellery houses offers attractive discounts and other such schemes to lure the customers. Some have gone a step further and are offering discounts on the making charges as well.
We usually hear in advertisement that "Dimond is forever" but for Indian market if we see craziness about gold than for us "Gold is forever" seems to be super hit.
Gold sales remains good throughout year but when festival season starts gold breaks record in terms of purchase demands. Its seems to be true this year also, although gold price was nearby 32,000 Rs/- per 10 gm on Dhanteras, it has not affected demand and people has purchased gold like anything. Gold is considered as safe haven. Gold investment also helps in bad financial situation that is the reason people don't hesitate in purchasing gold even at higher price. I am herewith facts and figures about gold return in past 10 years from Diwali to Diwali.
Diwali to Diwali Return of Gold (10 Years):-
Every year we purchase gold on Diwali or Dhanteras do we calculate that how much return   gold gave year on year?, I am herewith calculation showing past 10 years gold returns from 2002 to 2012 YOY (Diwali to Diwali).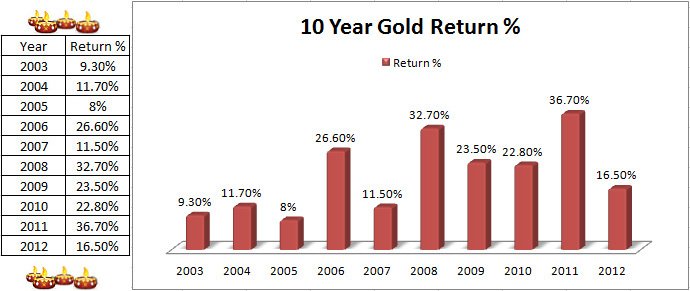 If you calculate overall return than it is 670%, Gold was costing just 4900 Rs/- per 10 gm in 2002 and now it is 32800 Rs/- per 10 gm.  Meaning if you have purchased gold of 100000 Rs/- in 2002 than its price now (2012) is 670000 Rs/-. This type of return seems to extra ordinary and other asset class may not give similar return in 10 years.  If you carefully look at graph gold has become bullish from 2007 and from 2007 to 2011 Gold has given return of 32.7%, 23.5%, 22.8% and 36.70% respectively.
This is the period where stock market has started declining. From 2002 to 2008 people were investing money in stock market but declining stage from 2008 has change mindset of investors and people started investing in gold. This increase in demand and downturn in International economy during that period was prime reason for increase in gold price.
Once again this year people have shown added interest in purchasing Gold. That is the reason country's top two exchanges BSE and NSE recorded a total turnover of over Rs 2,200 crore in gold ETF on Dhanteras – an auspicious occasion for gold buying as per Hindu tradition. Along with Gold ETF investor has purchased Gold coins instead of gold jewelry in record quantity.
Although Gold is trading on record price of 32,000 Rs/-,  Investors are still investing in gold because investor knows that investment in gold is secure as it gives return like 670% in 10 years which is difficult to achieve from other asset class.