Capital Gains statement is required in order to know your tax liability and filing your income tax returns. You must be aware that you need to pay capital gain tax (LTCG and STCG) on various investments such as mutual funds, stocks, real estate etc. Capital Gains is the profit earned on the sale of capital assets. (Real estate, stocks, mutual funds etc.)
Capital gains are taxable in the year they are realised. This means sale year. If you have sold your mutual funds investment this year, you must be looking for total capital gains you have earned during the financial year. This information is available in capital gains statement. There are three different ways to get your Capital Gains Statement for the financial year.
Method 1 – Download Capital Gains Statement from Online Demat Account.
Method 2 – Download Capital Gains Statement from Mutual Fund companies individually.
Method 3 – Get Capital Gains Statement from CAMS.
Also Read – Capital Gain Tax Calculator – Download
Download Capital Gains Statement from Online Portal Demat Account
The first method for downloading Capital Gains statement is from Online Portal of specific brokerage house where you are holding a demat account. For every Demat Account process will be different.
In this post, I will share the process of downloading a capital gain statement from ICICI Direct.
The first step is logging into ICICI Direct website. You need to give a username, password, and DOB or PAN card to logging.
Once you login to site, you will get navigation menu on left-hand site.
The first option in this menu would be "Portfolio & Statement". On clicking Portfolio & Statement you will be able to see Capital Gain Tab on the right-hand side.
This tab contains two options. Equity Capital Gain and MF Capital Gain. On clicking MF Capital gain you will be taken to the page where you will get an option for selection Financial Year (FY).
You can select FY or date range. Once done you need to click on the View button. It will display MF statement on screen. On the Top right corner, you will find an option to Print/Download the report.
Download Capital Gains Statement from Mutual Fund companies individually.
The second method of downloading Capital Gains statement is via MF companies individually. If you are DIY investor and investing in multiple platforms online and offline this method is for you. In this method, you need to download multiple statements from different MF websites separately. Steps you
You need to create your own login on every Mutual Fund Companies website.
You need to provide your folio number and PAN number during registration. You will receive OTP on mobile number email address specified on the portfolio.
If e-mail ID is not specified you need to register e-mail ID under your portfolio.
Once your login ID is created you can download CAPITAL GAINS associated with the individual portfolio.
You need to specify financial year detail or date range. The statement will be e-mailed. You can also take physical delivery of the statement.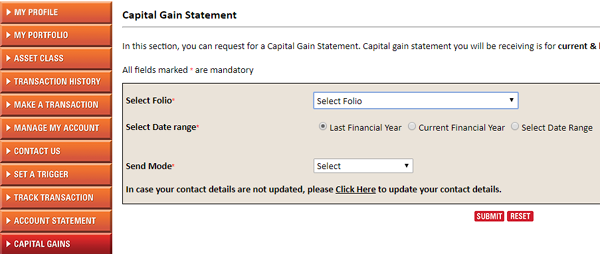 You need to repeat this exercise individually for all Mutual Fund AMC where you invested your money. It will be a very tedious process.
If you are looking for an easy method, you can make use of CAMS or KARVY to get capital gains statement. This method work irrespective of platforms. CAMS and KARVY are SEBI approved registered transfer agents. They handle back-office operation of Mutual Funds.
Get Capital Gains Statement from CAMS
Login to CAMS portal with User ID and Password. If you are not registered at CAMS you can register by clicking on New User. You need to provide email ID and mobile number registered with your Mutual fund portfolio.
Once you Login at CAMS portal, you will be able to see your investment in a dashboard format.
You will also see the navigation menu at left-hand side. Once you scroll down you will be able to see "Statement" button.
Under Statement, you will be able to see various options such as Active Statement, Transaction Details, Realised Gains etc.
You need to click on Realised Gains. You will be prompted to select a mutual fund name. You can either select a specific mutual fund or select all mutual funds.
In addition to a mutual fund, you need to select the period and delivery option.
You can select either Email a download link or Email an encrypted attachment option. You will be asked to enter the password. This password act as additional security for the statement.
Once you are done with selection click on submit button. You will receive mutual fund capital gains statement by CAMS via email.
Over to you
I hope you are able to download Mutual Fund Capital Gains Statement.
Do share your queries in the comment section given below.