FASTag is easy to use RFID (Radio Frequency Identification) tag. This tag needs to be fixed on the windscreen of the vehicle screen after activation. FASTag is linked with a bank account. This tag enables automatic deduction of toll charges via RFID when a vehicle passes through a toll plaza. From 15th Dec 2019, FASTag is mandatory for all toll payments at the highway. If your vehicle is not enabled with this tag you need to pay double toll payment at toll plaza.
The introduction of FASTag will surely reduce traffic at a toll plaza. In addition to a reduction in traffic, it will also save a lot of fuel and travel time. It is an ideal solution for a road trips on a national highway. In the first phase, Fastags will be operational at 407 national and state highways in India. It is initiative by the government of India to promote cashless transactions.
So, if you are a frequent traveler via highway, you need to buy this tag. This is to avoid payment of double amount at toll.
Also Read – Top 10 Best Payment Gateways in India for Online Business
What is FASTag?
The FASTag is an RFID sticker for the vehicle. This sticker is linked with the bank account. This sticker enables payment of toll automatically when the vehicle is on the move. This happens via RFID technology. As soon as the amount is deducted from your account, the boom barrier at toll plaza opens automatically. An SMS with date and time, place and amount will be sent to tag owners mobile.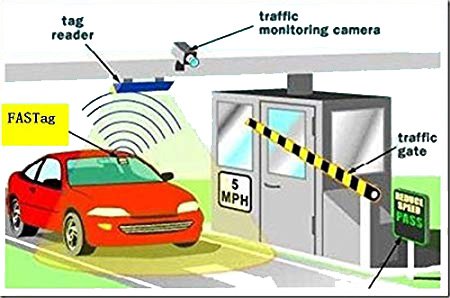 This enables the non-stop movement of vehicles at toll. It also eliminates manual intervention by a human for the opening of boom barrier manually.
All new cars are sold with the enablement of Fastag. If you are using the old car and want to purchase a new tag use the method given below.
Key Features of FASTags
This tag is enabled with RFID technology and linked with the bank account.
It is a prepaid tag that can be recharged via credit card, debit card, RTGS, NEFT, and net banking.
This tag offers attractive cashback benefits.
E-mail and SMS alerts for all transactions.
KYC documents are required for issuing tag.
A security deposit is required for using this tag.
An account with a username and password protection to check statements and transactions.
This tag comes with a validity period. In general validity period of tag/sticker is 5 years.
How to buy and recharge FASTag Online & Offline?
There are three ways to buy and recharge FASTag.
POS / Issuer Agency
The customer can visit any of the Point of Sale locations at Toll Plazas. Another alternative is to call on the customer care number of the issuer.
You need to find nearby POS for Fastag.
You need to submit application for issuing card along with documents such as RC of the vehicle, KYC documents as per category of the vehicle owner, driving license as address proof and passport size photograph.
The original documents are checked at issuers place. Any representative of vehicle owner can also visit POS with required document for getting this tag.
Banks
There are 22 different banks authorized to issue this tag. You can visit nearest bank to issue FASTag. This tag will be linked to your bank account.
| | | |
| --- | --- | --- |
| Sr No. | Issuing Bank | Customer Care Helpline No |
| 1 | Axis Bank | 1800-419-8585 |
| 2 | ICICI Bank | 1800-2100-104 |
| 3 | IDFC Bank | 1800-266-9970 |
| 4 | State Bank of India | 1800-11-0018 |
| 5 | HDFC Bank | 1800-120-1243 |
| 6 | Karur Vysya Bank | 1800-102-1916 |
| 7 | EQUITAS Small Finance Bank | 1800-419-1996 |
| 8 | PayTM Payments Bank Ltd | 1800-102-6480 |
| 9 | Kotak Mahindra Bank | 1800-419-6606 |
| 10 | Syndicate Bank | 1800-425-0585 |
| 11 | Federal Bank | 1800-266-9520 |
| 12 | South Indian Bank | 1800-425-1809 |
| 13 | Punjab National Bank | 080-67295310 |
| 14 | Punjab & Maharashtra Co-op Bank | 1800-223-993 |
| 15 | Saraswat Bank | 1800-266-9545 |
| 16 | Fino Payments Bank | 1860-266-3466 |
| 17 | City Union Bank | 1800-2587200 |
| 18 | Bank of Baroda | 1800-1034568 |
| 19 | IndusInd Bank | 1860-5005004 |
| 20 | Yes Bank | 1800-1200 |
| 21 | Union Bank | 1800-222244 |
| 22 | Nagpur Nagarik Sahakari Bank Ltd | 1800-2667183 |
Source – IHMCL
The process of applying at bank is same. You need to apply using application form. You need to visit bank to complete the formalities.
Online
FASTag can be purchased online using bank website. Let me explain process of buying this tag online on ICICI bank online, PayTM and Amazon.
Visit ICICI Fastag website and click on "Apply Now".
Fill up personal details, address and vehicle details.
Upload ID proof and provide your mobile number. OTP will be sent on mentioned mobile number for validation.
On confirmation page check all the details mentioned and submit the application.
This method can be used for car, jeep and light motor vehicle only.
Once tag is issued and activated, you will also get customer login id and password. You can use this login for checking balance as well as recharge.
You can even purchase this tag from Paytm website online. You need to login to Paytm website and apply for this tag by uploading RC book copy. If you purchase using PayTM it will be linked with your PayTM wallet. You need to pay security deposit and maintain minimum balance of Rs.150 on your wallet.
This tag can be purchased even from Amazon. The tag purchased via Amazon online can be activated and managed via My FASTag app.
Recharge
For recharging this tag you need to use My FASTag app. This method is applicable for any tag. You can only use UPI ID for recharging tag using this app.
If you have purchased a tag from a bank, you can get a customer login ID and password. You need to login to given customer portal and click on recharge now option. Select the payment method for recharge. You can use RTGS/NEFT for recharging.