EMI Moratorium is announced by RBI as a regulatory package against COVID-19. As per RBI circular, all term loans including retail, agriculture and crop loans taken from commercial banks, co-operative banks, and NFBC are permitted to grant 3 months of EMI Moratorium between March 1, 2020, to May 31, 2020. Additionally, credit card dues are also included in these benefits.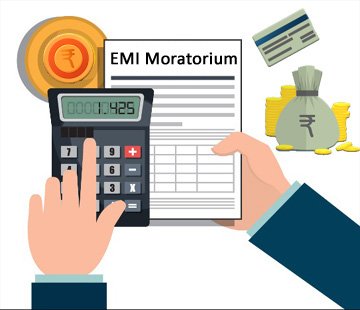 This means if you opt for moratorium you will be allowed to defer your EMI payments and credit card dues up to 3 months. In the first instance, it seems to be a very good option to take EMI Moratorium facility as you need to pay EMI for 3 months. However, this option comes with a big flip side. As per circular, interest amount shall continue to accrue on the outstanding portion of the term loans during the moratorium period. Let's try to understand this in detail and get answers to your queries about cost implications and other terms.
EMI Moratorium Cost Implication – Home Loan & Credit Card
This facility is permitted to following payments.
EMI of Loans including principal and interest component.
Credit Card Dues
Overdraft Dues
Who is eligible for this facility?
This facility is extended to all customers who have taken a loan or used a credit card facility before 1st March 2020. This facility is also applicable to overdraft dues. Individuals as well as corporate and SME customer are eligible for this facility. If you have more than one loan (e.g home loan, car loan, personal loan) you can get this facility on all loans.
Also Read – Home Loan EMI Calculator Prepayment and Closure
Cost Implication of EMI Moratorium
In case you opt for this facility due to the financial crisis, you are not required to pay EMI for three months but the interest amount is applicable for these three months also. The probable cost implication via EMI Moratorium on loan is explained below along with an example.
Home Loan –
Let's take an example that you have recently taken a home loan of 30 Lakh with an interest rate of 8% and an applicable EMI of Rs.28670. The loan tenure is 15 Years. If you opt for EMI deferment of 3 months, you will end up paying additional interest for these three months as well as additional interest on the principal.
You must be thinking 3 months' interest is very small but if you calculate it in the above case, it will cost you 2.58 Lakh. You will end up paying 9 additional EMI in lieu of 3 months' deferment. In short, your loan will be impacted in the following manner.
The Additional Interest payment is applicable – In above case 2.58 Lakh
Option -1 – Loan tenure extension up to 9 months.
Option -2 – Increase the monthly EMI if you don't want to extend loan tenure
Note – The above calculation is considering fact that your EMI amount remains the same throughout loan tenure and you will not do any prepayment. This calculation will differ based on the remaining loan amount interest rate and tenure.
Credit Card –
Credit card due deferment is boon for many as they can purchase household items which are required during this period. RBI has not issued any guidelines for late fees and penalties applicable on a credit card due. You need to contact your bank/credit card company for a late fee and applicable penalty. Some banks may ask for a minimum amount due payment to waive off the penalty.
Suppose, your credit card due is Rs.50000 and you don't want to pay this due for 3 months due to financial problems. You need to pay additional interest for the 3 months. Suppose interest is 3% per month you need to pay an additional Rs.4636 as interest amount. On this interest amount, you also need to pay 18% GST. In short, your credit card dues will be impacted in the following manner.
You won't enjoy any interest-free credit period. Interest is applicable from day 1 of purchase.
The interest in future purchases during this time period will be calculated from day 1 of purchase.
You may need to pay an additional penalty.
18% GST is applicable on the interest amount.
So, if you don't have cash flow problem during lock down it is better to avoid any deferment in EMI or credit card dues.
How to Apply for EMI deferment facility?
The facility of opting for EMI deferment is very easy. You need to provide consent and mandate extension form to your bank. Three leading banks SBI, ICICI and HDFC have given the following facilities to the customers.
SBI – You need to send an e-mail with an application to the bank. The e-mail list is available at the SBI website. The list is state wise/circle wise. You need to attach an application form for the deferment of recovery installment EMI. This form is available at the SBI website.
ICICI – ICICI Bank has taken up the approach of Opt-in or Opt-out. This means you need to select an option for deferment or continuation of your EMI. You can use SMS, E-mail or online facility available at the ICICI bank website to avail of this facility.
HDFC –  HDFC Bank allows you to apply for this facility by tele calling facility. You can also submit the request online by visiting the bank website.
The method of application differs from bank to bank. You need to get in touch with bank where you have taken loan.
What to do if I don't want to apply for this facility?
If you don't want to use this facility, no action is required from your end. Bank will continue to deduct EMI from your account. However, few banks have decided to have Opt-in or Opt-out facility where selection is required from your end for using this facility.
What to do If I have already paid EMI for this months and wants to take EMI deferment for next month?
You can opt for EMI deferment from next month if you have already paid EMI for the current month. You need to follow the same process. However, the facility will be extended to you from next month.
Can I get refund of already paid EMI?
Few bank have announced facility to get refund of already paid EMI. You need to inform to bank in order to get refund of already paid EMI. Bank will process the request and refund the EMI.
How to get moratorium facility on Credit Card Dues?
To avail facility of credit card moratorium you need to voluntarily defer paying credit card dues during this period. Additionally, turn off Auto Pay facility activated for credit card dues. You can make use of net banking or mobile banking to do so. The bank will consider that you want to avail moratorium facility on credit card. Once period of moratorium is over you need to activate Auto Pay and clear all credit card dues.
What happens to my Credit Score in case I opt for this facility?
Your credit score will not get impacted in case you opt for this facility.
Conclusion –
The EMI Moratorium is EMI delay or postponement and not waive off facility. You have to clear your pending dues after moratorium period. As interest is applicable and you are not making EMI payment you need to pay additional interest for the deferred period also. So overall it is bad deal for you and you should preferably avoid it.