Children Gift Fund – Saving and Investing Money for child education has become a primary need. Education cost is skyrocketing in India as well as abroad. The growing cost of education is a concern for everyone. It seems that being a parent if you have not planned or invested money for the higher education of your children, you may end up taking a loan.
Let's take a look at child education cost numbers. The cost of getting an education in a reputed school today is around Rs.15000 per month and it is increasing year on year. The estimated cost of an engineering course in a good institute today is 8 Lakh and that would cost Rs.18 Lakhs by 2030 and by 2040 it would cost Rs.40 Lakhs. Similarly, course of MBA in reputed university is offered at Rs.15 Lakhs today and it is expected to reach Rs.30 Lakhs by 2030 and may cross Rs.60 Lakhs by 2040.
Don't get scared by these numbers. Numbers given here are not to threaten you but to awake you to plan for your child's education.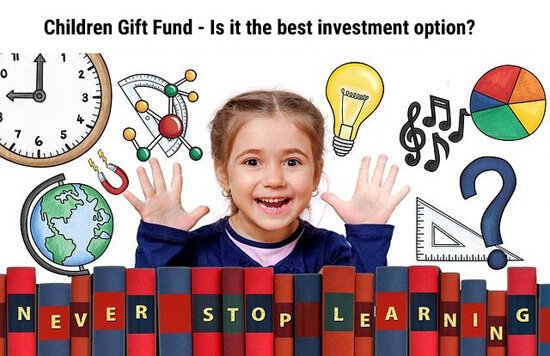 If you are planning for child education, you may come across an investment avenue called a Children Fund (mutual fund) or Children Gift Fund & you may be planning to invest your money in it. Here is complete information about the children's fund that will help you in knowing whether – children's fund is the best investment option for child education or not?
What is Children Gift Fund? 
Children fund or children gift fund is one type of mutual fund that is designed with objectives specific to child-related goals. Most of the children's funds invest in both equity as well as debt. An investor can select between equity-oriented or debt-oriented funds based on the risk appetite.
Children's funds come with a mandatory lock-in period of 5 years and it can be extended further until the child becomes an adult. Few children's plans come with the optional add-on benefit of life insurance. The maturity amount of this fund is taxable. However, parents can take benefit of section 80C tax deduction claim up to 1.5 Lakhs by investing money in the children's fund.
The prime purpose of the children's fund is to create a fund for necessary expenses of a child such as higher education, boarding, relocation, etc.
Children Gift Fund Comparison with Other Investment Options
Here is a comparison of a children fund with respect to other popular investment options for a child such as PPF, FD & Sukanya Samriddhi Scheme.
| | | | | | |
| --- | --- | --- | --- | --- | --- |
| Investment Options | Risk | Tenure | Liquidity | Type of Return | Expected Return |
| Children Fund | Moderate High | 5 Years | Limited | Market Linked | 10 -15% |
| PPF | Low Risk | 15 Years | Partial | Fixed | 7.1% |
| FD | Low Risk | 6 Months to 10 Years | High | Fixed | 5  – 7% |
| Sukanya Samriddhi Scheme | Low Risk | 8-10 Years | Limited | Fixed | 7.6% |
| High Risk Equity Oriented Mutual Funds | High | Open Ended | High | Market Linked | 15-20% |
Note – Above returns are indicative only.
After making a comparison of children fund with other investment options let's take a look at the benefits and drawbacks of children fund.
Benefits  
Children fund is a long-term investment option where parents can select a fund based on investment objective and risk appetite. 

Investment in this fund eliminates the chance of future financial burden and turns out as financial assistance for child education and other goals.

Few children funds also come with an additional optional add-on of life insurance.

The parents can avail tax benefits while investing in this fund.

Tax indexation benefits on maturity can reduce the tax burden.

One can invest in this fund via SIP and Lumpsum route. 
Drawbacks 
This fund has a lock-in period of 5 years and above hence liquidity is limited.

The return is linked with the market and lower compared to equity-oriented mutual funds.

Children fund is a categorization made by SEBI but it does not offer anything special compared to mutual funds except add-on benefits and a lock-in period.
Children Gift Fund – Is it best investment option for Child Education?
Looking at the comparison, benefits, and drawbacks, children fund is a very good investment option for child education. However, it is not the best investment option.
As per me, Children funds are like a hybrid fund with few additional benefits and a lock-in period of 5 years and above.
Children education is a long-term affair and from a long term return point of view equity mutual funds with the SIP route offers much higher returns compared to the children gift fund.
If you are worried about the increasing cost of higher education you should create a diversified investment portfolio with major investment in equity-based mutual funds and high risk, high return investment options to get superior returns.
However, if you are a low-risk or conservative investor you can go for PPF or Sukanya Samriddhi Scheme to invest for your child's future.
Happy investing!