CAMS has launched digiSIP facility.The facility of digiSIP helps investors to start the SIP in seven days. It is a completely paperless process. The lead time of 30 days is reduced to 7 days by using CAMS digiSIP. You can invest in both direct plan and regular plan by using this facility. What are features of CAMS DigiSIP? How to start digiSIP? How CAMS digiSIP works? Should you consider it? Let's try to get answers to these questions.
What is CAMS digiSIP?
digiSIP as the name indicates it is a fully digital way for setting up SIP for the mutual fund. This facility can be availed by both existing and new investors on www.camsonline.com. It uses prefilled forms from the database to set up a SIP in few clicks. This facility makes use of e-mandate or net banking facility. The one-time mandate setup on this site can be used for any number of SIPs. The main benefit of this facility is an elimination of paperwork, reduction in time required for setting up SIP and minimum data entry. 
Also Read – How to set ePayEezz Mandate Online at MF Utility?
Key Features of CAMS digiSIP
Here are key features of CAMS digiSIP –
A complete digital process of setting up SIP for mutual funds.
Faster processing and minimum data input requirement for existing investors.
e-mandate facility to reduce paperwork and time.
One can setup a multiple SIP at a single go.
No rework and resubmission of paperwork.
New investors can complete Aadhaar based e KYC and seamlessly set up SIP.
Direct and Regular both mutual funds can be purchased via this platform.
This facility can also be used for lump sum mutual fund investment.
It can be used by both existing and new investors.
How to start digiSIP?
Step-1 – Visit Camsonline site. Go to Investor Services from navigation and click on digiSIP now.
Step-2 – Enter your PAN card and click on Submit button. OTP will be generated and sent to the registered mobile number and e-mail address.

Step-3 – Enter OTP and click on verify button. On successful verification, you will be taken to the page where option will be asked to select Existing AMC or New AMC.
Step-4 – Select Appropriate AMC option and portfolio. You can also create a new portfolio. Click on submit button.
Step-5 – Next step is SIP registration page. Here you need to provide Plan type, scheme name, frequency, payment, no of installment and date.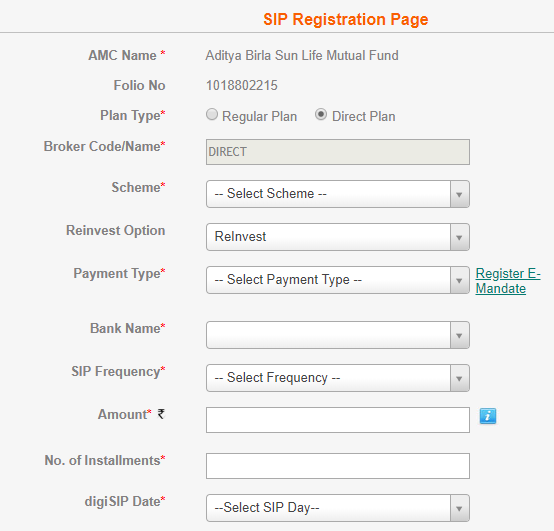 Step-6 – Once you are done press submit button. You also need to register for e-mandate for using this facility. The process of registering e-mandate is given in the next section.
Also Read – Best Mutual Fund App for easy online Investing in India
How to do CAMS e-mandate or Net banking for digiSIP?
To register e-mandate for CAMS digiSIP, follow the steps given below.
e-mandate
Step-1- Click on Register E-mandate link given on SIP registration page.
Step-2 – Provide an e-mail address and mobile number. The system will generate OTP and send to register mobile number.
Step-3- Input mobile number and click on verify. Now select a bank name and account type. Enter bank account number, IFSC Code, amount and frequency.
Click on next to complete the registration of e-mandate. It typically takes 3 days to complete the process.
In order to register e-mandate following things are mandatory.
Your bank account should be linked to Aadhaar Number.
Mandate amount should be lesser than 1 Lakh.
Your Aadhaar should be registered with mobile as eSign OTP will be sent to registered mobile/email.
You can also use net banking facility for payment mandate. In order to use net banking mandate follow the process given below.
Net Banking
Step-1- If you use Net Banking option instead of e-mandate system will generate SRN while registering digiSIP.
Step-2 – Login to the respective internet banking account and proceed to the bill pay section.
Step-3 – Select Mutual Fund name as the biller.
Step-4 –  Register future installments by providing the SIP Registration Number (SRN).
Step-5 – Enable Autopay if provided by the bank.
Step-6 – Once the registration confirmation is received by CAMS, auto debit will happen for the subsequent SIP instalments.
Also Read –How to Switch from Regular Mutual Fund to Direct Mutual Fund?
How new investor can use digiSIP facility?
The process defined above is for existing mutual fund customers. If you are a new customer and not yet KYC compliant still you can use digiSIP facility. You just need valid PAN and Aadhaar. You can complete e-KYC process online without submitting physical documents or by doing in-person verification.  
In order to complete the e-KYC at camsonline visit e-KYC section and submit required details.
Should you consider CAMS digiSIP?
digiSIP is innovative way, which saves a lot of time and eliminates needs for manual intervention. Existing and new both investor should consider this facility for making an investment in mutual fund. The only disadvantage of this facility is mutual fund purchase offered only in non-Demat mode. However, bigger advantage is faster processing and facility to purchase direct mutual funds from various AMC's on a single console. You can use digiSIP and avoid going to individual AMC website for registration of various SIPs.