Scam 1992 Web Series – The Harshad Mehta Story is grabbing attention of everyone. Best dialog delivery, acting, story and learning of stock market. This web series has everything. In short time this web series has become top web series.
I watched the trailer of this web series on YouTube. The trailer was exciting and being a finance guy I could not resist myself from watching this series. I watched entire web series on SonyLIV. The web series is 10 hours long. It was great experience to watch the story of BSE's Bachchan Big Bull Harshad Mehta. Entire 15 years' stock market journey of Harshad Mehta is shown in this web series. How Harshad Mehta entered in the stock market? How he has grown so big? How he fought with his competitors Manu Manek, Radha kishan Damani and Rakesh Jhunjhunwala? What was 1992 stock market scam?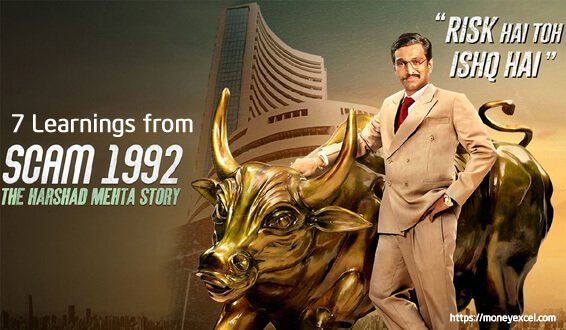 In short from Zero to Hero to Criminal the life story of Harshad Mehta is included in this web series.
After watching web series, I can say, this web series is simply superb!
I could learn lot of things from this web series and though to share with all of you. So, here is 7 Learning from Scam 1992 web series – The Harshad Mehta Story.
Also Read – Rakesh Jhunjhunwala Portfolio Holdings – December 2020
7 Learnings from Scam 1992 web series – The Harshad Mehta Story
#1 Leaning is Life –  सीखना बंध तो जितना बंध
Learning is everything. You can learn and earn. Harshad Mehta has zero knowledge about stock market when he started his journey. In order to learn stock market, he took job as jobber (dealer) at the initial stage. He was fast learner and he could learn stock market very soon. He soon opened his trading account and started making money. He had learning attitude and he applied his learning and intelligence in the stock market for making money.
The lesson learned here is one should never stop learning in the life. If you don't have knowledge of specific field you can first do job in that field and once you learn you can start your own business.
#2 The biggest risk is not taking any risk – रिस्क है तो इशक है
The famous saying of Mark Zukerberg – "The biggest risk is not taking any risk" is shown very practically in this web series. Risk hai to Ishq hai is famous dialog of this web series. Harshad Mehta has taken risk in his life to enter in the stock market for making money. His decision of starting own in the stock market and money market was bold decision. The entire success of BSE's Bachchan Harshad Mehta was on this decision.
The lesson learned here is one should take calculated risk in the life. Play it safe in life does not work if you want to have big success.
#3 Money attracts money – पैसा ही पैसे को खींचता है
Harshad Mehta has proved that money attracts money. You can make money from money in the stock market. You need to select right stock for investment at right time. Harshad Metha made a big money from the stock market. He used funds obtained from various sources to create bull run in the stock market.
The lesson learned here is if you have small money you can grow it to big money by doing business or by stock market investment.
#4 Team is Important –  टीम से सफलता की सम्भावना बढ़ जाती है
Team is utmost important in business and even in the stock market.  Manu Manek the Black Cobra shown in the series has made bear cartel (team of people) to control the stock market. The bear cartel was against Harshad. Even Harshad Mehta said he want to build team of 100 people to create history.
The learning here is to build a Fortune, First Build Great Team. High performance team is important to get success in the business.
#5 Become Expert in the Subject – ज्ञान ही शक्ति है
You should become expert in the subject which you are dealing with. The ability to understand stock market at the fullest was strength of Harshad Mehta. He could see hidden part of stock market as well as loopholes in the system. He could build investment strategies based on various indications. He could able to outsmart the bear operators and create bull run as he was aware of all happening of the stock market.
The learning here is you should have knowledge of subject in which you are dealing. You can make use of your expertise in order to get succeeded in life.
#6 Trust is Everything – विश्वास बनाये रखना बड़ी बात है
Trust is everything. Harshad Mehta has grown big and gained lot of fame. Many people were considering him as hero. He has gained unimaginable success. However, he became victim of own greed. He crossed the limit and entered in to illegal practice called as scam. Once scam details were out he lost all that he had including trust. The entire Indian stock market and banking system got affected by the scam and he was sent into jail.
The learning here is one should maintain trust of the people. Trust is utmost important for business and in every works of life. Second learning is you should never enter into illegal practices which are against law.
#7 Never make investment by taking loan – ऋण लेकर निवेश से बचे
You should never make any investment by taking loan. In order to make big money from stock market, Harshad Mehta has taken big loan. He has used unethical ways to take loan which he could not return. Stock market is sensitive and one cannot predict stock market moves. Better to take risk that can be calculated not like taking a blind risk like Harshad Mehta.
Learning here is never use illegal practice to take loan and second is never make stock market investment by taking a loan.
I hope above lessons would help you while dealing in business and in stock market.
If you have learned any other lessons from Scam 1992 web series and the life of the real Harshad Mehta, feel free to share your thoughts in the comment section given below.