Bluechip Stocks (stay safe stocks) are stocks of a reputed company with a large market cap. These types of stocks are famous for quality, reliability, and services. These stocks are likely to perform well in good as well as bad times.
We are passing through bad times. Corona Virus outbreak and lockdown have created a massive impact on the operation of almost every sector. Amid Corona Virus outbreak few bluechip stocks have outperformed and grown multifold in the market cap and returns.
I am herewith detail of 5 Bluechip stocks with a growing market cap and returns during lockdown (25th March to 30th June 2020). The list includes companies from petrochemical, automobile, pharma & FMCG.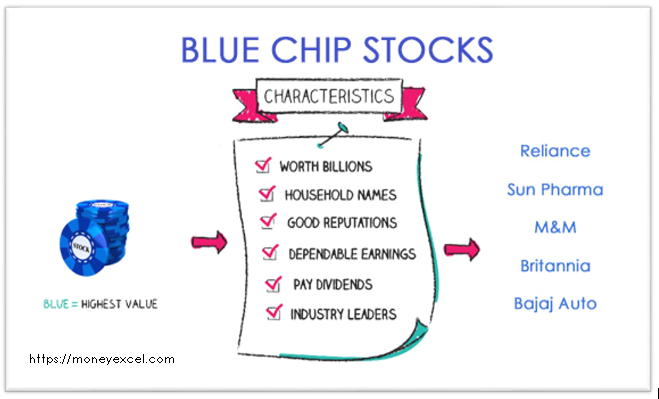 5 Bluechip Stocks with Growing Market Cap & Returns
#1 Reliance Industries
Sector – Petrochemical, Retail, Telecom
Reliance Industries is an Indian multinational conglomerate company dealing in petrochemical, telecom, and retail sector. Reliance is one of my favorite blue-chip stock. Reliance market cap has grown and reached to 11 lakh crore during the lockdown.
Reliance Jio has announced multiple deals with global partners in a few weeks. The major technology giant Facebook and even Google have purchased an equity stake in Reliance Industries. The market cap of Reliance Industries has reached 12.5 Lakh Cr which is the highest market cap in the Indian stock market. The plan of this company is very bright with respect to JioMart and 5G technology.
Why you should Invest in Reliance Industries?
Major private equity investors including Facebook and Google have invested Jio value worth Rs.152055 Cr.
Reliance Industries is able to clear debt and become debt free.
JioMart new business venture of Reliance is very promising.
Reliance is working on advance technology 5G and smart glass solutions.
Also Read – Bluechip Stock – Should You Invest in Bluechip Stocks?
#2 Sun Pharma
Sector – Pharmaceutical
Sun Pharma is the leading pharma company in India. Sun Pharma is a drugmaker and doing business in 150 countries. The major market share of this company in USA. The company is working on introducing new brands and working on new drugs. Despite COVID lockdown, the market cap of this company has increased by 30206 Cr. The company has posted a good net profit in the year 2019-20.
Sun Pharma has a bright future and this bluechip stock is likely to give better returns to the investors in the future.
Why you should invest in Sun Pharma?
Indian Pharma sector is resilient to the Covid-19 disruption.
In the crisis situation also company is managing key medicine supplies to market.
Strong demand scenario both from domestic and export market is likely to generate good revenue for the company.
Company is working on new drugs which will give financial benefits to the company.
#3 Mahindra & Mahindra
Sector – Automobile
Mahindra & Mahindra is a leading blue-chip company operating in the automobile sector. Mahindra & Mahindra is the biggest manufacturer of tractors used in agriculture. The demand for tractors has grown despite COVID lockdown. The market cap of Mahindra & Mahindra has grown by 28960 Cr. Investors can invest in Mahindra & Mahindra Stock for the long term perspective.
Why you should invest in Mahindra & Mahindra?
Positive sentiment in the rural economy is driving faster recovery for tractors.
The demand of private vehicle car is grown due to social distancing compulsions.
Company is strengthening core business and doing aggressive cost optimization.
#4 Britannia
Sector – FMCG
Britannia is FMCG sector stock. Britannia is one of my favorite stocks. I have invested money in this stock. Britannia is selling lovely food products including bread, biscuit & cakes. Despite COVID lockdown, the demand for food items by Britttannia has grown. The market cap of this stock has grown by 27722 cr. The stock price has grown from Rs.2300 to Rs.3800. This bluechip stock has a lot of potential. One can invest in this stock with a 5-year time frame.
Why you should invest in Britannia?
The company has very good fundamental and financials.
Britannia is competing with Parle G and growing market share.
The company has robust product pipeline & company is increasing geographical presence.
#5 Bajaj Auto
Sector – Automobile
Bajaj Auto is two wheelers and three wheeler company. Bajaj Auto is virtually debt free company. After fall in the COVID lockdown the share & market capital of Bajaj Finance has grown. The market cap of Bajaj Auto has reached to 25503 Cr. Bajaj Auto has taken up various steps under unprecedented crisis which will surely benefit the company.
Why you should invest in Bajaj Auto?
Strong balance sheet, high return on invested capital and debt free company.
Demand of two wheelers is likely to grow due to social distancing and fear of using public transport.
Company is facing issue in terms of export volumes but it is for short term.
Over to you
Your portfolio should have a mix of blue chip stocks, mid cap and small cap stocks. If you are beginner you should start making your portfolio with blue chip stocks.
Have you invested your money in the above blue-chip stocks?
Do you think above blue-chip stocks are likely to give better returns in the future?
Do share your views in the comment section given below.