New Online EPF withdrawal facility is introduced by EPFO recently. This facility will surely help EPF subscribers for the faster claim settlement. A hassle of submitting forms for EPF claim settlement offline will be history now. As of now the process of claim settlement is offline, which requires submission of composite claim form. It generally takes 30 days or above for EPF claim settlement. This time will be reduced up to great extent by the introduction of this facility.
In the new facility, the entire process of EPF withdrawal claim submission is online, no intervention of employer or EPFO field officer is required. The claim of submitted application will be settled in your bank account directly.
You are not required to give any supporting document while preferring online PF Part Withdrawal case. Your online application will be taken as your self-declaration for the advance claim.
Let us take a look at the claim submission process and prerequisites for submission of Online EPF withdrawal.
Also Read – EPF withdrawal for medical treatment with self-declaration 
Online EPF withdrawal Claim
Who can do Online EPF withdrawal?
You should have activated Universal Account Number.
Your mobile number used for UAN activation should be in working condition.
Your Aadhaar details should be updated in EPFO database.
Your bank account along with IFSC code should be seeded in EPFO database.
The KYC detail of your UAN account should be current and completed.
Your Permanent Account Number (PAN) should also be seeded in EPFO database for PF Final settlement claims in case your service is less than 5 years.
What type of EPF claims can be withdrawn online?
Three types of EPF claims can be withdrawn online. The details are given below.
EPF Full and Final Settlement
Employee Pension Scheme Withdrawal
EPF Partial Withdrawal of EPF advance
Also Read – Composite Claim Form – EPF withdrawal Death Cases
How to apply for Online EPF withdrawal?
The steps involved in order to apply for online EPF withdrawal claim is given below.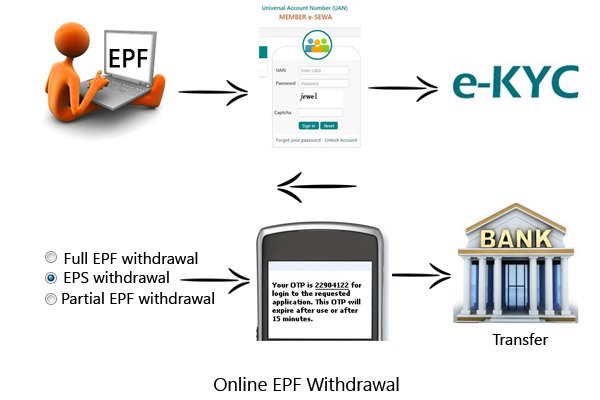 Login to unified portal member interface using UAN credentials.
Check for your KYC status. You can see and modify your KYC detail by going to Manage >> KYC link.
Click on Online services >> Claim (FORM-31,19 & 10C)
Select the relevant claim from Full EPF withdrawal, EPS withdrawal or Partial EPF withdrawal.
On submission of the request, OTP will be generated on your UIDAI register mobile.
Authenticate the claim submission using OTP.
On successful authentication, your claim will be submitted.
You can check claim status by Clicking on TRACK CLAIM STATUS.
The new process of online EPF withdrawal will help EPF subscriber up to great extent.
Also Read – New Single Composite Claim Form – EPF Withdrawal Simplified
The press release about this facility is released. This Aadhaar Based Online Claim Submission facility is available now. You can login to portal and submit your claim.