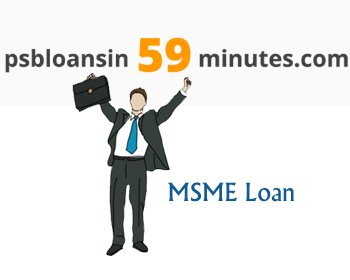 It is very easy to avail business loan today. The government is now offering MSME Loan to young and dynamic entrepreneurs. It is claimed that MSME (micro, small and medium enterprises) can secure in principal approval of loan up to 1 Crore in just 59 minutes using new government online portal.
It is a new initiative by the government where MSME business owner can apply for a loan online and get loan sanction with minimum paperwork. The basic idea behind this loan facility is to promote ease of doing business, automation and reducing lengthy loan approval process.  So, what are you waiting for? Select a business idea from 200 Small Business Ideas in India with Low Investment, register as MSME and apply for a loan to start own business. Follow the steps given below to get MSME Loan approval quickly.
MSME Loan Detail
Key features and MSME Loan detail is given below.
The loan amount will be between 1 Lakh to 5 Crore. The rate of interest (RoI) starts from 8.5%.
Loan approval will be given in 59 minutes and disbursal will be given in 7-8 working days.
There is no mandatory requirement of collateral.
The entire process is online. No registration fees need to be paid. However, for getting in principal approval nominal payment of Rs.1000 + taxes needs to be paid.
The online portal is connected to the Credit Guarantee Fund Trust for Micro and Small Enterprises (CGTMSE) scheme.
The turnaround time of getting in principal approval is reduced from 20-25 days to 59 minutes.
MSME registration is mandatory to avail this loan offer.
MSME can apply for a business loan with multiple banks at one go.
Documents required for MSME Loan                                                                               
The documents required for applying MSME loan are given below.
Bank Account Statement – You will require last six months bank statement in PDF format to apply for this loan.
e-KYC document- You need to submit e-KYC documents such as PAN card or Aadhaar.
Income Tax document – You need to furnish the last three years Income Tax returns in XML format. The income tax return document shall be used to assess the financial status of the company.
GST – You need to provide GST Identification number while applying for the loan. You also need to give GST Username and GST Password.
Ownership Details – You need to provide ownership detail about your venture. It also include detail about directors & owners such as personal details and educational information. You also need to provide declaration about MSME registration.
Step by Step Guide for MSME Loan Approval – 5 Crore
Visit official website
The first step is to visit official website – https://www.psbloansin59minutes.com and complete the registration process. In this process, you need to give your name, mobile number, e-mail ID and click on "Get OTP".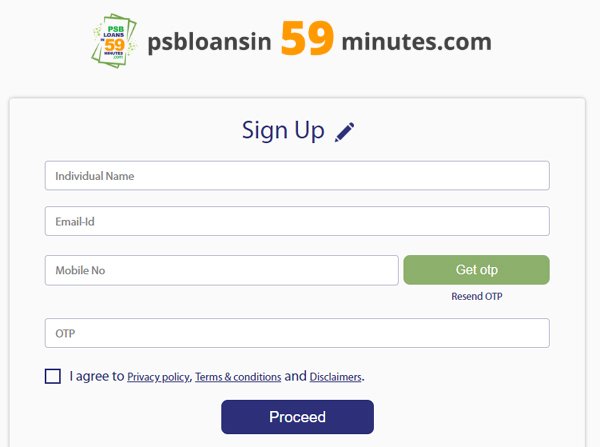 OTP
Enter the OTP received on your mobile, Tick on I agree check box and click on "Proceed" button.
Basic Questions
You will be asked few basic question about your business related to GST registration and Income tax return. After ticking all the boxes, select that you are registered as MSME and agree with about selected points. Click on "Proceed" button.
GST & Income Tax Details
On the next screen you need to provide GST details such as number, username and password for GST. You also need to provide your income tax returns in XML format. Alternatively, you can also login with your ITR details like PAN and date of incorporation.
Bank Statements
On the next screen, you need to provide either bank statement in pdf format or you need to log in with your netbanking credential to pass on bank statement detail.
Owner/Director Details
Now, you need to provide owner and directors details. This also include educational background. Apart from that you need to give company's address and proprietor details.
Purpose of Loan
As a last step of application, you need to provide the purpose of the loan. This could be an expansion, new setup or other. You also need to provide the previous loan which you have taken.
Select the Bank
Now you will be prompted to select the bank for applying loan. You can also select multiple banks for loan application.
Convenience Fee
You need to pay convenience fee Rs.1000 plus taxes. This fee is non-refundable and paid for availing loan approval services.
Loan Approval
Once fee is paid, you need to wait for getting loan approval. It usually takes less than 59 minutes to get loan approval. Once your loan is approved, you can download loan approval letter.
Note – The above process of MSME loan is for getting in principal loan approval. The disbursal of loan usually takes time of 7-10 days. Bank may seek further clarification or documents before disbursal of loan.