We can all use a little extra cash on the side, and no one says no to a side hustle that can help us pocket a side income for indulging ourselves in a little guilty pleasure.
And since so many smartphone users spend time scrolling on social media or flipping through videos on YouTube,  leveraging our time to make money from our phones is a sound idea. In addition to these activities having little or no startup costs, these methods of making money let you work from the comfort of your home. The Business Standard offers up an exhaustive list of ways, both online and offline, to earn a side income.
There are tons of resources out there that claim to help you earn money on the internet.  But it can be tricky to figure out which ones are what they claim to be and which ones are potential time-wasters.
If you are on this boat trying to figure out the approach to best supplement your income online as an Android user, we've got you covered!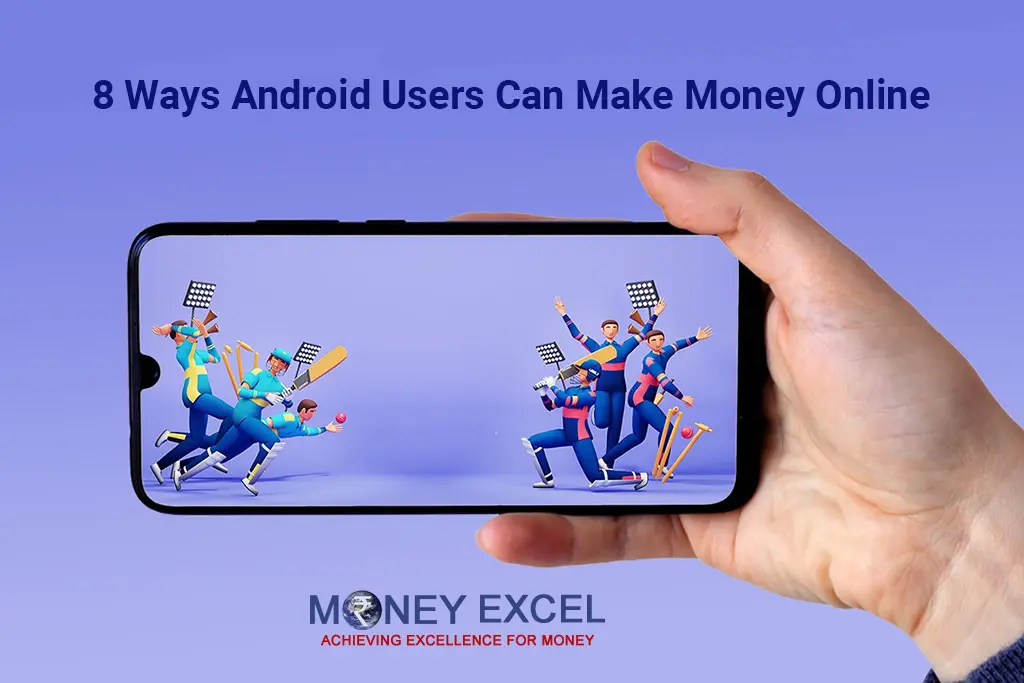 8 Ways Android Users Can Make Money Online
Here are the best ways to keep that virtual cash register ringing:
1.   Sell Your Data:
People may generally hesitate to install apps that have access to their data and view it as an invasion of their privacy.  But if you have no reservations about sharing your data, this is for you. Some of the biggest market research firms in the world, such as Nielsen, love to see what users do with their phones, and they're willing to pay you for it.
Companies either offer mobile or desktop apps that you need to install on your device. These apps then collect your data and share it with the company.
2. Playing Games:
Playing games is a fun way to rake in some earnings. They are also addictive, and you can play a quick game while stuck in traffic or waiting for your friend at a cafe.
Even if you are not a professional gamer, the video game industry would still like you to use your time playing their games. Mobile games have increased in complexity and have graphics that rival their console or PC version.
Popular games like Minecraft and Grand Theft Auto have made their way to smartphones. But if you try your hand at something more straightforward, there are games that rely on your expertise and knowledge of specific topics and work like a prediction app, where you guess the outcome of events and win money.
3. Participate In Surveys:
While this may sound too good to be true, you can earn extra cash by completing surveys online when you have time to spare. Companies pay people to participate in surveys for general market research and analyzing consumer behavior. These surveys help them to make business decisions, such as choosing which products to launch or what advertisements to publish.
4. Become A Language Tutor:
Many people are looking to master a new language either as a hobby or to use in their daily lives. Depending on which languages you know, you can play the role of tutor, and the working hours are up to you.
Upon completing the session with the student, you will get your payment, making it a straightforward process.
5. Make Your Photography Work For You:
If you're an avid photographer, you could consider selling stock photos and footage to generate income. Photography is one hobby that can be your passion and earn you some money.
Companies and business owners are always on the lookout for good-quality images for their marketing campaigns, ads, and websites.
 Websites like Shutterstock and Getty Images are great options for uploading your photos on. Every time someone downloads your image, you get paid, thereby generating recurring income.
6. Become An Instagram Influencer:
Instagram influencers are constantly being sought out by companies to represent their products and share their thoughts on them with their many followers. You can get in on the action by contacting the brands looking for publicity via marketing platforms such as Open Influence or Aspire.
7. Become A Website Tester:
If you wish to become a website tester, critical and logical thinking, excellent communication skills, along with knowledge of website design are necessary. If you have these skills, you can dive headlong into website testing and become a  website tester.
Payments depend on the project's complexity, and the rates differ based on the testing methodology and the testing platform's payment policies.
8. Become A Voice-Over Artist:
You can use your voice to earn some money by becoming a voice-over artist. As voice-over jobs are usually project-based, you don't need to commit to it long-term. Business owners always need voice-over artists to narrate audiobooks, commercials, demonstration videos, and audio guides.
Your earnings from voice-over projects depend on your experience, the type of project's type, and the script length.  Signing up for freelance work is an excellent way to test the waters and see if you have an aptitude for it.
Right from selling products online to participating in online surveys, tutoring, etc., are only some ways you can pocket some side income. While it won't be enough to replace your day job, it's great for treating yourself to some retail therapy or enjoying a weekend coffee.
But be sure to evaluate your choice of platform, as they could be a front of scams to steal your personal and financial information. While they provide an easy way to make money, be sure to check up on their reviews and validate their legitimacy first.