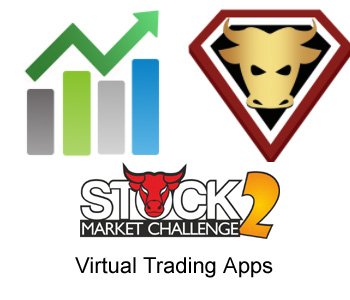 Do you know what is virtual trading? Virtual Trading is a concept of doing trading online in the virtual world. It is mainly done for the purpose of learning. In India, many people avoid stock market investing. The main reason is lack of knowledge and skillset required for the stock market trading. However, these factors are addressed with an advancement of technology and internet. You can use smartphone virtual trading apps for learning stock market trading using virtual money. This gives confidence to beginners in stock market trading.
What is Virtual Trading Apps?
You must have played games on the internet like Rummy where virtual currency is issued to a player for playing a game of cards. In the same way, the virtual trading app gives you virtual money (fake money) for dealing stock market. You can track stock price movement and changes happening on the fly. The main purpose of this trading app is to inculcate the concept of stock market trading.
In this apps, loss, and gain of money happen in the virtual world. However, you learn exactly how your actions influence the market. Some of the apps also allow you to compare and compete with your friends. In short, this app gives you an experience of investing in stock market.
Also Read – Intraday Trading in Stock Market as Career Option
Benefits of using Virtual Trading Apps
There are several benefits of using Virtual Trading Apps.
Virtual Trading App gives a completely risk-free environment for trading.
The apps are free of cost and money issued is fake. So, you are not losing anything.
You can use this app anytime anywhere on smartphone. You need not to allocate special time from your busy schedule.
You will learn stock market trading and investing. Mostly smartphone apps are distractive in nature. However, these apps gives learning experience.
Some apps reward real money in case you perform well and earn hefty profit.
It is a good idea to learn swimming before jumping in the water. Similarly, it is good to learn stock market investment. It will reduce a chance of losing money in the stock market.
Virtual Trading Apps for Stock Market Trading in India
There are several apps available on Google Play Store that helps you to learn investing in stocks, bonds, fixed deposit, mutual funds, etc. I have selected few such apps based on rating and user feedbacks.
Stock Market Challenge 2
Stock Market Challenge is most popular virtual stock market trading app. This app is developed by Dalal Street Investment Journal. This app allows you to create and manage your own portfolio and compete with other players in a risk-free environment. You can use your facebook or google login in this app.
Every challenger is assigned with initial amount of 10 Lakh. You need to buy and sell stock same as that of live environment. You can apply stop loss and limit price in this app. You can see history and even do analysis. You can compete with other investor and win exciting prize. This app is rated 4 by users.
Also Read – 10 Profitable Trading Tips for Day Trader in India
Stock Trainer
Stock Trainer is stock trading simulator with real-time market data. This app helps a beginner to take their first steps in the world of stock market.  In this simulator, everything is virtual, there is, therefore, nothing to lose. This app also gives facility to export portfolio, watch list. You need google account in order to use this app. This app is rated 4.4 by end users.
Trade Hero
Trade Hero is another Virtual Trading App. Trade Hero provide chance to deal with exchanges of different countries including BSE and NSE. This app is popular in USA and UK. Trade Hero allows you to trade in virtual environment once you are confident you can also go LIVE trading using this app.
Do you use any Virtual Trading App? Do share your views and experience in the comment section given below.
Don't forget to share detail of these apps with your friends!