Video KYC (V-CIP) is a video-based KYC facility. RBI has amended Know Your Customer (KYC) norms for banks and other financial institutions. As per new norms (released in Jan 2020) Digital KYC (Video-based e-KYC) is allowed. Now, you need not visit the bank personally for KYC. A remote video customer identification process (V-CIP) will help the bank to identify the customer and do KYC remotely.
It is a great relief to customers as well as a bank as it eliminates the manual paper-based process of KYC. However, banks and financial institutions need to invest money for storing Video of the customer along with a timestamp at a secure place. RBI has recommended using Artificial Intelligence (AI) and face matching technologies to ensure the integrity of the information produced by the customer. Let's try to understand what is Video KYC? and how it will work?
Also Read – CKYC for new Mutual Fund Investors
What is Video KYC (V-CIP)?
Video KYC is an additional method of fulfilling mandatory KYC requirements by Bank or Financial Institutions. You must be aware that the KYC validity period is two years for high-risk customers, eight years for medium risk and ten years for low-risk customers. Once this period is over, you need to complete the KYC process by visiting the bank. Following documents are required to be submitted by you at bank.
Identity Proof
Address Proof
Recent Photograph
You can submit a PAN card, Aadhaar card, Passport or driving license for KYC document.
Under V-CIP (Video Customer Identification Process) entire process can be done remotely by capturing your live photograph as well as Aadhaar/PAN.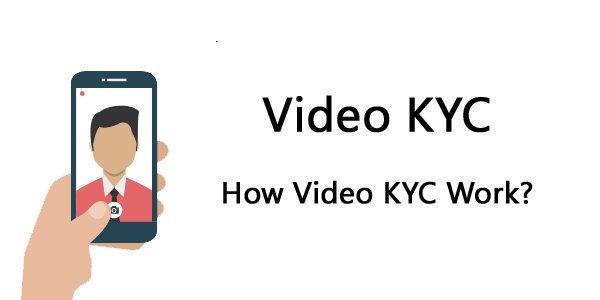 In short Video-based customer identification process (V-CIP) is a method of customer identification adopted by the bank. This method uses secure, seamless, real-time audio-visual interaction to obtain the identity of the customer and determine the truth of information provided by the customer. Banks may use Video conferencing, AI and other latest technology for facilitating this type of KYC.
How Video KYC Work?
The steps undertaken by Bank and other Institutions for Video-based KYC are given below.
The reporting entity (RE) performing V-CIP (bank representative) shall record video and capture photographs of the customer present for KYC. Bank can use OTP based Aadhaar e-KYC or Offline method for Aadhaar identification. Other entities need to use an offline method of Aadhaar KYC.
In addition to Aadhaar, RE needs to capture a clear picture of PAN during the process. Capturing of PAN photograph is not required if e-PAN is provided by the customer.
Bank or financial institutions need to use own domain name/website for this process. No third party services provider is required in this process.
The activity log to be preserved in a secure manner. Live location of the customer to be captured by Geotagging. This is to ensure that the customer is physically present in India.
The RE needs to ensure that captured photograph of the customer and other details matches with Aadhaar/PAN database.
During the entire audio-video interaction, different questions to be asked to establish that the entire process is real-time and not pre-recorded.
Reporting Entity may use QR code given at Aadhaar for identification.
The entire process of doing V-CIP should be made operational after the audit process. This is to ensure that the entire process is secured with end-to-end encryption and protected against spoofing of records and hacking/manipulation.
The video recording should be stored in safe and secure manner along with date and time stamp. Backup of video recording to be kept.
It is expected that Bank will use latest available IT technologies to achieve this process. This includes end-to-end encryption, firewall, Artificial Intelligence, face matching etc.
Challenges of V-CIP
The entire process described above is full of challenges. Challenges that are envisaged in the process are given below.
IT Infrastructure
Firstly banks or other institutions need to establish IT Infrastructure for enabling this process. This includes the development of customized software as well as the integration of audio/visual devices. Bank/Institution needs to spend money and arrange resources for this.
Training People
As it is a new process it requires a lot of effort. People will not be aware of the usage of new technology and process. So, the training of people will become important to start V-CIP.
Security and Audit
As per mandatory guideline by RBI, bank/institution need to undergo audit before making this process live. It ensures higher security. However, a bank needs to take the burden of undergoing an audit process and establishing additional encryption and security standards as per requirement.
Storage
Once V-CIP is started most of the customers like me and you will prefer the video KYC process. Thus the requirement of storing videos in a safe and secure place along with a timestamp is required. This required a lot of storage and bank need to spend a lot of money on it.
Usage of Latest Technologies
To ascertain the identity and location of a person, a bank needs to use the latest technology GPS, Geo-tagging, audiovisual, artificial intelligence, QR code, live face recognition, etc. It will be challenging for a bank to make use of the latest technologies.
Benefits of V-CIP
Customers like me and you need not visit bank/institution physically for doing KYC.
It will be complete paperless process which reduce lot of NVA.
The entire KYC database will be centralized and stored electronically for easy retrieval.
The process of V-CIP is real-time which reduce delay taking place in validating document and doing KYC.
Final Words
Video KYC (V-CIP) is a welcome step by the government towards Digital India. This step will surely benefit customers and fintech startups.
Do share your views about V-CIP in the comment section given below.