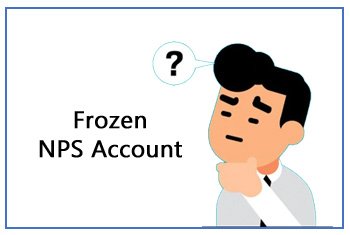 NPS (National Pension Scheme) is the most popular investment option for tax-saving and retirement.
You can claim additional tax benefits under section 80CCD for contribution to the NPS account. I opened my NPS account last year. A few days back I received one SMS – "You have not contributed Rs.1000 in FY 19-20 in your Tire I account under PRAN XXX2934. Please contribute at the earliest to avoid freezing your account." This message was ignored by me somehow and my NPS account was freeze. I have gone through the pain of unfreezing my NPS account. Here is my experience along with detail about various methods to use for unfreezing your Frozen NPS account.
Under what conditions your NPS account get frozen
Your NPS account can become inactive or frozen under the following conditions.
As per the mandatory requirement you need to invest a minimum Rs.1000 during a financial year. If you fail to invest/deposit a minimum Rs.1000 during the financial year. Your account will become inactive.
KYC is mandatory for opening NPC account. Once you open NPS account online, your bank/POP needs to verify your details and update CRA. If your KYC form is rejected by Bank/POP or information is not verified in CRA, your account will be frozen.
Follow the process given below to unfreeze your inactive NPS account.
Also Read – NPS Online Payment – How to make NPS Online Payment?
How to unfreeze your NPS account?
Condition 1 – NPS Account is frozen due to No minimum contribution
Online Method
The simplest method to unfreeze NPS is visiting eNPS portal and making a mandatory contribution by clicking on the "Contribution" button on the website.
Once you click on Contribution button, you will be taken to contribution page where you need to enter PRAN number, date of birth, NPS subscriber type.
You can receive OTP via SMS or Email. On entering OTP your PRAN is verified and you will be able to contribute to your account. Once minimum amount is contributed your account will be in active stage.
Offline Method
Another method to unfreeze your NPS account is offline method. In this method, you have to physically visit POP-SP (Point of presence service provider). You can locate nearest NPS POP from NSDL website. Click here to locate NPS POP-SP.
You need to make contribution to NPS account by filling up NCIS (NPS Contribution Instruction Slip). This slip contain information such as PRAN, Name of subscriber, Cheque/DD number etc. You can download NCIS slip from here.
You need to provide cheque or DD in favor of "POP (Name of the POP) Collection Account – NPS Trust". The amount will be deposited against your PRAN and your account will be activated again.
Condition 2 – NPS Account is frozen due to KYC rejection
If your NPS account is frozen due to KYC rejection by Bank follow the steps given below.
Take a printout of the Registration form, paste photo and affix signature.
Approach your POP for verification. POP needs to verify the Identity details, Address details and PAN details.
Get these details (at each place) in the Registration Form authorised and stamped by the POP. The POP official's Employee ID should also be mentioned.
Once verified, you are requested to send the form to POP.
Once the details are updated in CRA system, PRAN will be activated to make further contribution under NPS.  You will receive notification on the registered e-mail id.