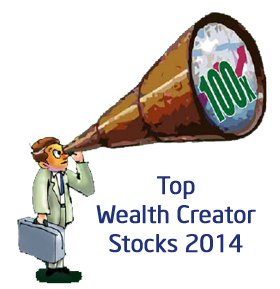 Motilal Oswal is back with 19th wealth creation study report (2009-2014). This report contains top wealth creator stocks of 2014. It also contains Biggest, Fastest and Most consistent wealth creator stock from 2009-2014. We are here with crisp excerpt of report.
Report Highlights –
Report is titled as "Demystifying growth". This report explains methodology for finding long term growth orientated stock.
It is based on book "100 To 1 In The Stock Market" by Thomas W Phelps. This book makes a strong case for investors to "Buy right and hold on". It offers examples of how in the US, over 365 stocks appreciated 100x or more over the 40 years ending 1971. "100x" refers to stock prices rising 100-fold over time.
Thomas Phelps says "To make money in stocks you must have the vision to see them, the courage to buy them and the patience to hold them. Patience is the rarest of the three."
The BSE Sensex has a base of 100 for the year 1979. The Sensex first touched 10,000 in February 2006 i.e. 100x in 27 years (almost 19% CAGR). As of March 2014, the Sensex stood at 22,400 levels. It was at 224-levels in 1984 i.e. 100x in 30 years (CAGR of 17%).
Method to find 100x Stocks –
Study suggest that essence of finding 100x stocks lies in 5 elements forming acronym SQGLP – Size (of company), Quality (of business and management), Growth (in earnings), Longevity (of both quality & growth) and Price (favorable valuation).
Companies which meet key 100x criteria
Top 10 Wealth Creator (2009-2014)
The Biggest Wealth Creator Stocks
TCS
ITC
HDFC Bank
Infosys
ICICI Bank
Wipro
Sun Pharma
Tata Motors
HDFC
HCL Technologies
The Fastest Wealth Creator Stocks
Eicher Motors
Bajaj Finance
Supreme Inds
Amara Raja Batteries
Page Industries
Indusind Bank
HCL Technologies
Aurobindo Pharma
Havells India
Ipca Labs
The Most Consistent Wealth Creator Stocks
Kotak Mahindra
Asian Paints
Sun Pharma
Hindustan Zinc
ITC
Axis Bank
HDFC Bank
M&M
Bosch
Nestle India
You may be please to notice that four out of these wealth creator stocks TCS, HCL Technologies, Sun Pharma & Bajaj Finance were already recommended by us in our article in 2013 – 7 Multibagger stocks for 2014.
Do share your views on above.
Download Full 19th Wealth Creation report by Motilal Oswal from here.