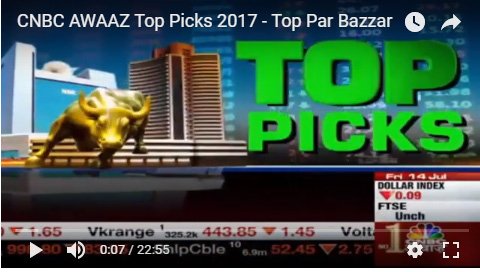 The stock market is touching new heights every day. Current Sensex level is 32000 (as of July 2017) and it is expected that it will cross 40000 in next one year. Existing equity investors are happy as they are earning money. New stock market investors are in confusion and they are in search of good stocks for investment. In order to help stock market investor, CNBC Awaaz has arranged special show Top Picks 2017. Four stock market experts Avinash Gorakshikar, Vikas Sethi and Siddharth Khemka recommended Top Stocks of 2017. They have given assurance that the recommended stocks will deliver very good returns to the investors. In addition to that advice is given to make an investment for long term perspective. In long term, a market is expected to give very good returns.
Top Stocks 2017 by CNBC Awaaz
NBCC
NBCC is first top stocks for investment in 2017. NBCC will be a major beneficiary of smart city and affordable housing project. It is debt free company with the healthy order book. The balance sheet of the company is very good. As per Vikas Sethi, this stock could be next multi bagger.
DHFL
DHFL is housing finance company. This company will get benefits of affordable housing project. The valuation of this stock is reasonable. DHFL also deals in education loan, life insurance, and mutual funds.
ITC
ITC is next top stock pick for 2017. ITC is FMCG Sector Company. Overall monsoon factor and GST factor will be plus point for this stock. ITC has major market share in FMCG segment. ITC is recommended stock for long term.
Equitas
Equitas is next top stocks of 2017. Equitas was small finance company but now it is converted into small finance bank. Equitas deals in housing finance, commercial vehicle loan, and agriculture loan. The strong management and focus are positive sides of this stock. A valuation of the stock is also reasonable.
Also Read – Stock and Real Estate can rock your retirement
Sterlite Technologies
Sterlite Technologies is fiber optic cable manufacturer. Financial performance of this company is very good. The order book value of this company is very good. The company is focusing on both product and services. The growth in data demand and connectivity requirements will be added advantage for this company. The company is also planning for expansion.
Finolex Industries
The next stock pick for 2017 is Finolex Industries. The main product of the company is PVC pipe. The focus on Irrigation and agriculture sector will give benefit to this company. A balance sheet of the company is strong and valuation of the stock is attractive. It is recommended stock for the investment.
(The views content and recommendations expressed in this post are of brokerage house own and do not represent those of Moneyexcel.com. Please consult your financial advisor before taking any position in the stocks mentioned)