Rakesh Jhunjhunwala means synonyms of Indian Stock Market. He is the undisputed king of Dalal Street. He has made Investment portfolio of 20,000 Cr in the stock market starting from the very little amount. He is a real opportunistic with a lot of passion and knowledge about the stock market. Many people called him a person with a Midas touch. Anything he touches (invests) turned out at Gold. By profession, he is a chartered accountant who manages his portfolio as a private equity firm.
Rakesh Jhunjhunwala (RJ) carries a huge fan and following. His investment portfolio and methodology is followed by many investors. He is an inspiration for many, but he's had mentors too. His father was his first mentor. Another mentor is Radakishan Damani the owner of D-mart and billionaire investor. He is also involved in philanthropy. He has taken a pledge to donate 25% of his wealth by 2020.  As an investor, you must be keen to know about his stock portfolio and Top Performing Stocks. In this post, I will share his top-performing stocks of 2019 along with few investment strategies, tips & tricks.
Also Read – 5 Secretes that make Rakesh Jhunjhunwala Successful Investor
Top Performing Stocks of Rakesh Jhunjhunwala in 2019
Ion Exchange (India) Ltd
Ion Exchange (India) Ltd is a global water & environment management company offering water treatment, waste treatment solutions in India & globally. Jhunjhunwala is holding this stock for 10 years.
The demand for water is growing like anything. As it is natural resource conservation or water treatment is only option. This means Ion Exchange has very good future business potential
Ion Exchange is the first best performing stock in RJ's portfolio in 2019. This stock has given returns of more than 100% in 2019. This is mainly due to an increase in sales and profit margin. Although this stock is in the portfolio, it is not advisable to enter in this stock at the current level.
SpiceJet
SpiceJet is a low-cost Indian airline company. RJ is holding stock of SpiceJet since July 2012 (seven years). He has made a lot of money in SpiceJet stock.
SpiceJet is a leading player in the airline industry. Spicejet is gradually expanding business by introducing new flights. A closing of Jet Airways has positively impacted Spicejet.  This stock has good market potential. A stock of SpiceJet has generated returns of more than 50% as of July, 2019.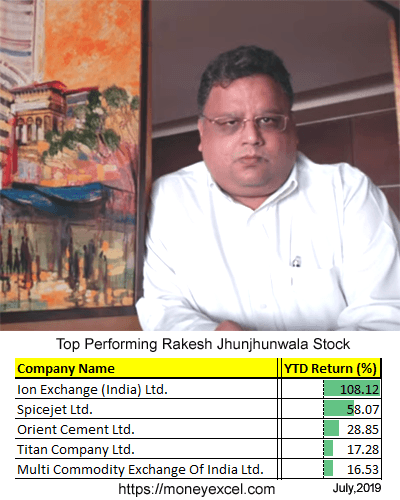 Orient Cement
Orient Cement is a leading manufacturer of cement in India. Orient Cement has multiple plants across India. Jhunjhunwala is holding this stock since 2014. Cement sector is seasonal and rise and fall is nature of these stocks. Orient cement is not an exception. A stock of Orient Cement has generated 28% returns as of July, 2019.
Titan Company
Titan is one of the most favorite stock of Rakesh Jhuhjhunwala. RJ is holding Titan Stock since past several years. Titan is in the business of watch, jewllery, eyewear and other accessories. A stock of Titan is doing well since 2018. A stock of Titan has generated 17% returns for the investors as of July, 2019.
MCX
MCX (Multi Commodity Exchange) is next in the list of top performing stocks of Rakesh Jhunjhunwala. MCX is independent commodity exchange. RJ is holding this stock since 5 years. MCX is virtually debt free company backed by permanent recognition from the government. The company is maintaining healthy dividend payout. MCX has generated 16% returns for the investors.
Investment Strategies, Tips & Tricks of Rakesh Jhunjhunwala
Rakesh Jhunjhunwala's Investment Strategies, Tips & Tricks are given below.
Invest for Long Term
RJ always invests in the stock for the long term. Titan, Lupin, CRISIL are some examples of stocks where he has invested money since long. He always says that invest in stocks the way you invest in property or gold.  Long term Investment strategy always pays. Many of his long term stocks have multiplied his wealth over the years.
Value Stocks with Future Business Potential
RJ always look for the value stock. To find out the value he prefers fundamental Analysis of Stocks. He has a very strong team who does a thorough analysis of the company's financial, business model and future business potential. Apart from that he also checks for management competency and competitive nature of business. Once he finds potential in the stock he pumps in a lot of money.
Diversified Portfolio
Most of the investors including Warren Buffet does not suggest to diversify a portfolio. They said that diversification is protection against ignorance. However, Rakesh Jhunjhunwala is somewhat different. He has diversified his portfolio. He has exposure to almost every sectors. Although his portfolio is diversified he is earning decent returns.
Learn from your Mistakes
RJ always says that you should learn from your mistakes. Success always comes out from failure. If you fail, instead of crying you should analyze why you have failed and try to improve.
Note – This article is for sharing information only. Please do not consider above top performing stock as recommendation for investment.