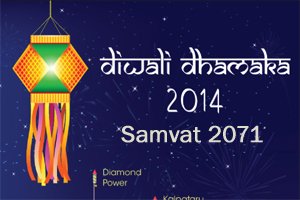 Samvat 2070 was a good year for Indian equities with bulls back to the fore. A change of guard at the Centre with a thumping majority for Mr. Modi saw the investors rerate equities. Despite the stability in the Rupee, exporters (IT and Pharma) outperformed; while Metal, PSUs, and Infrastructure true underperformed.
Opportunities:-
Return of the 15-20% Sensex EPS growth period
Lower commodity prices and lower inflation
Concerns:-
Slowdown of the global economy (especially EU & China)
USD as a safe haven and hence FII selling in emerging markets
We believe that earnings growth trajectory is now firmly set for a 20% CAGR over FY14-FY18E and this should lead to higher valuations. Reforms will be a key factor to sustain positive sentiments. We are positive on Telecom, Automobiles and Banking and Finance. Following is the list of our preferred picks for Samvat 2071.
Top Diwali Picks Samvat 2071
Large Cap:-
State Bank of India
CMP – 2584
Target – 3430
Upside – 33%
Bharti Airtel
CMP – 411
Target – 540
Upside – 31%
Hero Motocorp
CMP – 2995
Target – 3580
Upside -20%
ACC
CMP – 1445
Target – 1840
Upside – 27%
Mid Cap:-
DHFL
CMP – 330
Target – 480
Upside – 45%
Wealth Creating Stock:-
United Spirites