A Stock market is moving up and down. Investors are in confusion stage where to invest their money for the decent return? In order to help them, I am here with 5 stock ideas that generated more than 500% return in just five years. Strong fundamental and increasing growth rate is main reasons for the positive performance of these stocks. These stocks are even expected to give a better return in future. You can make an investment in this stock from a long-term perspective. So, here is best stocks that consistently beat the market and able to give positive return since 2011.
Also Read – Top 5 Best Stock Screener for Indian Stock Market
Top 5 Consistent Performer Stocks of last 5 years
Ajanta Pharma
Ajanta Pharma is leading pharmaceutical company. This stock has given magnificent performance over last five years. In January 2011 stock was trading at 28 Rs, however, today stock is trading at 1193 Rs. Strong fundamental and increasing profit margin is the main reason of an increase in stock price.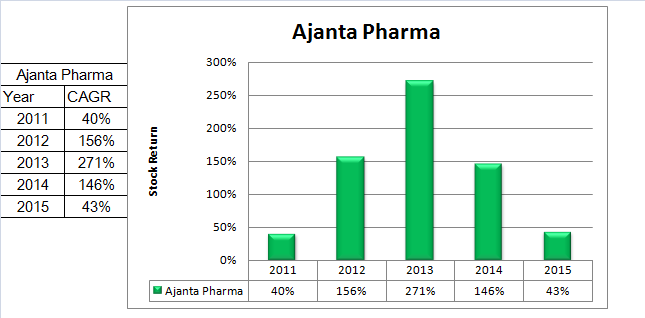 Note- All these returns are CAGR returns calculated from January to January.
La Opala RG
La Opala RG is Glass product manufacturing company. La Opala RG was a penny stock in 2011. This stock was trading at 14 Rs in 2011 and today stock is available at 587 Rs. La Opala RG is consistent performer stock with strong fundamental. You can plan to invest in this stock with long term perspective.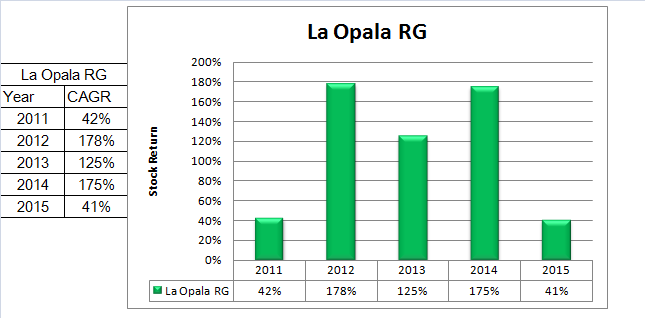 Kitex Garments
Kitex Garments is the manufacture of Kids cloth. The company is currently the second largest producer of children's apparel in the world and is now in the process of setting up operations in the United States of America. Kitex Garments is consistent performer stock and able to give very good performance over last 5 years. You might be surprised to notice that this stock was able to give more than 500% return in 2014.
Symphony
Symphony is a leader in air cooler segment. Symphony holds domestic and international customers. Symphony is consistent performer stock. A value of this stock is increased by 100% since past five years. Strong fundamental and constant growth is the main reason of an increase in stock price of the symphony.
Eicher Motors
Eicher Motors is the manufacture of automotive products. An iconic Royal Enfield motorcycle is flagship product of this company. Eicher Motors also manufacture commercial vehicles. Growing need in the domestic market is the main reason of the growth of this company. Eicher Motors is very good consistent performer stock.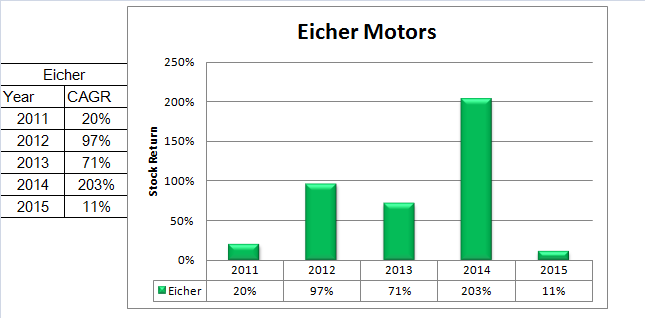 Over to you
It is very good idea to invest in stocks mentioned above. As these stocks are proven, trustworthy and consistent performer stocks. This stock may give a negative return for year or two but for the long run it is expected that these stock will perform better.
What is your take on stocks mentioned above?  Do share your views in comment section.
Follow us on Facebook.