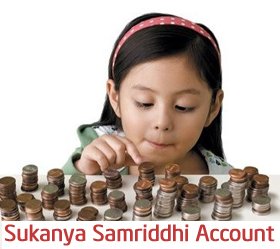 Sukanya Samriddhi Account is popular scheme launched by government two months back.We were probably first in providing information about sukanya samriddhi account and its benefits. Sukanya Samriddhi Account is highest interest paying scheme. Detail of Sukanya Samriddhi Scheme is given below.
Sukanya Samriddhi Account Details
Sukanya Samriddhi Account can be opened on girl child name by her legal/natural guardian.
Account can be opened up to the age of 10 years from the date of birth.
1 % Interest will be paid on Sukanya Samriddhi Account for FY 2015-16.
Maximum amount deposited under this scheme will be 1.5 Lac per year.
Tax benefit of 80 C is applicable for amount deposited under this account.
Interest earned and maturity amount for sukanya samriddhi account will be tax-free.
Partial withdrawal, maximum up to 50% of balance is permitted after account holder is attaining age of 18 years.
Account can be closed by legal guardian after competition of 21 years.
Premature closer of this account is allowed after completion of 18 years provided girl is married.
Although two months are passed still many banks and post offices are not aware about this scheme. I am receiving multiple queries asking about where we can open Sukanya Samriddhi Account. So here is the list of bank where you can open this account.
Also Read – Sukanya Samriddhi Account – Mobile App Download
List of Banks authorized to open Sukanya Samriddhi Account
State Bank of India
Bank of Baroda
Bank of India
Corporation Bank
Canara Bank
Punjab National Bank
UCO Bank
United Bank of India
Andhra Bank
Indian Bank
Central Bank of India
IDBI Bank
Dena Bank
All Post offices
Also Read – Sukanya Samriddhi Account – Calculator Download 
Documents required for opening Sukanya Samriddhi Account:-
Photo ID Proof
Address Proof
Birth Certificate or Leaving Certificate of Girl Child
Circular for Post office can be downloaded from here.
Sukanya Samriddhi Account – Application form download
Application form for opening this account is yet not available on post website, however you can submit normal saving account opening form of post office to open this account.
You can download Application form of opening Sukanya Samriddhi Account from here.
I am sure that after listening to benefit of this scheme you must be eager to open this account. It is advisable to approach State Bank of India or Post office to open this account.
Have you opened sukanya samriddhi account? Do share your experience with us.