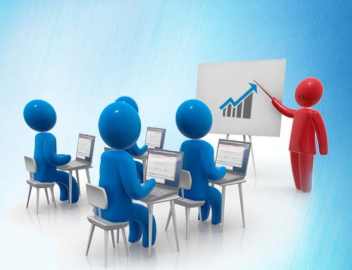 The stock market is one of the best investment options. Everyone wants to invest in the stock market to earn a big profit. But due to lack of knowledge and risk they avoid investing in the stock market. If you are a beginner and planning to invest in the stock market, it is recommended to go through a proper stock market training course. Stock market training course helps you in multiple ways. It reduces the chance of risk. You will be able to learn new technique for trading. It will also help you to earn big profit with lower investment. There are many courses available on stock market, you need to be careful in selecting course. The course should be delivered by stock market experts. It is highly recommended to select a course that provides hands-on. Here is list of 5 Popular Stock Market Training Course that you can explore when you are planning to take stock market training.
Also Read – 5 Best Portfolio Management and Tracking Tools for Stock Market Investors
5 Popular Stock Market Training Course & Institute
National Institute of Security Market
About Institute
National Institute of Security Market (NISM) is one of the old institute established in 2006. This institute is established by SEBI. This training institute provides full time, part time and short-term training programs related to stock market.
About Course
NISM offers full-time course such as a Postgraduate program in securities markets. This institute also offers short-term program NISM Certified course in securities market (NCCSM) and a Postgraduate Certificate in the securities market (PGCSM). The postgraduate program is in association with ICICI bank.
Fees
Fees for the course offered by NISM varies based on course. The general range of fee is in the range of 4 Lakh to 10 Lakh.
Nifty Trading Academy
About Institute
Nifty Trading Academy is leading stock market institute running successfully since past ten years. This institute is based at Surat, Gujarat. It is SEBI registered institute that offers various trading and investor related course. They also provide live market training.
About Course
Nifty Trading Academy offers multiple stock market training course such as diploma in technical analysis, intraday trading course, advance technical analysis course, pure profit course. Along with course you will have access to free stock market material.
Fees
Fees of the courses offered by NTA is in the range of Rs.6000 to 3.54 Lakh.
Stock Market Institute
About Institute
Stock Market Institute (SMI) is Most Comprehensive Stock Market Training Institute in India based out at Bangalore. The institute offers high quality curriculum, videos and training software. The student can become expert in the technical analysis, fundamental analysis, currencies and commodities.
About Course
Stock Market Institute offers certified course on capital market as well as professional diploma in capital markets. Training method includes practical learning via latest trends & charts of index & select stocks with live streaming & live examples by expert faculties from NSE and BSE.
IBBM
About Institute
IBBM is a premier institute of Delhi & NCR and a pioneer in financial market education and training.  IBBM has trained many candidates and has assisted them in getting an exciting career in Financial Markets. This institute is promoted by Wellindia group.
About Course
IBBM offers course like NCFM, NISM, Smart Investor, Certified Technical Analyst, Fundamental Equity Research, Currency trading, Portfolio and wealth management etc. IBBM also provides online courses on daily and weekend batches.
Elearn Markets
Elearn Markets is online financial education provider. A student, working professional or anyone who are keen to learn stock market trading and investment can visit Elearn Market. The courses offered by Elearn Markets is completely online. You can learn technical analysis, fundamental analysis, basic finance, commodity, derivative course on this site. The course fees at Elearn Markets is very reasonable.
How to select the right stock market training course?
One should consider following points while selecting stock marketing training course and institute.
Compare the credential of institute including trainers, services offered and features.
Check the course content and verify that it suits your expectations.
Make sure to compare course fees and duration of course.
Make sure that course can increase your knowledge about the stock market.
Check if live training (hands-on) is provided by the training institute.
Check that course cover basic as well as advanced stock market content.
The course offered by the institute should be affordable.
The institute should provide support after training for a few days.
If required, take feedback from a professional.
Make sure institute is genuine and registered with SEBI.
Skill required to make career in stock market
Basic Knowledge of Economics including politics, inflation, deflation, risk and factors affecting stock market.
Analytical Skills to carryout analysis of shares in stock market.
Mathematical knowledge as you require to do various calculation while dealing in the stock market.
Good communication skill to do communication during course curriculum.
Attending stock market training course is one way of learning stock market. You should not completely rely on the stock market course. You should acquire knowledge of other methods, such as reading a book, attending workshops, seminar etc. This will help you in getting insights into the stock market, and you can analyze and take better decision while making stock market trading or investment.