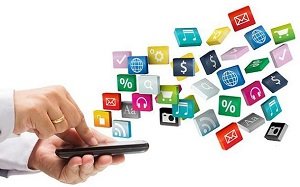 Small Business Apps – Starting a business and running it successfully is a marathon task. You need to be multitasking and efficient to run the show successfully. To enhance your productivity and business efficiency here is 5 small business apps. I found these small business apps useful as it is making my business life easy.So, without wasting time let's take a look at 5 Small Business Apps.
5 Small Business Apps to improve your business efficiency
OneNote is digital note taking app. OneNote is one of the best business apps by Microsoft. Using OneNote you can take note, tag information, insert a picture, record audio etc. The Best part of OneNote is it allows you to sync your note across your devices, so you can access it anywhere. Key features of OneNote is given below.
Excellent search capability. You can search your notes and files for anything you have captured even text inside pictures.
Voice Search Facility. You can record audio of business meeting and use voice search facility.
Collaborate and share ideas with your team.
Screen clipping facility to take a snapshot of your screen.
Accessibility anytime anywhere.
OneNote is a free tool. I found OneNote to be extremely helpful and I recommend to use OneNote to improve your business efficiency.
Also Read – 9 Best App for Business
Asana is a small business app for task management and tracking. Asana offers consolidated dashboard view for tracking work progress. Asana is the best suited app for project management. Asana business app is available in android and iOS. Asana business app is free for the team up to 15. Key Features of Asana is given below.
Unlimited tasks, project and conversations.
Add due dates, assignees, followers, details, and files to your tasks.
Search across task and find out information quickly.
Get notified about task completion and activity performed on the task.
Asana business app will surely enhance your business efficiency.
Dropbox Business is a small business app that allows you to share files with other people in the secured manner. The best part is Dropbox is secured and can be opened only with user authentication. Key features of Dropbox is given below.
Free Storage space up to 2 GB.
Safe and reliable offers backup also.
You can access a file from anywhere.
Offers higher storage capacity in paid version.
I have used dropbox for sharing large file and it works perfectly fine. You can also try using Dropbox for your business.
Also Read – 7 Best Money Making App
Expensify is one of the best business apps for small business. Expensify paid app that allows you track your expense. An Advance version of Expensify helps you with reconciliation, multistage workflow & ERP integration. Key features of Expensify is given below.
Import expense from your credit card/bank.
Expense report and expense limit.
Bill processing and unlimited invoicing.
Bulk report processing and integration with other apps.
Expensify is a great small business app to keep your financial under control.
Crushpath
Crushpath is a small business app to reach out to potential customers. Crushpath use social media, news site, email to increase your customer reach. Key features of Crushpath is given below.
Create a sales content about your business.
Promote sales content to targeted customer via social, news, website media.
Get real time notification and analytics data.
You can trial of Crushpath for 3 days.
Over to You
Hope information give above for small business app is helpful and will enhance your business efficiency. Study all aspects of the business app before purchasing these apps.
Apart from above small business app many more business apps are available in the market such as Evernote, Appointment plus, BillGuard etc. You need to goggle it to get more information about these business apps.