Sensibull is an options trading platform. Sensibull offers real as well as a virtual trading platform. Sensibull helps traders to decide on the correct strategy based on market conditions. You can also get useful information like trade, strike price, profit and loss potential, etc before entering an option for trade. It also allows you to compare various strategies. You can do real trading as well as virtual trading on this platform.
Suppose you want to use options trading and you are new in the market.
Do you think that Sensex is likely to go up by 80000 in a short time? Or stock of Reliance is going to stay between Rs.2500 to Rs.3500 next month. But you are not sure which option or strategy will work and how you can maximize your return? Should you but Buy Call, Sell Call? What should be the expiry?
Sensibull give answers to the above. You just need to enter data and hit the go button. You will get the right strategies including probable profit, ROI, breakeven, etc.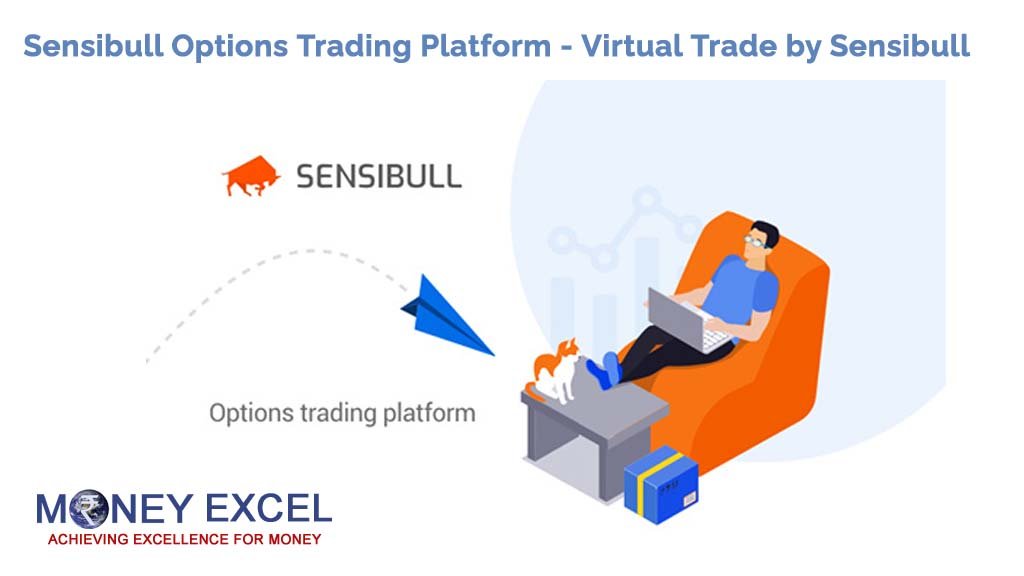 Key Features of Sensibull Options Trading Platform
Strategy Builder
This platform offers a customized strategy builder. You can create and customize various strategies as per your need. The strategy builder tool is intuitive. You just need to select a few options on the dashboard and the instruments in which you need to invest in. Your strategy will be created. You can create strategies like call spreads, put spreads, straddles, strangles, condors, and many more.
Analyze your Trades and Positions
You will also get an option to analyze your trade and positions. It is a very good option for traders. You will get various scenario analyses as well as data about the Profit and Loss Account of the company.
Easy options 
Easy options are for the beginner. If you have never traded in the option this feature is for you. This option is mainly built to minimize the losses for the beginner. In this option, you need to give three limited risk trades (Up, Neutral, and Down) and enter maximum profit and maximum loss margin, and hit the trade button.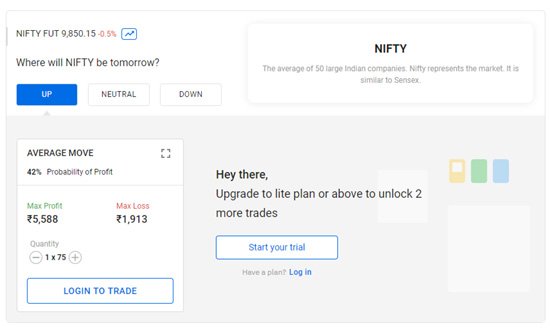 Virtual Trading without real money
Virtual Trading is a platform that allows trading with virtual money. It is one of the best features where you can do virtual trading and learn how trading works. It is like doing a net practice before starting actual trade.
Strategies Wizard
In the strategies wizard, you can predict the market direction and get the best Options trading strategies optimized for your prediction.
FII Buy Sell Data
You will also get information about FII Buy and Sell data. This information helps you to know what FII is doing in the market. Ultimately you can decide your strategy by using this data.
Whatsapp Alerts
On the dashboard, you will find the Whatsapp alerts option. Here you can set the option to get real-time alerts about stock prices and P&L on your Whatsapp. Smart Options Strategies with small risk are published every day on this platform.
Education by Sensibull
You will get free education data on Sensibull. Sensibull platform offers videos, webinars, tutorials, and many other things about how to trade in options.
Stocks Results and Events Calendar
Stock Results and Event Calendar is open to all options. Here you will get information about the result dates of FNO stocks listed on BSE and NSE. You will also get information about macroeconomic events affecting the stock market such as RBI policy changes, budget, etc.
Sensibull Pricing – Plans 
Sensibull Options and the Trading platform offers three plans – Pro, Lite, and Free
Pro
Pro plan is available with all features. Six monthly plan cost is Rs.780 per month.
Lite
Lite plan offers somewhat limited options compared to Pro Plan. Six monthly cost of this plan is Rs.480 per month
Free 
The free plan offers only limited features. You can also get 7 days free trial on this option.
How to use trade, buy and sell Options at Sensibull?
 It is very easy to trade using Sensibull. Visit Sensibull Website.
 

Click on the Login button from the Topmost navigation bar. You will be prompted to use a partner broker account. You can log in using Zerodha, 5Paisa, Motilal Oswal, ICICI Direct accounts on this platform.

You can also use Gmail ID to log in to this platform. Once you are login you will find various navigation options on the left-most menu.

You need to click on the Strategies wizard. Next is to select a stock name. Suppose you select "TCS" in the stock Name. Next is your view. You can select from "Not Above", "Above", "Between", "Below", and "Not Below" in the view.

Next is making a selection for the target of the stock and Target date.
E.g If you feel that TCS stock is likely to go above Rs. 2000 level by target date. You can make a selection as given in image below.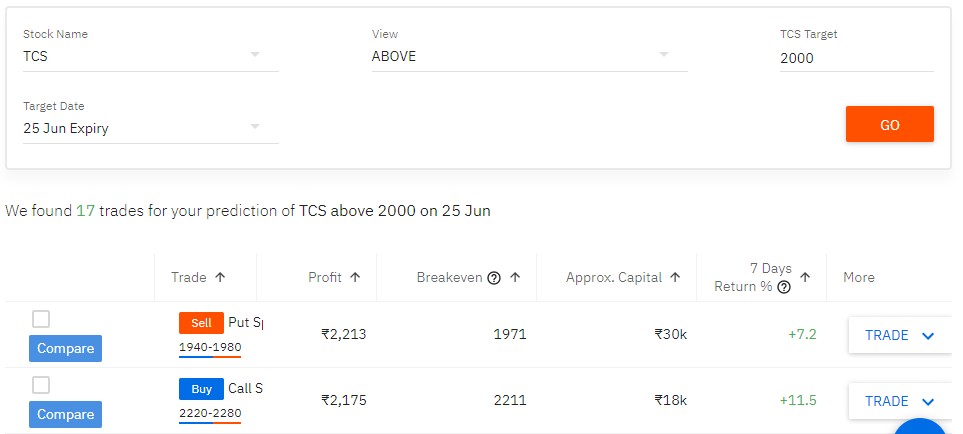 Once you are done press the Go Button. You will get various strategies based on your prediction. You just need to click on Trade and enter quantity to execute trade.
How to use Virtual Trade by Sensibull? 
To use Virtual Trade, log in to Sensibull platform. On the left-side navigation menu, you will find various options. If you are lite user, you can access the virtual trade platform. Alternatively, you will get 7 day free trial.
Click on the virtual trade. Now click on Create New portfolio. Give a name to your portfolio.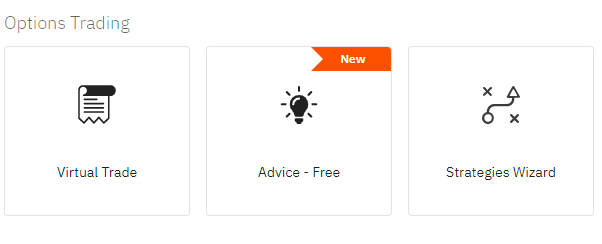 Click on your newly created portfolio. You will find an option to add your own strategy or use an existing strategy.
You need to click on order and select between Nifty and Bank Nifty. You can create a contract for Future with a call, put. You need to enter Lot, Price, and order type Buy or Sell.
You can create multiple portfolios and perform various trades in the virtual environment.
Pros and Cons of Sensibull Options Trading Platform
Pros
Easy to use interface with Dashboard View

Suitable for the beginner as well as an advanced user

Enter the detail and get detail about recommended strategies

Option to use Real as well as the virtual trading platform

Education and Learning resources available

Useful features like Option Analyzer, Futures Conversion, Event Calendar, etc.

Options Trading data analysis on Whatsapp
Cons 
Risk reward needs to be done by the trader.
Filtering strategies is difficult for the beginner.
Paid platform
Conclusion
Sensibull is a very good platform for options and trading. The best part is it shows recommended options strategies along with possible profit and loss based on market conditions. The virtual trading platform gives you the comfort of doing net practice before doing actual trade.
In short, if you are a seasoned trader or beginner and want to save time in doing complex analysis and research of finding a correct strategy for the trade you should make use of Sensibull.