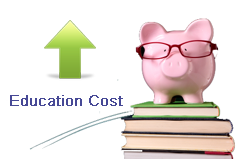 Mr.Rakesh Mishra Mumbai based MNC employee earns good salary of Rs 60,000 has only liability in terms of Home loan EMI. Yet every quarter his bank balance drops close to four digit, this is because every quarter amount close to 35000 Rs/- goes to school and tuition fees of his sons shyam and ram.
He keeps on praying that no unexpected expense turns up during this time. This could be case with you A massive surge in education costs in the past five years has stretched the monthly budgets of middle-class family like anything.
According to an Assocham survey of 2,000 families across 15 cities, the annual school education expense on a child has risen from Rs 35,000 five years ago to Rs 94,000 now. It is observed that cost of education usually rises twice as fast as normal inflation.
If you are worrying about this sharp rise in school education expense, there's a bigger time bomb ticking away. Higher education costs are growing at an even faster rate. Average fees of Engineering course is roughly Rs 6 Lakh today, five years down the line it would be close to double meaning Rs 12 Lakh. In 10 years' time, it's likely to cost around Rs 20 Lakh.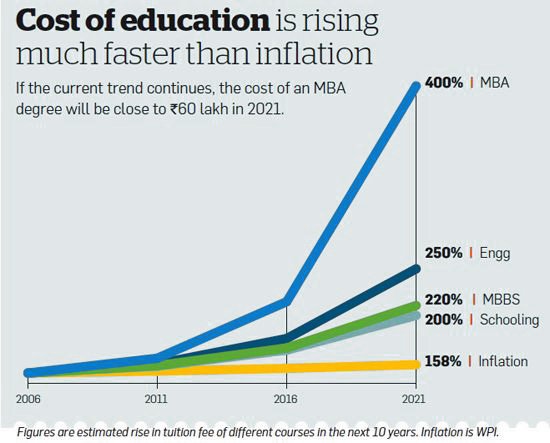 The cost of MBA course has grown even faster current cost is approximate 15 Lakh and expected to be 30 Lakh after 5 years. MBA is likely to cost 60 Lakh in 2021.
This exponentially growing cost has no dead end. Many of you are planning for your retirement but looking to future cost of education you must plan for your child's education.
If current trend continue than to make your child Engineer or MBA like you is not child's play.
You have to save & invest enough money for your child education.
If you are thinking that you need to save only for fees than you are wrong your child's school fee is not only expense related to child's education. Lot of other expenses is involved for child education. There's books, stationery, uniform, transportation, project, picnic, annual school/college functions, sports, extra-curricular activity etc.
Esitimated annual cost for one child is formulated in below table. You can put your figures and see how much it cost to your pocket.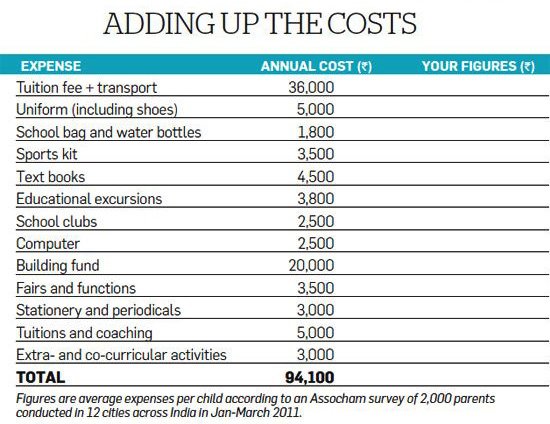 As we said saving for child education is not child's play but if you think long term and invest Rs 5,000 a month in an option that delivers a 12% return every year, you would build a Rs 25 lakh corpus in 15 years.
If you can manage to incrase this investment amount by Rs 1,000 every year and than your corpus will be almost doubld and you can build to Rs 50 lakh for child education.
It seems very simple, it is but parents should feel strongly that they need to save regulary for child education one of the crucial financial goal.
Remember your Investment amount, decipline  & selection of right asset class will decide whether your child goes to a premier institute like IIT, IIM for higher studies or ends up doing a correspondence course in small institue. This education will also decide the career path he plans for himself.
Essesnse of this article is not to increase your worry about cost of child education but make yourself aware about situation so that appropriate step can be taken.
Do share your experience and views about cost of education by adding comments.