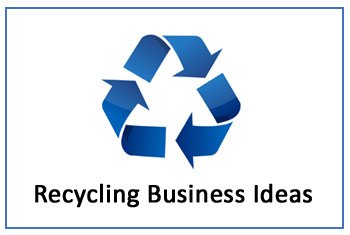 Recycling Business Ideas helps you to earn money as well as save the environment. Recycling is the process of converting waste material into new material. It is like making the best of waste. The main idea is to reduce pollution and help mankind.
We use a lot of things in our daily lives and produce a lot of waste directly or indirectly. The waste produced by us is generally dumped at a landfill site.  You can make use of this dump waste and generate money.
I am not joking!
There are many best recycling business ideas that helps you to make money. However, you require the right skill set and manpower to do these types of businesses. If you are keen to start your own recycling business, here is a list of the top 10 recycling businesses for you.
Also Read – 20 Small Business Ideas in India for 2020
Top 10 Recycling Business Ideas
#1 Electronic waste recycling business
Electronic waste recycling is known as e-waste or e-scrap company. In daily life, people use a lot of electronic components such as television, desktops, mobile, etc. Once the useful life of these items is over it is thrown as electronic scrap. These items contain valuable metals such as lead, cadmium, silver, and others. In this business, you need to extract these metals and sell them. Sometimes these material contains hazardous and toxic material. You need to take care while dealing with electronic waste.
E-waste recycling is a very good business option with a lot of future opportunities. You need to follow policies and rules set by the government. You also need to take approval and a license to start this business.
#2 Construction waste
Construction waste is one of the best recycling businesses. A waste generated from construction work is known as construction waste. Construction waste contains materials such as wood, steel, brick, gypsum, and concrete. Recycling construction required equipment such as crushers, waste shredders, etc. You can make a lot of money via the construction waste business.
#3 Printer Cartridges
The printer Cartridge is electronic waste. Printer cartridges can be recycled or reused after filling. In some cases, printer cartridges are given back to OEM. For printer cartridge refilling or recycling, you require a lot of skill and competent manpower. It is an evergreen business option with a lot of potential.
#4 Wood & Glass Recycling
Wood and glass recycling is next on the list for recycling business ideas. In this business, you need to first sort out types of wood, glass, and other materials. Once you sort out these materials you need to crush them using a crusher or mill. Once it is converted into raw material you can produce new material. The process requires quality inspection and skilled manpower. It is a very good profitable business option.
#5 Biomedical Waste Recycling
Starting biomedical waste recycling is next on the list. Proper disposal of medical waste prevents infection and diseases from spreading. Biomedical waste is divided into multiple types such as pharmaceutical, biohazard, radioactive and plastic.
All biomedical waste cannot be recycled. Only biomedical waste made of up plastic can be recycled. In order to recycle it you need to follow the process of sterilizing, melting, and reusing. Biomedical waste disposal requires a license and approval from the government.
If you are looking for trusted biohazard and crime scene clean-up specialists, then you need to hire professionals such as those from Scene Clean Minnesota. They are trained in dealing with biomedical waste, and other hazardous substances. It is important to get these dealt with in the correct way, to stop contamination.
#6 Fertilizer Making from Waste
The household waste can be used for making compost and fertilizer. In this business, you need to start a collection center for waste collection. You need to sort out the waste between dry and wet waste.  You need to use space or land for the biological decomposition of waste. Once this process is over waste is converted into compost or fertilizer.
You can start this work at a small scale and expand once it grows. You require skilled manpower and knowledge for starting this business.
#7 Paper recycling
Paper is used widely all over. Once paper or notebook is used it is thrown as waste. In the paper recycling business, you need to convert waste paper into a new product. There are many low-cost paper recycling plant available in the market. You can purchase the same. Alternatively, you can develop your own method for paper recycling.
#8 Battery recycling
The battery contains heavy metals and toxic chemicals. Throwing or disposing of battery is a huge risk. In the process of battery recycling, you need to first break the battery. You can do that via crusher or via hammers. Once the battery is broken, you need to sort out the material from the battery. The material will be plastic, lead, and acid.
The plastic goes through a melting process. The lead is melted and used in other batteries. The acid is processed and converted to powder which is used for manufacturing other items. You can make a lot of money via the battery recycling business.
#9 Plastic waste
Recycling of used plastic waste is one of the top recycling business ideas. Here you need to collect or sort out plastic waste and recycle it. You require machinery for melting plastic and remolding it into new shapes that can be reused. It is a promising business option with a lot of potential.
#10 Buy & Sell unused Items for recycling
Buying and selling unused items for recycling is next on the list. You can start this business without any investment. In this business, you need to purchase unused items. After sorting of items you need to send it for recycling. Once it is recycled you can sell it again. This business can be started online also.