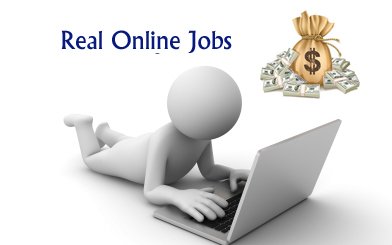 Searching for real online jobs for making online money in 2020?  If yes, you are in the right place. Today I will share Top 10 Real Online Jobs for Online Money.
Making money online is child's play. There are many people who are living their life with online money. They are making millions of dollars every year. So, there is no shortage of online money. But the Internet is becoming a crowded place. It is difficult to find out a real online job for making extra money. There are thousands of websites that promise to pay money, but in the end, they seem to be bogus. But don't worry there are many websites that pay you for your time and work. I call them real online job websites.
The online jobs offered by these websites are so simple that can be started by anyone. There is no need of special qualification, experience or technical knowledge to start these jobs. Anyone starting from a student, housewife, unemployed, working professional and retired person can start making money by using these websites. You just need to invest your time and you can earn several dollars.
So, what are you waiting for? Select online job of your choice and start making money online.
Top 10 Real Online Jobs for Online Money
#1 Amazon MTurk
One of the best real online jobs to make online money is Amazon MTurk. You can simply type Amazon MTurk on Google and you can land to MTurk website. It is also known as Amazon Mechanical Turk which enables you to make some real money online. You have to complete a few simple tasks using MTurk to make money in return. The pay range is from $0.20 to $5 per job/task. The tasks are like data entry, captcha solving, survey etc.
You can sign up for free on this website. You are allowed to transfer money from amazon to verified bank account after 10 days of submission of the first task.
#2 Microworkers.com
Microworkers.com is the second website that provides an opportunity for earning a lot of money online. It is an online platform that connects employers and workers from around the world. This site offers micro jobs such as data categorization, data tagging, data matching, content evaluation, surveys, filling up form, provide rating etc. This site is similar to Amazon MTurk. Joining this site is completely free. It is an international site. Anyone from any country can earn money from this website.
When your account balance reaches to $9, you will be allowed to withdraw money to your PayPal or bank account.
#3 SoftwareJudge.com
SoftwareJudge.com is the next website that offers real jobs online. As the name suggests this website pays money for your reviews about software. If you are using software for long and you have a strong opinion about software this website is for you. You will be paid here for submitting your reviews.  You can earn even up to $50 per software review. You can create your account in free and start submitting your review.
#4 Freelancing Job
A freelancer is a self-employed person offering services, usually to multiple customers at the same time. Freelancer operates on own. A freelancer sets his own service menu, price, and target market of clientele. There are various freelancer jobs available online such as freelance writing, graphic designer, social media manager, blogging, IT projects etc. You can earn $100 to $1000 per month as a freelancer.
Some common freelancer websites for finding online jobs are –
You will find a number of freelancer jobs posted on these websites.
#5 Online Tutoring – Online Jobs for student and teacher
Online Tutoring is among one of the best online jobs. If you're a teacher, or a student with good academic records, you can earn handsome money online by tutoring students online. Virtual classroom concept and online learning is becoming very popular.
There are multiple ways to become online tutor such as posting videos on YouTube, Facebook etc. However, if you prefer online agency which gives you real online jobs on teaching you can use following websites.
Tutor.com
BuddySchool.com
MyPrivateTeacher.com
CueMath.com
These types of jobs can be done by anyone and anywhere, you just need to have teaching skills.
#6 Fiverr – Real Online Jobs by using your creativity
Fiverr.com is an online marketplace where you can sell anything. You can sell your logo, video, write up, website, voice etc. A task on this website is known as Gig. Each Gig is priced at $5 but it can be extended with bundling. Fiverr is the best place for anyone who wants to get started with earning money via online jobs. You just need a unique idea to earn money on this website. You need to create a Gig and deliver work. You will be paid for the order completion. There are thousands of people on fiverr who makes real money.
#7 Photography – Make Online Money by selling Photos
You can also make online money by selling photos. If you are good at photography skills there are a lot of online jobs for photographers. You need to click unique photos and sell them online for earning decent income. Few websites which sell stock photos online are –
Shutterstock
Dreamstime
Fotolia
#8 Become a Translator
Language translator is another lucrative option. You can make a lot of money by becoming a Translator. The most important requirement for becoming a translator is fluency in two-three languages. The foreign languages translator such as French, Germen, English, Chinese, Russian are usually in demand. You can earn around $5 to $50 per page as a translator. The amount also depends upon language. You can find translator job on UpWork, Indeed etc.
#9 Paid Social Media Jobs
If you are good at social networking and love to remain active on social networking site such as facebook, twitter, Instagram you can start paid social media jobs. The task associated with social media job is very easy such as posting status updates on social media, replying comments on Facebook pages, uploading videos to YouTube, increasing fans etc.
There are many companies that pay money for social media jobs. You can find this type of job directly or from website like Paid Social Media Jobs.
#10 Transcription Jobs
A transcription job is to convert audio or video speech into a written or electronic text document (such as PDF, word file and so on). To get a transcription job you require very good listening and language skill. You can charge $1 to $1.5 per audio minute as a transcriber. Following website offers transcription jobs.
TranscribeMe
Transcription Puppy
Speed Pad
Summing Up
In a nutshell, we can say that there are a lot of real online jobs available online.  It doesn't matter whether you're a student, working professional, housewife, an unemployed or retired person you can make money online.
These real online jobs do not make you rich overnight, but in the long run, you can make a lot of money using these sites.
If I have missed any real online job that can help readers to make online money please share it in the comment section.