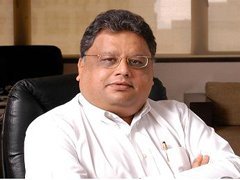 India's best known stock investor, billionaire Rakesh Jhunjhunwala, is said to be 'India's Warren Buffett'.
Rakesh is not on agreement for his comparison with Mr.Buffett.  In terms of wealth and success and maturity, he's far, far ahead," says Jhunjhunwala in an interview at his office in a prime location in Mumbai overlooking the Arabian Sea.
Much like the famed Omaha investor, Jhunjhunwala has made a fortune from some savvy investments – 'Forbes' magazine puts his net worth at $1.1 billion, ranking him 41st on India's rich list. Dressed simply in a white shirt and grey pants, he draws heavily on a cigarette and pan.
The 52-year-old rakesh is self-made man he built his fortune from an early bet on Tata Tea – and of a risk-taking investor.
"I'm not a clone of anybody. I'm Rakesh Jhunjhunwala," he reports. "I've lived the world on my own terms. I do what I enjoy. I enjoy what I do."
Unlike Buffett, Jhunjhunwala has been an advocate of leverage, which he has often used in his career and perhaps best defines his big, bold bet investment philosophy.
"See, I'm a risk taker," he says. "If I feel very opinionated, I can really put the money on the table. I don't think too much deep research is needed. I don't go into analysis paralysis," he says. "All you need is common sense." Let's take a close look at his secret of success.
How to Buy Stocks:-
Rakesh Jhunjhunwala's advice to investors is not to look for companies that would give profits but understand factors that help in creating profits. "Don't emphasize too much on analysis of profits," he says. "Profits are created due to various stages of circumstances. I always look at how large is the opportunity for that business in the sector."
He recalls how he bought Praj Industries, a bio-ethanol company that gave him large returns. "When I bought Praj, we thought there would be a humongous demand for ethanol. The opportunity was huge but it was not recognized."
IT bellwether Infosys, he said, benefited because of the internet revolution. "Nobody knew about Infosys in 1993 but Infosys could become Infosys because the opportunity for the internet went through the roof."
"When opportunities come, they can come through technology, marketing, brands, value protections, capital, etc. You need to be able to spot those."
"Then I look at scalability of a particular company that I choose in a sector," Jhunjhunwala says. "A friend of mine asked me: should I invest in a small cap or largecap? I said we must invest in the smallcaps, which will be the largecaps. The biggest challenge of investing is that you should recognize whether organization has the ability to scale."
How to spot good company stocks:-
How should you spot a good company? "You can have an idea by looking at companies' capital raising. Are they distributing profits, are they using the surpluses in the right manner," he says. "For me, quarters don't matter. There can be always be an aberration in one quarter when the company has less profits. You should examine the reason for it and whether it can revert back on its growth."
His views on Risk:-
If you don't have confidence, you shouldn't come to the stock market. You have to risk. But that risk should be calculative.
"Trend is your best friend" he believes in this theory. Despite the concerns over weak governance & Indian economy, he's still a believer in the India story that has made him rich. "When a child is sick, the mother is concerned. It doesn't mean the child's going to die," he says.
Rakesh Jhunjhunwala's Current Portfolio:-
 Many people search for stock which Rakesh has bought, and what he's holding, People follow him like anything. Whenever they come to know that he's taken a stake in a stock, they try to invest in it.
So in order to fulfill our reader wish we are herewith his current portfolio. Rakesh jhunjunwala currently hold stocks in 24 companies. His maximum holding is in A2Z Maintenance & Titan Industries.
Jhunjhunwala has no plans to leave his business to his three children or burning ambition to found a financial conglomerate, unlike other Indian billionaires such as Uday Kotak, who started small but went on to build Kotak Mahindra Bank.
"All I've known is trading and investing. I don't want to do anything else in life," says Jhunjhunwala. "I'll call it quits the day I die."