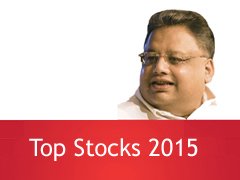 Rakesh Jhunjhunwala is most admired investor of stock market. He is known as warren buffet of India. He manages his own portfolio as partner in asset management firm Rare Enterprise. Rakesh Jhunjhunwala believes that 2015 will be very good year for stock market. As per him India will achieve double-digit growth in three to four years.  He also Foresee market to triple in next 4-5 years.  Here is top 5 rakesh jhunjhunwala stocks for 2015.
Top 5 Rakesh Jhunjhunwala Stocks for 2015
Titan, Lupin, Crisil, MCX and Rallis India are top 5 stocks for 2015 as per rakesh jhunjhunwala. Among these Titan, Lupin and Crisil are favorite stocks of rakesh jhunjhunwala. These stocks had given magnificent returns in 2014. 
Titan Industries:-
Jhunjhunwala is holding Titan stocks since 2002-03. He bought this stocks at average price of 5 Rs. He is holding around 8 Cr Titan stocks in his portfolio. Titan gave 60% return in 2014 to him. In January 2014 stock price of Titan was 230 Rs & today it is in range of 370-380 Rs.
Lupin:- 
Rakesh Jhunjhunwala second largest holding is Lupin. He bought Lupin at price of 150 Rs in 2006. He hold close to 80 lac shares of Lupin. Lupin gave him magnificent return of 54% in 2014. In January 2014 stock price of Lupin was 915 Rs & today it is in range of 1406- 1415 Rs.
CRISIL:-
CRISIL is another hot favorite stocks of Rakesh Jhunjhunwala. Rakesh Jhunjhunwala holds around 40 lac shares of CRISIL. CRISIL gave 64% returns to him in 2014. In January 2014 stock price of CRISIL was 915 Rs & today it is in range of 1940- 1950 Rs.
According to rakesh jhunjhunwala, all the stocks mentioned above can certainly give double-digit returns going forward. As per him Lupin has still got lots of scope to grow. It is a very well-managed company.
Jhunjhunwala also sees huge potential in CRISIL, CRISIL reflects economic growth of our country and it is going to grow.
MCX:-
This year Rakesh jhunjhunwala bought MCX stock @ 664 Rs per share in July 2014. MCX gave him return of 31% in 2014.
Going ahead he sees lot of potential in MCX. MCX is proxy for Indian financial sector.  As per him MCX is leader in commodity market and will retain its position till next 50 years.
Rallis India:-
Rallis India is underperformer stock in his portfolio but going ahead this stock is likely to perform.
Rakesh Jhunjhunwala Top 5 Stocks Returns -2014
Name of Stock
Stock Price Jan -2014
Stock Price Dec -2014
Return %
Titan
230 Rs/-
367 Rs/-
59.57%
Lupin
915 Rs/-
1406 Rs/-
53.66%
CRISIL
1191 Rs/-
1943 Rs/-
63.14%
MCX
664 Rs/-
832 Rs/-
31.00%
Rallis India
178 Rs/-
208 Rs/-
16.85%
Click here to read related article in ET.