Rakesh Jhunjhunwala, 63, India's most successful equity investor who made 5.7 Billion dollars (570 crores USD) starting from $100. Rakesh Jhunjhunwala is a wise man with uncommon Intelligence. He is one of the most popular and respected equity investor of India.
He manages his own equity portfolio as a partner in asset management firm Rare Enterprises. The name of his asset management firm is given from first two initials from his name Rakesh Jhunjhunwala and his wife name Rekha Jhunjhunwala.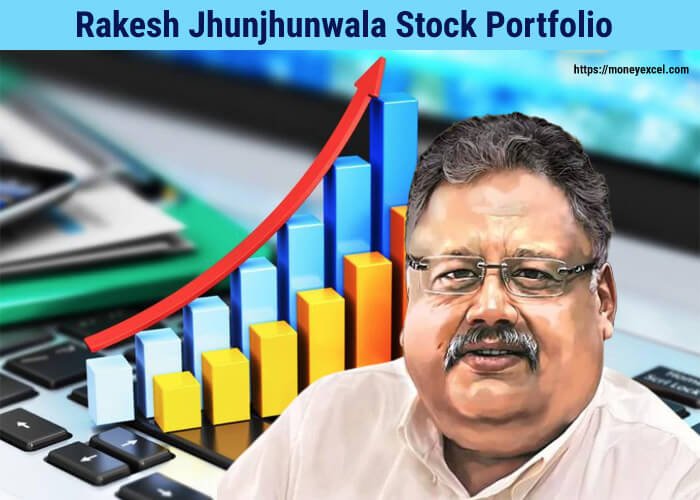 Rakesh Jhunjhunwala was from middle class family his father was income tax officer. He started trading in 1985 when BSE Sensex was 150. He selected stock market trading as a full-time profession. For him "making money from the stock market is child's play". You can read about Rakesh Jhunjhunwala biography from here.
Fan and follower of Rakesh Jhunjhunwala always seek information about buying and selling activity of him. In order to help them here is a comprehensive list of Stocks held by Rakesh Junjhunwala, Rekha Jhunjhunwala of Rare Enterprise Equity: Last update Aug 2022.
Rakesh Jhunjhunwala Latest Portfolio Holdings
| | | |
| --- | --- | --- |
| Company | Sector | % Holding in Company Aug,2022 |
| Aptech Limited | Computer | 24.24 |
| Ion Exchange | Engineering | 3.60 |
| Spice Jet | Transport | 1.67 |
| Orient Cement | Cement | 1.22 |
| Titan | Miscellaneous | 5.1 |
| MCX | Miscellaneous | 4.9 |
| First Source Solution | Computer | 3.25 |
| Federal Bank | Banking | 2.93 |
| Fortis Healthcare | Healthcare | 4.31 |
| Lupin | Pharmaceuticals | 1.71 |
| CRISIL | Misc | 5.49 |
| Edelweiss Financial Services | Finance | 1.07 |
| Prakash Pipes | Miscellaneous | 1.53 |
| VIP Industries | Plastics | 1.62 |
| Man Infra Construction | Construction | 1.21 |
| Bilcare | Packaging | 8.48 |
| Geojit Financial Services | Finance | 7.57 |
| Delta Corp | Construction | 7.38 |
| Prakash Industries | Miscellaneous | 1.46 |
| The Madhanta Retail Venture | Retail | 12.74 |
| Dewan Housing Finance Corporation | Finance | 2.46 |
| Rallis India | Pesticides & Chemical | 9.25 |
| TV18 Broadcast | Media & Entertainment | 2.6 |
| Jubilant Life Sciences | Healthcare | 2.9 |
| Tata Communication | Telecommunication | 0.7 |
| Yes Bank | Banking | 0.51 |
| IIFL | NBFC | – |
| VA Tech Wbag | Water Treatment | 8 |
| Tata Motors | Auto | 1.2 |
| NCC | Construction | 13.7 |
| Nazra Technologies | Gaming | 10 |
| Agro Tech Foods | Agri | 8.22 |
| Indiabulls Housing | Real Estate | 2.17 |
| Canara Bank | Banking | 1.59 |
| Nalco | Mining | 1.36 |
| Escorts | – | 5.8 |
| Indian Hotels | – | 2.2 |
| Star Health | Insurance | 14.98 |
Also Read – 40 Multibagger Stocks Jhunjhunwala Kedia Porinjhu
Rakesh Jhunjhunwala's portfolio is consisting of 24 different stocks. Total value of his portfolio is around INR 15000 Cr. Top stocks holding by him is Titan, Lupin and CRISIL. He holds 4.9 Cr shares of Titan. He owns 78.83 Lakh shares of Lupin. At the third position, he is holding 40 Lakh CRISIL shares.
In addition to above stocks he is also holding other stocks such as Aptech Limited, Ion Exchange, Spice Jet, Orient Cement, First Source Solution, Federal Bank, Edelweiss Financial Services, Prakash Pipes, VIP Industries,Man InfraConstruction, Bilcare, Geojit Financial Services, Fortis Healthcare etc. Exact share count is not available.
Rakesh Jhunjhunwala News & Updates (2015-2022)
Mr Jhunjhunwala, his wife Rekha Jhunjhunwala, and their company Rare Enterprises together have bought a total of 6.25 lakh shares of Escorts from the open market on August 6th,2015.
Rakesh Jhunjhunwala recently purchased 2.24% equity share of Intellect Design. As per latest share holding pattern he has also increased stack in Polaris Consulting, a parent company of Intellect, to 4.99 percent from 4.74 percent during the quarter.
Rakesh Jhunjhunwala buys 1.05% in Jet Airways – Rakesh Jhunjhunwala's RARE Enterprises acquired 11.95 Lakhs shares or 1.05 percent stake in the private airline. The shares were bought at an average price of Rs 422.76, valuing the transaction at Rs 50.52 crore. Following the transaction, shares of Jet Airways surged by 11.28 % on the NSE.
Next Mediaworks is latest stock pick by Jhunjhunwala. He has invested 35 Cr in Next Radio subsidery of Next Mediaworks.
Jhunjhunwala has picked up 7 lakh shares in IT training firm Aptech. He is holding 45.28% stake in this company.
In September 2016, 3.5 Lac shares of Adlabs Entertainment was purchased by Rare Enterprise at  81.86 Rs.
Jhunjhunwala filed application of Rs.750 Cr under ICICI Prudential Insurance IPO and got share of 27 Cr.
Rakesh Jhunjhunwala's Rare Enterprises purchased 12.50 lakh shares of Delta Corp at Rs 106.54 apiece on 17th Nov,2016
On 16th Dec, 2016 RJ buys 12.74% in Mandhana Retail Ventures that hold exclusive license to manufacture and sell Salman Khan's "Being Human" brand cloths.
42.3 Lakh shares of Intellect Design Arena was sold by Jhunjhunwala at average price of Rs.120.
Jhunjhunwala sold 50 Lakh shares of Tata Motors DVR in April,2016.
Ace Investor Rakesh Jhunjhunwala has picked up 1.03% Shares of Jaiprakash Associates and 1.26% shares of Jubilant Life in June,2017.
Jhunjhunwala buys 10 Lakh shares of Prakash Industries via Block Deals on 24th Aug,2017.
Rekha Jhunjhunwala buys 45 Lakh shares of Forties Healthcare on 22nd Aug,2017.
Jhunjhunwala increases stake to 1.64% in Prakash Industries.
Jhunjhunwala invests 180 Cr in gaming firm Nazara Technologies. It is not listed firm. However, it is expected to list next year.
Recently Jhunjhunwala has increased stake in Lupin by 1.92% in Jan,2018.
In Feb,2018 he has purchased additional 10 lakh shares of the airline company SpiceJet.
Jhunjhunwala's Rare Enterprise bought 3 Cr worth share of J P Associates as per bulk deal data on NSE at 15th March,2018.
He has sold 1.4% stake in Titan around 1.25 Crore shares in May- June 2018.
Rakesh Jhunjhunwala has raised 0.83% stake in Jaiprakash Associates during April to June Quarter.
Jhunjhunwala increased its stake in DHFL by 43 basis points in the quarter ending September 2018.
Junjhunwala raised his stake in TV18 Broadcast by 0.4 percent by purchasing an additional 62.5 lakh shares of the firm. The ace investor also raised his stake in pharma firm Jubilant Life Sciences during the last quarter.
Rakesh Jhunjhunwala has raised stake in 4 companies Aptech, NCC, Federal Bank and Jubilant Life Sciences. He reduced the stake in Titan, TV18 Broadcast, Karur Vysya Bank & Lupin.
Jhunjhunwala Net worth is increased by 30 Crore USD compared to March 2019.
Rakesh Jhunjhunwala has increased stake in First Source Solutions in the January 2019 to March 2019 Quarter.
Jhunjhunwala has recently raised stakes in Firstsource Solutions, Lupin, VIP Industries, and DHFL, while reduced his stakes in Titan Company, TV18 Broadcast, Federal Bank, Agro Tech Foods and CRISIL in April 2019.
In Q1, FY 19 Jhunjhunwala has purchased new stock Prakash Pipes.
In the month starting July 2019, Rakesh Jhunjhunwala has increased his stake in Titan and SpiceJet. He has reduced his stake in First Source, Federal Bank, Lupin and Dewan Housing Limited.
Rare Enterprise buy additional 1% stake in Jubilant Life Science in June-July,2019.
According to bulk deal data seen on BSE, Rekha Rakesh Jhunjhunwala purchased 19.65 Lakh shares of Tata Communication estimating value 73 Cr via open market transaction.
In the quarter ending September 2019, Jhunjhunwala has sold 49 Lakh shares of Titan Company. The share holding of Rakeshji in Titan is reduced to 5.10% from 7.05%.
Jhunjhunwala has increased his stake in MCX from 3.92% to 4.8% in the quarter ending September 2019.
As per latest information Jhunjhunwala has purchased 0.51% stake in YES Bank.Total value of bulk deal was 86.89 Cr.
As per latest information January 2020, Jhunjhunwala has purchased 27.85 Lakh Shares of IIFL Securities with average price of Rs.42.83.The bulk deal value was 12 Cr.
Jhunjhunwala cuts his holding into Titan share in the March-April 2020. He sold around 1.03 Cr Titan share in the last three months. This is as per data available on the BSE website.
Rakesh Jhunjhunwala has increase stake in VIP Industries stock from 1.42 to 1.62% in the Month of May-2020.
Big Bull Rakesh Jhunjhunwala has started picking stocks which are available at the attractive pricing. Stocks where recent investments made by the billionaire and his wife Rekha Jhunjhunwala in the June 2020 quarter are Autoline Industries, Dishman Carbogen Amcis, Edelweiss Financial Services and Indian Hotels. He has also pumped more money in his existing portfolio stocks like NCC, Firstsource Solutions, Rallis India, Federal Bank and Delta Corp.
Rakesh Jhhunjhunwala and Rekha Jhunjhunwala has purchased 50 Lakh shares costing 80 Cr in VA Tech Wabag on preferential basis in September 2020 end. This is equivalent to 8% of Stake in the Va Tech Wabag.
Tata Motors is latest pick by Jhunjhunwala. As per latest information RJ has purchased 4 Lakhs shares of Tata Motors in September 2020 quarter.
Rakesh Jhunjhunwala & his wife Rekha Jhunjhunwala, and group companies raised shareholding in the construction firm NCC to 13.7 percent.Total 10 lakh shares of NCC was purchased by RJ in Nov-2020.
Rakesh and his wife Rekha Jhunjhunwala sold shares of Titan. Total 18 Lakh shares of titan is sold by Jhunjhunwala in January 2021. He still holds 4.7 crore shares of Titan. He has also cut his stake in the chemical manufacturing firm Rallis India. Total 7.25 Lakh shares of Rallis India is sold by him recently.
Jhunjhunwala sold 150770 shares of Ion Exchange in the month of Feb,2021.
In March and April 2021, Jhunjhunwala increased stake in Fortis Healthcare,TV18 Broadcast, AgroTech Foods as well as MCX.
Rakesh Jhunjhunwala buys 1 crore shares or 2.17 stake in Indiabulls Housing Finance in Apr-Jun 2021.
Rakesh Jhunjhunwala buys 1.59% of Canara Bank or 2,88,50,000 equity shares of face value Rs 10 each in Aug 2021.
Rakesh Jhunjhunwala has made a fresh entry in NALCO, a mining, metal, and power company.He bought 2,50,00,000 equity shares, aggregated 1.36 per cent stake in Sept 2021.
Jhunjhunwala raised his stake in Titan by 20 basis points sequentially to 5.1 percent; in Tata Motors 10 bps to 1.2 percent; in Escorts 40 bps to 5.2 percent; and in Indian Hotels 10 bps to 2.2 percent in Dec 2021.
Rakesh Jhunjhunwala holds 14.98 percentage in Star Health Insurance.Star Health Insurance listed on BSE in Dec 2021.
Jhunjhunwala has increased 0.6% stake in the commercial vehicle company Escorts in month of Feb,2022. Escorts has given 280% returns to R.Jhunjhunwala in last five years.
For complete information follow Rakesh Jhunjhunwala profile on Moneycontrol.com
Note – Above information is collected from BSE site and various other public domain. This information is nearly accurate. However, it may vary with actual investments.