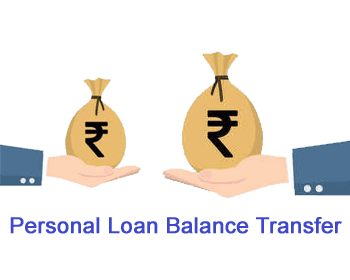 Personal Loan Balance Transfer – You can use a personal loan balance transfer to save money on interest rates. Suppose you have taken a personal loan from one bank and you are getting better loan deal from other bank or financial institution. In this case, you can make use of a Personal Loan Balance Transfer. This option helps you to reduce the EMI burden or overall cost of the loan.
Under Personal Loan Balance Transfer bank transfer the outstanding loan amount to another bank providing loan at a lower rate of interest. The process of transfer is very simple. Customer needs to fill up a form and submit documents. You have to be careful in evaluating bank for a balance transfer. Complete information about Personal Loan Balance Transfer is given below.
What is a Personal Loan Balance Transfer?
Personal Loan Balance Transfer is a process of transferring an existing loan balance from one bank to another bank or NBFC. It is also known as personal loan switching.
This process of balance transfer does not require any security or collateral to be provided by the borrower. A borrower needs to pay foreclosure charges to the existing bank and processing fees to the new bank. Sometimes the borrower is required to pay stamp duty on a loan agreement.
Also Read – 5 Best Banks for Personal Loan in India
Why you should opt for Personal Loan Balance Transfer?
Personal Loan Balance Transfer offers multiple benefits. Few of them are given below.
#1 Lower Interest Rates
The main benefit of transferring loan is a lower interest rate. Although you have done a lot of research before availing a loan, you may end up making mistake in opting for higher interest rate loans. You can correct this mistake by transferring the outstanding loan amount to another bank or NBFC offering loan at lower interest rates. You will be able to reduce your total outgo of the loan.
#2 Larger Tenure of Loan
Personal loans are offered generally with the tenure of 5 years. However, few banks may offer personal loan with longer tenure. If you have difficulty in paying higher EMI you can opt for longer duration loan to reduce your EMI amount. In this case, your EMI will be less but as your loan tenure is high you will end up paying a higher amount.
#3 Additional Loan Features
Another benefit you can get by transferring your personal loan is additional features offered by the new bank. The benefit could be relaxation in prepayment of the loan, EMI waiver, zero foreclosure charges, additional top-up loan, personal accidental coverage, etc.
#4 Top Up Loan
Suppose you are in need of an additional loan you can make use of balance transfer option to avail a top-up loan. Few banks offer a top-up loan facility. Make sure to compare all top-up options before opting for a balance transfer.
Under top-up loan option old balance transfer will be done to a new bank and additional loan will be credited to your account by the new bank. The interest rate and conditions vary from bank to bank.
 #5 Better Customer Support
If you are not satisfied with the customer support and services offered by the current loan provider, you can opt for a balance transfer to avail better customer support services.
How to do Personal Loan Balance Transfer?
Step by step process to follow in case of a personal loan balance transfer are given below.
#1 Find out best alternative option for the loan. Make a comparison table with features and cost-benefit analysis. Select the best option for loan transfer.
#2 Get NOC and foreclosure letter from current lender.
#3 Apply for a new loan at bank or NBFC and submit the required document along with the statement of the personal loan account.
#4 Get sanction letter from a new bank. On disbursal of loan deposit cheque or DD in your account and close existing personal loan.
#5 Don't forget to take No due certificate from the bank.
Eligibility Conditions for Balance Transfer
As a borrower, you need to meet certain eligibility conditions for the balance transfer.
Bank will always check for your creditworthiness. Your credit score should be good in order to get approval for the loan.
Your EMI payment should be regular without delay or default.
You need to produce income records either salary certificate or profit and loss statement for getting loan approval.
Current loan outstanding should be greater than Rs.50000 to initiate loan transfer.
Your current lender should allow loan transfer.
If you are an existing customer of bank either credit card or loan it will help you to get faster loan approval.
Documents Required
You need to submit following documents to avail personal loan balance transfer.
For Salaried Individuals
Duly filled balance transfer form and passport sized photograph.
Aadhaaar Card
Valid ID Proof
Age Proof
PAN Card Copy
Address Proof
Bank Statement for the last 6 months
Salary Slip for the last 3 months
Statement of the current Personal Loan account
For Self-Employed Individuals
Duly filled Personal Loan transfer form with a passport sized photos
Aadhaar Card
Valid ID proof
Age Proof
Address Proof
GST Number
Balance Sheet for the last 3 years
Profit and Loss Statement for the business
Last 6 months bank statements of the individual as well as the business.
Statement of the existing Personal Loan account.
Conclusion 
In conclusion, it can be said that personal loan balance transfer will surely help the borrower to reduce total outgo by reduction in interest rates. However, you need to be cautious in selecting a new offer. You can make use of web aggregators for getting information about a loan offer.