A personal loan is one of the most popular loan option when it comes to an urgent requirement of cash. Personal loan is easy to avail and does not demand much documentation.
In financial crisis we generally approach our friends and relatives for money. But, if they are unable to help us we generally opt for personal loan. A personal loan can be availed for any purpose including a dream holiday, school or college fees, wedding expense, home improvement, business requirement etc.
As per me one should avoid taking personal loan. Personal loan should be last option for financing your need. Personal loan comes with lot of financial burden as interest rate applicable on personal loan is too high. If you have decided to take personal loan, the next challenging task for you is selection of best personal loan. Almost every bank and financial institution offers personal loan. In order to attract customer they offer lucrative discount and other bundle offers. Many time it is confusing to make right selection of personal loan. Any laps in evaluating personal loan lead to disaster. Here are 10 important points that will help you in evaluating a personal loan.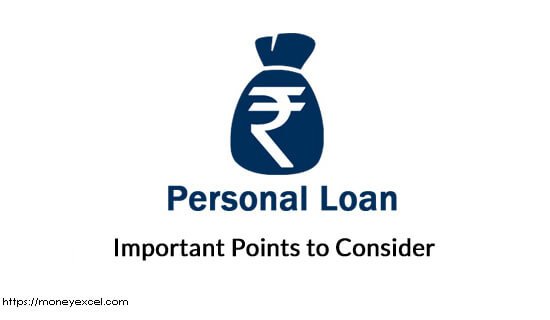 Personal Loan – 10 important Points to consider before availing
Credit Score
You should check your credit score before applying personal loan. You can check credit score on CIBIL site without any cost. The interest rate may vary based on your credit score. This means if you have poor credit score, bank may charge you higher interest rate.
Interest rate
You also need to check interest rate while selecting a personal loan. You should opt for a personal loan with lowest interest rate. You can save lot of money by opting for low interest loan. A Personal Loans are generally offered in the range of 12 -16% interest rate.
Fixed or Floating Interest rate
Another important points to consider is interest rate type. Bank offers fixed and floating interest rate options. If you are ready to repay a loan in short period of time you can avail floating rate loan. You should also check charges applicable for switching between fixed to floating and vice versa.
Loan Processing Charges
The next point to check is processing charges. This charge are one time non-refundable and it is charged for processing of loan application. This charge is in the range of 1-3% of the loan amount.
Prepayment Penalty
The next important point to check is prepayment penalty. Prepayment helps to reduce EMI burden. You can close loan faster by doing prepayment. However, many bank does not allow prepayment in personal loan or they charge prepayment penalty. So it is better to check prepayment penalty before opting for personal loan.
Hidden Charges
Hidden charges makes loan costly. You should check hidden charges applicable on personal loan. Some hidden charges are documentation charges, duplicate statement cost, ECS processing and account foreclosure charges.
EMI Bounce Charges
If you default on EMI you need to pay EMI bounce charges. You need to consider this charges before taking personal loan.
Tenure             
Tenure is another important factor for the consideration. Personal loan tenure varies from 1 year to 5 years.
Approval Time
Approval time means time taken by bank for processing and approving your loan. If you are in urgent need of loan this factor play critical role.
Seasonal Offers
It is worth to consider if bank is offering any special discount or offer. Bank generally provide special offer in festival seasons.
Remember personal loan is like burden. Before taking a personal loan make sure that your need is unavoidable. Personal loan makes great financial pressure on your life. If possible ask relative and friends for loan.
If you still need personal loan make sure to compare all features before opting for personal loan.