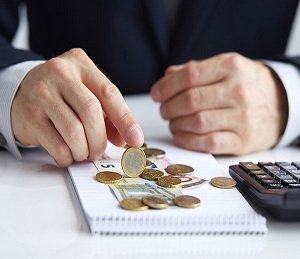 Penny stocks investment is a risky affair. Penny stocks can make you rich or can make you poor. I had got an opportunity to purchase penny stock called as Virat Crane in 2014. This penny stock could give me a return of more than 500% in just two years. However, it does not mean that penny stock will always give good returns. I have examples of people who lost their money in penny stocks. So, as per me, a penny stock is one of the riskiest investment options, but it is also true that in life "No risk means No Gain". Well, I will not comment anything on penny stocks investment is a good or bad decision, but today I will share 5 Penny Stocks recommendation recently shared by stock market analysts.
5 Penny Stocks recommended by stock market analysts
NFL
CMP – Rs 27.40
Target – Rs 38
As per Mr.Lokesh Uppal head of Mystockresearch one can invest in NFL (National Fertilizers) at a current level. NFL performance was very good in last two-quarters. In the quarter ending on December 2015 net profit of company has increased to 124 Cr compare to 47 Cr of the previous quarter. Apart from this announcement of several benefit to the agriculture industry in recent budget is another positive news for the NFL stock.
Also Read –  10 Best penny stocks of 2016 – Up to 1000% return 
Ratan Power India
CMP – Rs 11
Target – Rs 20
Ratan Power India is next on the list of penny stocks. Ratan Power India is recommended by stock market expert Mr.Sandeep Jain of Trade Swift. As per him, power sector is about to grow in near future. Ratan Power India was making losses but in the recent quarter ended on December 2015 company has posted a profit of 52 Cr. Apart from this Ratan Power India has also got Solar Project of 50 MW     in Uttar Pradesh.
Rain Industries
CMP – Rs 29.40
Target – Rs 35
Rain Industries is penny stock recommend by Mr.Lokesh Upaal of Mystocks. Rain Industries is in the business of cement, carbon, and chemical. Rain Industries is planning to increase production capacity by adding additional cement plant in Andhra Pradesh. Cement price is increasing which will be beneficial to Rain Industries.
SRS Limited
CMP – Rs 12
Target – Rs 20
SRS Limited is in Media and Entertainment Sector. SRS Limited is running 57 multiplexes in 15 cities of India. Apart from that SRS is also running jewelry store and retail business. SRS is planning to enhance multiplex by 100 in this year. As compare to PVR and Inox, this stock is available at a reasonable valuation.
Also Read – 5 Best Demat Account in India for New Investors 
HFCL
CMP – Rs 15
Target – Rs 21
Himachal Futuristic Communications is next on the list of penny stocks. HFCL is in telecommunication equipment business. HFCL is recommended stock by Mr.Sandeep Jain of Trade Swift. HFCL performance is gradually improving. HFCL is also planning to enter in defense equipment manufacturing.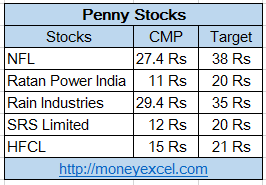 Over to you –
You should carry out detail research before investing in any penny stock. Buy only selected stock with good future business potential. While investing in penny stocks please keep in mind that penny stock is riskiest investment option.
Fire and forget concept does not work in penny stock you need to regularly track the performance of these stocks otherwise, you may end up making a big loss.
 (The views content and recommendations expressed in this post are of  leading stock market experts and do not represent those of Moneyexcel.com. Please consult your financial adviser before taking any position in the stocks mentioned)