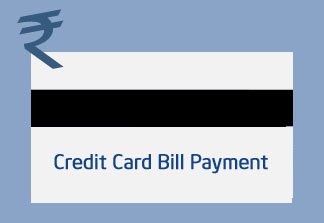 10 Methods to Pay Credit Card Bill Online & Offline – A credit card has become an integral part of our life. We cannot imagine our life without a credit card. Credit cards are used widely for daily transactions such as paying utility bills, paying mobile bills, buying groceries, fuel payment, online shopping, etc. For every transaction bank offer credit card with multiple rewards and benefits. It is more likely that people use multiple credit cards to get rewards and other benefits.
It is very easy to remember and make payment for a single credit card as you need to remember a single due date. However, it becomes difficult to remember and make payment of multiple credit cards. Any default in clearing credit card dues will invite penalty and interest payment. The bad repayment history also affects your credit score. If you forgot to pay credit card dues for a few months, it will lead to an accumulation of debt.
Also Read – 10 Best Credit Cards in India To Save Money 2019 – Latest Review
If you are worried and looking for the solution to the above problem here are 10 different methods to pay your credit card bills. These methods are broadly classified in online and offline method. Few methods also come with a reminder system.
10 Methods to Pay Credit Card Bill Online & Offline
Online Methods to Pay Credit Card Bill
#1 Through Online Bill Payment Services
The first method to pay credit card bill online is via third-party online bill payment services. These types of bill payment services provide you single console for all bill payment. You will also get reminder emails and SMS for the payment dues. BillDesk, Bharat Bill Pay are examples of third party bill payment services. You can make most of the recurring bill payment including credit card payment using this service.
#2 Through Internet Banking
One of the simplest ways to pay your credit card bill is via online Internet banking. If you are holding credit card of the company where you have a saving bank account, you can make an online payment via Internet Banking. You need to register your credit card in your existing bank account. Even if you don't have a saving bank account with a bank you can still make payment via any other internet banking account.
#3 NEFT/RTGS Fund Transfer
NEFT (National Electronic Fund Transfer) and RTGS (Real Time Gross Settlement System) is another very good option for making a credit card payment. In this method, you need to add your credit card company as a biller. You will require IFSC Code, bank name, branch address, etc. It usually takes 30 minutes to 24 hours to add biller for payment transfer. Please note that fund transfer using NEFT and RTGS is free.
#4 Mobile Wallets
It is very easy to make payment of credit card dues via mobile wallets. Mobile wallets such as Paytm, Mobikwik, Google Pay (Tez), Phonepe, BHIM/UPI offers the facility to make a credit card payment on the move. You need not to do registration for this payment. You just need to download the app and provide credit card information for making payment. Few mobile wallets also offer additional benefits for making payment using a mobile wallet.
#5 Visa or Master Card Money Transfer
Visa and Master card offer visa money transfer and Mastercard send facility. You can use this facility for any domestic fund transfer and credit card payment. You need to enter your credit card number in order to make payment. It usually takes day or two to process payment made using this method.
#6 Auto Debit Facility
One of the most recommended method to pay credit card bill is via Auto Debit Facility or standing instruction. Most of the credit card issuers allows auto debit facility. In this method, you need to setup auto debit using internet banking facility. You need to provide credit card number and bank account number from which payment to be made. You can also select between minimum amount and total amount payment. You can change auto debit instruction anytime.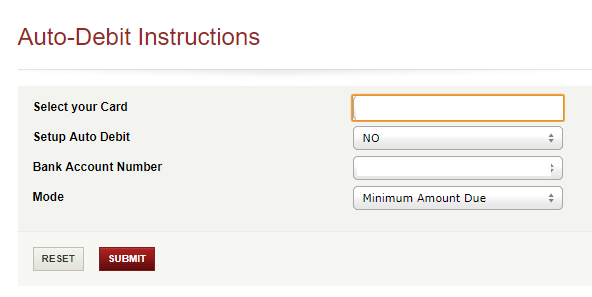 Offline Methods to Pay Credit Card Bill
#7 By visiting Bank ATM
One of the simplest way to pay credit card bill is via visiting bank ATM centre. It is an offline method for bill payment. Most of the bank ATM provides bill payment facility for credit card dues. You need to visit nearest ATM centre of your credit card issuer. Insert your debit card into ATM kiosk and select Bill Pay option. Follow the instruction in order to make payment.
#8 Cheque Payment
Another method to pay credit card bill is via cheque. You need to draw a cheque in favour of the credit card account and drop it at any bank branch or ATM drop box. You need to write your credit card number, your name and phone number at the backside of cheque. It usually takes 4-7 working days to process the cheque and clear your dues. Make sure to write cheque in advance so that it will reflect on or before due date.
#9 Cash Payment at Bank
One of the rare method to make credit card payment is via cash. In this method, you need to physically visit bank. You need to fill up deposit slip mentioning credit card number and amount. You can make cash payment at the cash counter. This method will work if amount due is low. You need to pay additional service charge for using this method.
 #10 By Calling Customer Care Facility
Some credit card companies allow you to pay your credit card bill by calling their customer care facility. In order to use this facility you need to have saving or current account with card issuer bank. In most of the case this facility is IVR based and work without human intervention. It is an instant method to pay your credit card dues. However, you need to think about the security of information shared at customer care.
Over to you –
Which method do you prefer for making credit card bill payment?
Do share your views and experience in the comment section given below.