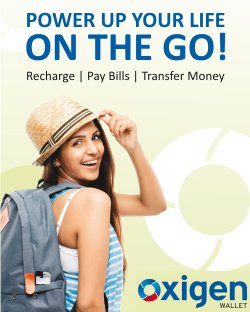 Oxigen Wallet is India's first virtual wallet service for instant money transfer. Using Oxigen wallet you can send receive funds to/from any bank anytime anywhere. Oxigen Wallet is approved by RBI. Oxigen Wallet service is unique service offered through online, mobile apps as well as using SMS.
How Oxigen Wallet Works?
Step1 – Register
You can register for Oxigen wallet service by three ways.  SMS, Using mobile App and Online through website.
To register using SMS you need to send SMS
Oxigen "Agree" Date of Birth First Name to 9870888888 or 9971888888
To register using Online App you need to download app from store. Follow on screen instruction to register.
To register online visit : www.oxigenwallet.com
Step2 – Load Money
Second step is load money. You can use your credit/debit card for loading money. Another way to load money in to your wallet is to pay cash at oxygen or partner outlet.
Step3 – Make Payment
Once money is loaded in your wallet you can use this money to make payment.  This virtual wallet helps you to recharge your mobile, Datacard etc. You can make payment of utility bill & avail facility to do online shopping or online money transfer.
Why use Oxigen Wallet?
Secure and Reliable
Oxigen Wallet is secure way of money transfer. This service send OTP (One Time password) on your register mobile for every transaction.  OTP is mandatory for money transfer.
Fraud control
Oxigen Wallet brings multiple layers of security and control. Website of oxygen is also secured using 128 bit SSL. Hyper care is taken to prevent unauthorized access.
Certified and approved by RBI
Oxigen wallet is certified and duly approved by RBI.  Wallet is also tied up with National Payment Corporation of India, allowing instant money transfer from the Wallet to 60+ banks using the Immediate Payment Service (IMPS).
Wide acceptance
Oxigen Wallet is widely accepted at multiple places. More than 2000 websites like Book My Show, Dominos, IRCTC, Zapak accept payment through oxygen wallet.
Extra Redemption Points
This service brings extra earning redemption points with every transaction. Once sizeable points are collected in your wallet you can redeem them for cash in your wallet for reuse at Oxigen.
So, what are you waiting for register now for this wonderful money transfer facility.